Podcast: Play in new window | Download (Duration: 7:45 — 7.9MB)
Thanks to Ruby and Tex for their suggestions this week!
Diprotodon was big and had a big nose: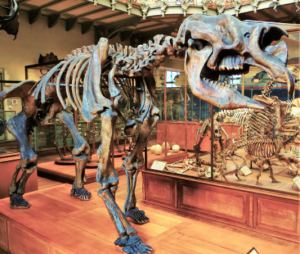 Koala!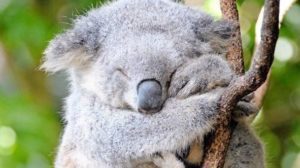 The bush thick-knee looks like it has regular knees, actually: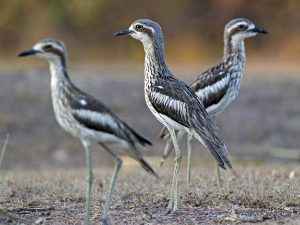 Show Transcript:
Welcome to Strange Animals Podcast. I'm your host, Kate Shaw.
This week let's head to Australia for a short episode about three interesting animals. Thanks to Ruby and Tex for their suggestions!
Recently, we had an episode about the wombat—episode 208, to be exact. Ruby suggested we talk about an extinct giant wombat called Diprotodon too, because while we touched on it in the wombat episode, an animal that awesome deserves more attention. Also, Ruby had just gone to the Australian Museum and learned about it, and naturally wanted to share that knowledge. So let's find out more about Diprotodon!
Diprotodon was the largest marsupial ever known. It stood around 6 ½ feet tall at the shoulder, or two meters, and up to 12 feet long, or 4 meters. It was related to the wombat but probably didn't look much like one, although I bet it was pretty cute. It was heavily built and its legs were pillar-like, similar to a rhinoceros's legs, but its feet were actually kind of small in comparison. It had massive flat front teeth and long claws.
So did those big teeth and claws mean it ate meat? Nope, it was a plant-eater, just like the wombat. It ate plants of all kinds in the savannas and plains where it lived, and its teeth were adapted to shear through branches and roots like chisels and grind up plant material at the same time. It also did a lot of digging, which is what it used its long claws for. The female had a rear-facing pouch so dirt wouldn't get on her joey while she was digging.
Diprotodon had a larger nasal aperture in its skull than would be expected for an animal its size. It probably just had a really big nose, but some researchers think it might actually have had a short trunk sort of like a tapir's.
Diprotodon probably lived in small groups made up of related females and their babies, while males probably spent most of their time either solitary or in small bachelor groups. It may have been migratory too. It went extinct somewhere between 42,000 and 25,000 years ago, along with many other species of Australian megafauna. Researchers think climate change was probably the main cause of its extinction, as the climate where it lived became drier.
Diprotodon was also related to the modern koala. We talked about the koala in episode 94, but Tex wanted to know more about it.
In episode 94 we learned that the koala smells like a cough drop because of all the eucalyptus leaves it eats. Eucalyptus oil is a common ingredient in cough drops. Here's some other basic information about the koala from that episode, and then we'll go on to learn something new about it.
The koala is a marsupial that lives near the coasts of eastern and southern Australia in eucalyptus trees, also called gum trees. It's gray, gray-brown, or brown in color, with no tail, short floofy ears, a flat face with a big black nose, and long claws that help it cling to tree trunks. Almost its entire diet is made up of eucalyptus leaves, which are toxic, but the koala's liver produces a type of protein that breaks down the toxins so it doesn't get sick. It spends almost its whole life in trees except when it needs to move from one tree to another one.
In a study published in May 2020, researchers finally figured out how the koala gets water. Until this study, everyone assumed that the koala usually got enough moisture from the leaves it eats that it didn't need to drink water most of the time. Now, though, researchers have observed koalas licking water from tree trunks during rain. This makes sense, because koalas prefer to stay in a tree whenever possible. The study determined that the koala gets about three-quarters of the moisture it needs from leaves, and during droughts it will come down from its tree to drink from streams. But in ordinary circumstances, it licks water from the tree trunks during and just after rain, and will do so even when other water sources are available.
I bet if you called someone a tree-licker, they would think it's an insult, but really it's adorable. You can say, "You're such a tree-licker" to someone, and if they get mad at you, you can explain about koalas, hopefully before they hit you.
Let's finish this short episode with a type of bird. It's called the bush thick-knee. It's nocturnal and while it can fly, it spends most of its time walking along the ground looking for small animals to eat. It's a large, slender bird with a wingspan over three feet across, or one meter, and long legs.
The bush thick-knee eats frogs, lizard, small snakes, small mammals, crustaceans and mollusks, and insects and spiders. It will sometimes eat seeds or other plant material too. During the day it hides in long grass where it's hidden from predators and has some shade, and at night it comes out and walks around. It's especially active on moonlit nights.
And during those moonlit nights, or dark nights, it makes a sound like this:
[bush thick-knee sound]
Apparently people who live where the bush thick-knee is common find the sound really annoying, but I think it's awesome and creepy.
Okay, that's it. I actually have a serious reason for this episode being so short, which I won't bother you with, but next week we're going to have a good long episode. Until then, listen to this bird, just listen to it!
[more bush thick-knee calls]
You can find Strange Animals Podcast at strangeanimalspodcast.blubrry.net. That's blueberry without any E's. If you have questions, comments, or suggestions for future episodes, email us at strangeanimalspodcast@gmail.com. If you like the podcast and want to help us out, leave us a rating and review on Apple Podcasts or Podchaser, or just tell a friend. We also have a Patreon at patreon.com/strangeanimalspodcast if you'd like to support us that way.
Thanks for listening!