Podcast: Play in new window | Download (Duration: 19:14 — 22.2MB)
Sign up for our mailing list! We also have t-shirts and mugs with our logo!
Our pre-launch Kickstarter page! You can see what the book cover will look like!
Thanks to Liesbet and Enzo for their suggestions this week! Let's learn about squirrels!
Further reading:
Interspecies Breeding Is Responsible for Some Squirrels' Black Coloring
The Indian giant squirrel, without filter (left) and with filter (right):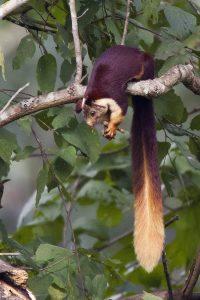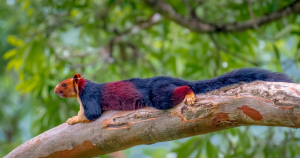 Some variable squirrels (see lots more at iNaturalist):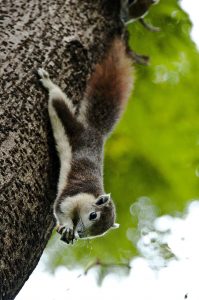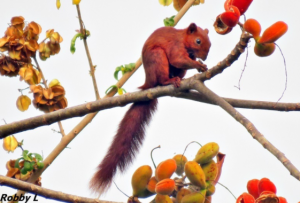 The Eastern gray squirrel: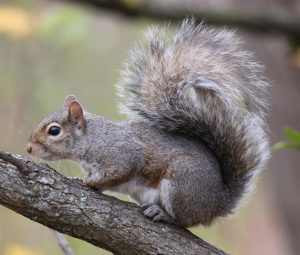 The Eurasian red squirrel: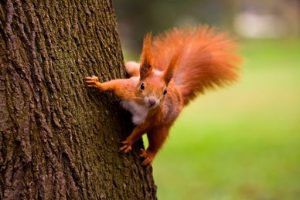 The fox squirrel: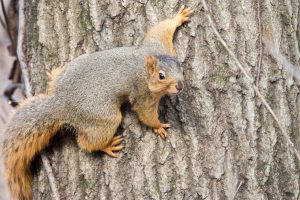 White Eastern gray squirrels (photos taken from the White and Albino Squirrel Research Initiative):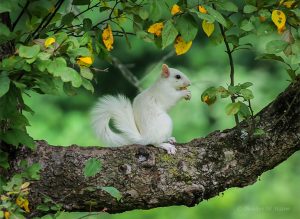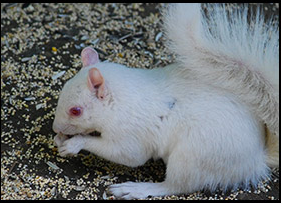 A white variable squirrel spotted in Thailand (picture found here):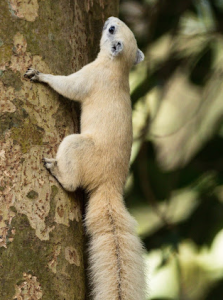 The African pygmy squirrel: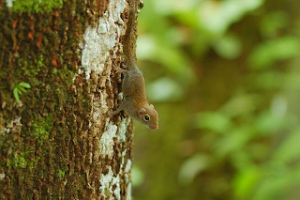 The least pygmy squirrel of Asia: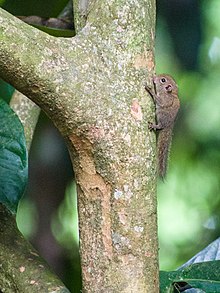 Show transcript:
Welcome to Strange Animals Podcast. I'm your host, Kate Shaw.
It's finally the squirrel episode! Both Liesbet and Enzo have suggested squirrels as a topic, and Enzo specifically asked about white squirrels, hybrid squirrels, and squirrels in danger. We're going to cover all those, and also a few squirrel mysteries!
First, though, a quick note to say that the Kickstarter campaign for the Strange Animals Podcast book is definitely going to happen NEXT MONTH! It'll go live in early October 2021. Don't worry, I'll let you know when so you can go pre-order a copy of the book if you want, and in fact I think I'll do a bonus episode the first day of the Kickstarter. If you want to get an email to remind you when the campaign launches, there's a link in the show notes to the pre-launch page where you can request an email notification on launch. You can also see what the book cover will look like! Now, on to the squirrels.
The animal we generally just call a squirrel is specifically a tree squirrel, as opposed to ground squirrels. Tree squirrels are arboreal, which means they live in trees, although they spend plenty of time on the ground too. Squirrels mostly eat nuts and seeds, including acorns and the seeds inside pine cones, but will also eat berries, flowers and buds, tree bark and sap, fungus, and sometimes insects, bird eggs, and even baby birds. Squirrels are rodents and are active in the daytime.
Squirrels can be helpful to trees even though they eat tree nuts, because most species bury nuts to dig up and eat later. The squirrel doesn't always remember where it hid all its nuts, and in spring the buried nuts sprout and grow into new trees. Some species also hide nuts in caches, often in holes in trees.
A squirrel sleeps in a nest made of dead leaves and sticks it builds in the branches of a tree. The nest is called a drey and it's lined on the inside with moss, grass, and other soft, warm material. A mother squirrel will line the nest with some of her fur right before her babies are born, so the nest is especially soft and warm. Some species also nest in old woodpecker holes. In winter when it's cold, several squirrels may share the same drey to stay warm, but squirrels are usually solitary. They don't hibernate, but like most of us, they sleep more in winter and are less active.
Most people know what a squirrel looks like, because it's such a common animal throughout most of the world. Some squirrel species get used to humans and often live in people's yards and in city parks. A tree squirrel has a long, fluffy tail, a long, slender body, relatively short legs, small ears, and large eyes. It's usually gray or brown and sometimes has spots or stripes.
Some tree squirrels look different from the squirrels you may be used to, depending on where you live. Squirrels of the genus Ratufa are called giant squirrels and they're the size of domestic cats. They live in parts of Asia, especially southeast Asia. The Indian giant squirrel lives in India, and not only is it especially big, up to 20 inches long, or 50 cm, not counting its long tail, it's brightly colored. Different individuals and subspecies can have different shades of fur, although the belly and front legs are usually cream-colored. The rest of the body can be tan, dark brown, black, cream-colored, rusty-red, or even a dark maroon color. You may have seen pictures online of brightly colored giant squirrels, and while those are real pictures of real animals, the photographer used a filter that enhances the colors to make them look even brighter than they really are.
The Indian giant squirrel and its close relations eat fruit, nuts, flowers, and other plant material, and hardly ever come down from the tall trees where they live.
Another colorful squirrel is the variable squirrel, which also lives in southeast Asia. It's on the small side for a tree squirrel, less than 9 inches long at most, or 22 cm, not counting the tail. There are over a dozen subspecies that vary in color and pattern, and some researchers think there may be enough differences that it's actually more than one species of closely related squirrel. It's a member of a genus called "beautiful squirrels," because so many species in the genus have pretty markings. Some variable squirrels are white underneath and red-brown above, with little pointed ears outlined in white, and a reddish tail. Some are glossy black with red markings. Others can be gray, black, orangey-red, reddish-brown, brown, or white with various patterns and markings. It's so pretty that it's been introduced in places like Japan, Singapore, Italy, and the Philippines, where it can be an invasive species.
The eastern gray squirrel of eastern North America has also been introduced to other areas where it's become an invasive species. It was introduced to the UK in 1876 and because it's a large, aggressive species, the native Eurasian red squirrel has been driven almost to extinction in Britain. It's still doing fine in the rest of its range, though. Habitat loss is also a factor in the red squirrel's declining numbers, but the gray squirrel certainly isn't helping.
The gray squirrel also carries a disease called the squirrel parapoxvirus that causes squirrelpox. Don't worry, only squirrels can catch it. The gray squirrel is mostly immune to the disease, but the red squirrel isn't. If an infected gray squirrel is bitten by a mosquito that then bites a red squirrel, the red squirrel can catch squirrelpox from the mosquito bite.
The red squirrel is a reddish-brown in color with tufts on its ears, and in winter it grows a thick undercoat to keep it warm. It also generally looks more gray in winter. Some populations of red squirrel in parts of Europe are black, or nearly black, although it still has a white belly. The red squirrel only grows up to about 9 inches long, or 23 cm, much smaller than the eastern gray squirrel, which can grow up to 12 inches long, or 30 cm. Those lengths don't include the tail. The red squirrel generally prefers fir trees while the gray squirrel prefers deciduous trees, especially oaks, but the gray squirrel will steal food from the red squirrel no matter what kind of food it is.
In its native range in eastern North America, the eastern gray squirrel often lives alongside other species of squirrel. In 1997 an evolutionary behavioral ecologist named Joel Brown noticed that there are two species of squirrel that live in Chicago, Illinois, a large city in the middle of the gray squirrel's range. The gray squirrel shares the city with the fox squirrel, which is about the same size and looks very similar to the gray squirrel but is more of a rusty-red color. Dr. Brown noticed that the gray squirrel mostly lives in wealthy neighborhoods while the fox squirrel mostly lives in neighborhoods where people don't have as much money, and he wanted to figure out why.
Dr. Brown started Project Squirrel to study the mystery. The program teaches people how to tell the difference between the two species so they can report what kind of squirrels they see and where they see them. Right away he started noticing patterns. Fox squirrels live in areas where there are more predators, including feral and free-roaming dogs and cats, urban foxes and coyotes, and hawks. Gray squirrels prefer areas where there aren't as many predators. Dr. Brown thinks it's because the fox squirrels are bolder and on average a little larger than gray squirrels, which tend to be more shy. He even noticed a change in his own neighborhood when gray squirrels started becoming more numerous, a shift that happened right after a local leash law went into effect, meaning that fewer pets were running loose.
Project Squirrel has since expanded. There's an app and everything if you want to take part as a citizen scientist and help solve squirrel mysteries.
Another small squirrel mystery is white squirrels. In August of 2021, just last month as this episode goes live, we had a Q&A episode where we talked about the black squirrels Connor was seeing in Michigan. Those black squirrels turned out to be melanistic eastern gray squirrels. Are white squirrels albino animals or is there something else going on?
Albinism is due to a genetic anomaly that causes an individual to lack pigment. That means its fur or hair is pure white and its skin looks pink because the lack of pigment means its blood shows through and makes it look pink. Its eyes will look red or pink for the same reason, although in some animals the eyes are pale blue instead. Humans with albinism have pale blue eyes.
But most white squirrels have dark eyes and may appear pale brown or gray instead of pure white. Instead of albinism, these squirrels are leucistic. Leucism is related to albinism but instead of a lack of pigment, a leucistic animal has reduced pigment. Sometimes the reduced pigment happens all over the body, sometimes in patches. A leucistic animal often has ordinary colored eyes and skin but pale or white fur. In some domestic species of animal, leucism is bred for or happens frequently in a population, like piebald horses and cows with white spots. It's a common enough condition that I've actually seen leucistic birds while birdwatching. Humans can sometimes show a type of leucism called vitiligo that usually develops in adults, where patches of skin lose their pigment over time. It's most noticeable on people with dark skin but it also happens to people with light skin. You can't catch vitiligo from someone else; it's just a genetic anomaly. Unfortunately, sometimes people who develop the condition get treated badly by others, because people are often afraid of things they don't understand. Now you know what it is and you can share that knowledge when you need to.
In squirrels, individuals with white fur are usually in more danger from predators. Everything likes to eat squirrels, which is why most squirrel species are gray or reddish-brown as camouflage against tree trunks and branches. A white squirrel shows up like a flashing sign saying, "Snacktime!" As a result, squirrels with white fur are rare to start with and usually don't live long enough to pass their genes along to the next generation—but in some places, they're much more common.
In many towns in the United States and Canada, white squirrels are not just common, most squirrels are white. Some towns have white squirrel festivals as a way to promote local pride and bring tourists to the area. Why do some places have white squirrels while most don't, and why are all the white squirrel populations in North America?
It's all back to the eastern gray squirrel again. Most squirrel species don't have a gene that can cause leucism, but the eastern gray squirrel does. Other squirrel species can be albinistic since that's a genetic anomaly that can happen in any animal, but it's the eastern gray squirrel that shows leucism most commonly. The closely related fox squirrel also sometimes exhibits leucism.
Some towns have high populations of white squirrels because people think they're neat. If the white squirrels are in a protected area, like a city park or a college campus, there are fewer predators to start with. People who like the squirrels will leave food out for them and make sure no one hurts them, and as a result the squirrels survive to have babies. Since leucism is a genetic condition, the babies of white squirrels are more likely to be white too.
Remember the variable squirrel we talked about earlier in the episode? Some of them exhibit leucism too, usually a pale brown-white all over with dark eyes.
One thing I learned about black squirrels after last month's Q&A episode is that some black squirrels are hybrids of eastern gray and fox squirrels. The two species are closely related and often live in the same areas, so it's not surprising that they sometimes interbreed. Hybrid babies may inherit a genetic variant found in fox squirrels that gives them darker fur. Some researchers think that all gray squirrels with black fur may have inherited the gene for black fur color from fox squirrels in their ancestry.
For the most part, though, tree squirrels don't hybridize very often, probably because in most places, only one species predominates in any given area. Grey squirrels and Eurasian red squirrels belong to different genera and subfamilies, so aren't very closely related although their habitats sometimes overlap.
Enzo specifically asked about squirrels in danger, and I'm happy to report that most squirrel species are actually doing just fine. Squirrels are adaptable and can learn to live around humans. As long as they have trees to live in and enough food to support a population, they're okay. The main danger most squirrels face is habitat loss, especially logging and clear-cutting of forests to build houses or businesses.
A subspecies of fox squirrel called the Delmarva fox squirrel was put on the endangered species list in 1967. It's native to areas of northeastern North America. It's about the size of the eastern gray squirrel, which it resembles since it's gray with a white belly, although it's usually a more silvery gray in color. By 1967 its population had declined by 90% from habitat loss and overhunting. A conservation plan put in place in 1979 focused on protecting the squirrel's remaining habitat, restoring its habitat wherever possible, and monitoring the population carefully. The program was such a success that in 2015, the Delmarva fox squirrel was removed from the endangered species list. It's yet another reminder that protecting an animal's habitat is just as important as protecting the animal itself. The Delmarva fox squirrel now only lives on the eastern coasts of Maryland and Virginia, a much smaller range than before, so continued conservation efforts are in place to keep it safe and healthy.
Let's finish with the smallest tree squirrel known, the African pygmy squirrel. It lives in tropical rainforests in parts of western and central Africa. It only grows 5.5 inches long, or 14 cm, and that includes its tail! That's the size of a mouse. We don't actually know a whole lot about the African pygmy squirrel, but we do know that it's an omnivore. This is unusual for squirrels, even though most squirrel species will eat the occasional insect or bird egg. The African pygmy squirrel eats insects regularly as well as fruit, bark, and other plant materials. Unlike most squirrels, it doesn't store food.
The African pygmy squirrel is the same size as the least pygmy squirrel that lives on three islands in southeast Asia. We know even less about the least pygmy squirrel than we do the African pygmy squirrel…or I guess you could say we know the least about the least pygmy squirrel.
You can find Strange Animals Podcast at strangeanimalspodcast.blubrry.net. That's blueberry without any E's. If you have questions, comments, or suggestions for future episodes, email us at strangeanimalspodcast@gmail.com. If you like the podcast and want to help us out, leave us a rating and review on Apple Podcasts or Podchaser, or just tell a friend. We also have a Patreon at patreon.com/strangeanimalspodcast if you'd like to support us for as little as one dollar a month and get monthly bonus episodes. There are links in the show notes to join our mailing list and to our merch store.
Thanks for listening!