Podcast: Play in new window | Download (Duration: 14:56 — 17.1MB)
Subscribe: RSS
THE KICKSTARTER IS LIVE AND I'M SO EXCITED!
The Kickstarter campaign is HERE! If you're not sure how Kickstarter works, that's what we talk about at the beginning of this episode. I then go over the different rewards available and finally we have a very short chapter from the audiobook.
I talk about the Kickstarter for way too long, so if you don't care you can jump ahead to 9:56 to listen to the actual chapter. Also, I am definitely going to re-record that chapter for the actual audiobook because I recorded it before I made adjustments to my mic.
One of the pictures of a ningen you'll find online. It's art, not a photograph: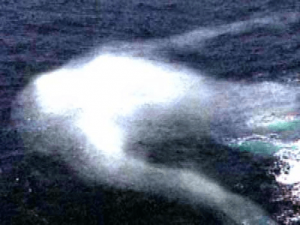 Show transcript:
Welcome to a special bonus episode of Strange Animals Podcast. I'm your host, Kate Shaw.
Today is the first day of our Kickstarter to raise money to publish a book about mystery animals! It's called Beyond Bigfoot & Nessie: Lesser-Known Mystery Animals from Around the World. This bonus episode will explain a little bit about how Kickstarter works and what rewards you can find in our Kickstarter campaign, and after that we'll listen to one of the new chapters of the audiobook.
In case you've never seen a Kickstarter before and aren't sure how it works, it's pretty simple. People who are interested in a project can pledge money and get different rewards, but Kickstarter only takes your money after the campaign is over and only if it reaches its goal. You can think of it as pre-ordering the book. You'll need to make an account on Kickstarter to pledge, and please make sure you use an email you check pretty often. After the Kickstarter finishes, you'll get an email asking for information so you can get your rewards. If you don't reply to the email, you'll never get your reward and I'll be left stressing over it for the rest of my life.
Our Kickstarter campaign starts today, Oct. 6, 2021, and ends on November 5, 2021, one month from now. Our goal is $1,500, which sounds like a whole lot of money and it is, but I think we can raise that much in a month. The money will allow me to pay for the cover art, pay someone to design the interior of the book to make it look good, and pay the fees required to self-publish a book, including getting an ISBN and things like that.
The book is finished, and while most of it is taken from old episodes about mystery animals, I've revised the information as much as possible, rewritten it to make it fit better as part of a book, and I've added new chapters about mystery animals we've never covered in the podcast. It's not just a copy and paste job, in other words. It's taken me a long time to get it ready but I'm proud of it and I think you'll like it. If you know anyone who's interested in mystery animals but who doesn't listen to podcasts, they might like the book instead.
I have a bunch of rewards you can get for your pledge. The first tier is just one dollar for people who want to help but might not have a lot of money to spare. The reward for the $1 tier is your name on a page at the back of the book thanking you for your help. One dollar doesn't sound like much, but it's surprising how fast dollars add up, so don't feel bad if that's all you can contribute. I'm grateful for every single dollar.
The next tier is a really fun one. If you pledge $5, you can get a birthday shout-out for yourself or someone else that will run in the episode the week before that person's birthday. You can ask for up to three birthday shout-outs for one pledge and I'll read the birthday names out at the beginning of that week's episode. We'll only be doing birthday pledges during 2022 and the only way you can get a birthday shout-out is through the Kickstarter.
The next tier is where the book pledges start. For $15 you can get a copy of the ebook. After the ebook is ready, I'll send you a download code. It should be available in all the usual ebook formats so you can read it on whatever device you prefer.
If you want a physical copy of the book, a paperback copy will be $25 and the hardback will be $45, plus they both have $5 shipping. Any physical copy of the book I send out to backers will be signed, and I'll probably add a sticker too. Unfortunately, I can only ship physical copies to the United States. Shipping to other countries is really expensive right now and I can't even ship to some countries at all because of covid.
I'll be sending out copies of the book as soon as the cover and interior design or formatting is finished. The official completion date for the book is February 2022, which is our fifth anniversary, but I'm going to try and get the ebook and maybe the print book out before then, barring some major issue that I can't foresee.
The audiobook is a little different because it takes a long time to record the book and edit it, and even when it's done it has to be evaluated and compiled by the audiobook service before it's ready to download and listen to. I'm going to try my best to have it all done by mid-2022, but it might take much longer. My official completion date on Kickstarter is February 2023 for the audiobook. The pledge to get the audiobook will be $15, and if you're someone who loves audiobooks you know that's really cheap. I decided to make it inexpensive as a special thank-you since you have to wait so long to get that reward.
If you choose the audiobook, you'll get a download code in your email when it's ready. To use the download code you have to make an account in Findaway Voices if you don't already have one, but you can download the audiobook to listen on your phone or wherever you usually listen to audiobooks.
Next, the $100 tier is limited to five, because people who pledge at that level will help me make an episode of the podcast that will run in May of 2022. I chose May because it has five Mondays, and that also gives me lots of time to work with people to put together their special episode. That can include whatever you're most comfortable with. You can email me with your ideas, or we can have a short Zoom call or phone call to talk things over. If you want to have your voice in the episode, you can record some facts about your animal that I'll include in the show. That tier also includes a copy of the ebook. So if you're interested and have $100 lying around, better pledge for this reward fast.
The last tier is the big one. It's limited to one, because for a whopping $500, I will dedicate the entire book to you or someone else you choose. You also get a copy of the ebook, the audiobook, and a birthday shout-out. If no one chooses this tier, because it's really expensive, I'll probably choose one person at random from all the people who pledged at other tiers, and dedicate the book to that person.
So, you may be thinking, hey, what if I want a paperback copy of the book but I also want the birthday shout-out or the ebook or the audiobook too? What if you want all those things? What if you want to get two copies of the book for you and a friend? Fortunately, Kickstarter has a nifty option called add-ons. After you choose a reward tier, the next screen is a list of add-ons you can add on to your pledge. You can choose the birthday shout-out, the ebook, or the audiobook, or you can choose all three if you like. You can even get more than one copy if you like, up to three additional copies of the ebook and audiobook and up to ten additional copies of the birthday shout-out if you want to give a birthday shout-out to 30 people. That seems like a lot of people but maybe you have a lot of friends.
There is one other tier, but that's only available on October 6, 2021, the first day of our Kickstarter campaign. It's called the digital bundle, where for $25 you'll get a copy of the ebook, a copy of the audiobook, and a birthday shout-out. It's a pretty good deal.
So, those are the tiers. There's a link in the show notes so you can click through and take a look at them on the Kickstarter site and learn a little more about how Kickstarter works. Definitely feel free to email me at strangeanimalspodcast@gmail.com if you have any questions, or you can post your question on the Kickstarter page.
I'm really excited about running a Kickstarter! Thanks in advance for backing the project if you can, and if you can't afford it right now or aren't interested in the book, just sharing the project with friends or on social media would be a great help!
Finally, let's listen to a very short chapter of the audiobook. It's one of several new chapters about mystery animals we've never covered in the podcast. This will give you an idea of what the audiobook will sound like too. It basically sounds like the podcast, but without the intro or outro stuff.
The chapter starts at 9:56
The Ningen
The seas around Antarctica are cold and stormy. To humans it seems unhospitable, a deadly ocean surrounding an icy landmass. But the Antarctic Ocean is home to many animals, from orcas and penguins to blue whales and colossal squid, not to mention the migratory birds, cold-adapted fish, and many small animals that live in the depths. New animals are constantly being discovered, but it's also not very well explored.
Stories from Japanese whalers who visit the area supposedly tell of a strange creature called the ningen, which is occasionally seen in the freezing ocean. It's usually white and can be the size of a big person or the size of a baleen whale. It's long and relatively slender, and while details vary, it's generally said to have a human-like face, or at least large eyes and a slit-like mouth. It also has arms instead of flippers and either a whale-like tail or human-like legs.
These stories don't come from long ago, though. The first post about the ningen appeared in 2002 in a Japanese forum thread about giant fish. Interest in the topic died down within a few months, until 2007 when the ningen was the subject of both a manga and a magazine article.
The ningen didn't start appearing in English language sites until 2010. While it's never been as well-known as many so-called cryptids, it has been the subject of short stories and books, creepy art, a J-pop song, and lots of speculation.
The question, of course, is whether the ningen is a real animal or a hoax. The initial post was made by an anonymous woman who claimed to be repeating something an unnamed whaler friend told her he'd experienced, and her friend also said that the Japanese government was baffled, and that the government was engaged in a cover-up so no one else would learn about the mystery animal. This has all the hallmarks of a modern urban legend. I don't think the ningen is a real animal.
Just for fun, though, if it was a real animal, what might it be? The beluga whale is the first thing I thought of, since it's white, grows around 18 feet long, or 5.5 meters, and has a small rounded head with features that look sort of human-like. But the beluga whale only lives in the Arctic, not the Antarctic. That's the opposite side of the world.
Of the whales that do live around the Antarctic for at least part of the year, none are white all over and most are dark gray or black. Very rarely, though, a whale is born with albinism, which means its skin lacks pigment. As a result, it looks white or very pale gray. An albino humpback whale called Migaloo has been spotted off the coast of Australia repeatedly since 1991, for instance.
An albinistic bowhead or right whale living in the Antarctic might be seen occasionally by whalers who don't realize they're all seeing the same individual. Both the bowhead and right whales have deep, rounded rostrums that could potentially look like a human-like face—slightly, if you were looking at it through fog or darkness, and were already aware of the story of the ningen.
Then again, if the ningen is a real animal, it might be a whale that's completely unknown to science. There are still a lot of beaked whales we know almost nothing about, and new species of beaked whale are occasionally discovered. The ningen might not even be a whale at all but something else entirely.
Still, while it's a fun story, it's probably not real. You can't believe everything you read on the internet.
Thanks for supporting the podcast and the Kickstarter! When we reach 100 backers on the Kickstarter, we'll have a second bonus episode with another of the new chapters from the audiobook, even if all 100 pledges are just for a dollar.
Thanks for listening!