Podcast: Play in new window | Download (Duration: 9:15 — 10.3MB)
Thanks to David for this week's suggestion, the piranha!
Further reading:
Florida wildlife officer's fish seizure nibbles at illegal piranha sales
How Teddy Roosevelt Turned Piranhas into Ferocious Maneaters
The beautiful butterfly peacock bass (not a piranha):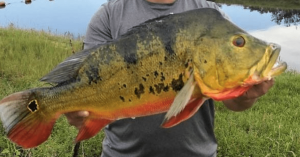 The red-bellied piranha (By H. Zell – Own work, CC BY-SA 3.0, https://commons.wikimedia.org/w/index.php?curid=82557603):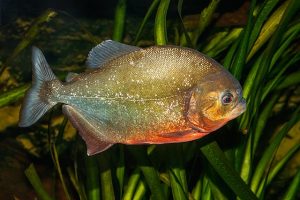 Chompy chompy teeth: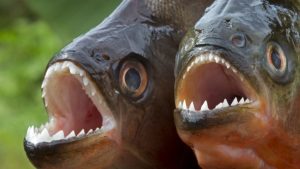 Show transcript:
Welcome to Strange Animals Podcast. I'm your host, Kate Shaw.
This week we're covering a type of fish that I absolutely cannot believe we haven't talked about before. It's the piranha! Thanks to David for telling me on Mastodon about a piranha incident that led to me realizing we don't have an episode about it yet.
David's incident is something that happened in Florida in 2009. In October of that year, a 14-year-old boy named Jake was fishing in a retention pond in West Palm Beach, Florida, which he did a lot. He'd caught all kinds of unusual fish in the pond, including a butterfly peacock bass, which is yellow, green, or even orange in color with three black stripes on its back. It can grow well over two feet long, or 74 cm. The peacock bass is native to tropical areas of South America but was deliberately introduced to Florida in 1984 to prey on other invasive species. This actually worked, and because the fish can't survive if the water gets too cold, it can't spread very far.
But on this particular October day in 2009, Jake caught a fish that no one wanted to find in Florida, a red-bellied piranha! The teenager took the fish to his dad, who called the Florida Fish and Wildlife Conservation Commission. A wildlife biologist investigated and caught another piranha in the same pond the following week.
That was enough of a problem that wildlife officials decided to poison the entire 4-acre pond rather than risk having piranhas become naturalized in Florida. The poison killed every single fish in the pond, including at least one other piranha, although it was a poison that quickly broke down into nontoxic compounds. The pond was later restocked with bluegills and other native fish.
The reason that Florida wildlife officials would rather kill all the fish in a big pond rather than let any piranhas live is that Florida is very similar to the piranha's native habitat in South America. Florida already has enough issues with invasive species like the Burmese python, cane toad, lionfish, and giant land snail without adding another fish that's famous for its sharp teeth and voracious appetite. If the piranha became established in Florida, it could drive all kinds of native fish and other animals to extinction very quickly.
This has actually happened in parts of China, where red-bellied piranha were first found in the wild in 1990 and have since spread throughout much of South China. In some waterways, up to half of the native fish have disappeared after piranha and other invasive species became established.
But wait, you may be thinking, what about the danger to humans? Aren't piranhas incredibly dangerous to swimmers?
The red-bellied piranha is the species that most people think is dangerous to people. We've all heard the stories and maybe seen movies where a pack of piranha attack someone swimming along, and within minutes all that's left of them is a skeleton. But it may not surprise you to learn that those stories are fake, but they're widespread for an unusual reason.
Back in 1913, the former U.S. President Teddy Roosevelt, who we talked about in episode 284 about the teddy bear, took part in an expedition to the Amazon basin in South America. The expedition was arranged by the Brazilian government, who invited Roosevelt along.
The expedition planned to explore the headwaters of the Amazon and it did, at great peril. Three people died and almost everyone got sick from malaria or some other disease, including Roosevelt, who got a cut on his leg that became badly infected. One of the three people who died was murdered by another expedition member, and instead of taking the murderer home to face justice, they just…left him in the jungle, a looooooooong way from anywhere or anyone.
Anyway, one of the things Roosevelt saw early on in the trip was something he told everyone about later, in gruesome detail. You've probably heard about it too. The local dignitaries took Roosevelt and the other expedition members on a tour of their town, showing things off, as people do all over the world when they have important visitors. They also showed how ferocious the local piranhas were by driving a cow into the water. A pack of piranhas attacked the cow, and within minutes it was nothing but a skeleton, just like in the movies!
But wait, you're probably thinking again, I just said that was all fake! Did it really happen? It did, but not the way it sounds. The whole cruel spectacle was arranged ahead of time by the local dignitaries. They had people capture piranhas from miles away and bring them to one section of the river, where they were penned in with a net and not given any food for days. By the time the cow was driven into the makeshift pen, the piranhas were starving and desperate. Under normal circumstances, they would have never attacked the cow.
The red-bellied piranha and its relations are actually mild-mannered fish who only want to eat small fish, snails, insects, and other tiny animals, along with fruit and leaves. It will also sometimes eat dead animals it finds, which has led to people assuming piranhas killed someone swimming in the water when actually the person drowned and the piranhas just, you know, cleaned things up a little.
The red-bellied piranha can grow up to 20 inches long, or 50 cm, and is usually silvery-gray in color with black markings and a reddish belly. It does have big sharp teeth, but so do lots of other fish. Most importantly, the piranha doesn't hunt in packs. It hunts individually most of the time, but it may stay in a school with other piranhas to help it avoid predators. If a caiman or something decides it wants a piranha snack, any given individual fish in a school is likely to escape the caiman, whereas a fish by itself has a much higher chance of being grabbed and eaten.
The piranha communicates with other piranha by sound. Fish aren't usually famous for making noise, but the piranha can use its swim bladder as a resonant chamber. It uses special muscles to make a low-pitched drumming sound, usually to warn another piranha away from whatever food it's found.
Aquarium enthusiasts sometimes keep piranha as pets, but they need special care. A piranha won't eat meat that's going bad, so it has to have fresh meat or live animals it can catch, and some animals can make the piranha sick, like goldfish. It's also a messy eater, so its water will get yucky very quickly and has to be continually changed. And, of course, in some places people aren't allowed to own piranha at all. You know, places like Florida.
The red-bellied piranha is the largest living species, but 8 to 10 million years ago a species named Megapiranha could grow as much as four feet long, or 1.27 meters. If you'd lived back then, you might have needed to be a little more careful where you swam.
You can find Strange Animals Podcast at strangeanimalspodcast.blubrry.net. That's blueberry without any E's. If you have questions, comments, or suggestions for future episodes, email us at strangeanimalspodcast@gmail.com. If you like the podcast and want to help us out, leave us a rating and review on Apple Podcasts or Podchaser, or just tell a friend. We also have a Patreon at patreon.com/strangeanimalspodcast if you'd like to support us for as little as one dollar a month and get monthly bonus episodes.
Thanks for listening!