Podcast: Play in new window | Download (Duration: 12:08 — 14.0MB)
My little cat Gracie got lost but she's home! Let's learn about some other rediscovered animals this week!
A very happy birthday to Seamus! I hope you have the best birthday ever!
Further listening:
The Casual Birder Podcast (where you can hear me talk about birding in Belize!)
Further reading:
Bornean Rajah Scops Owl Rediscovered After 125 Years
Shock find brings extinct mouse back from the dead
Rediscovery of the 'extinct' Pinatubo volcano mouse
Gracie, home at last! She's so SKINNY after a whole week being lost but she's eating lots now: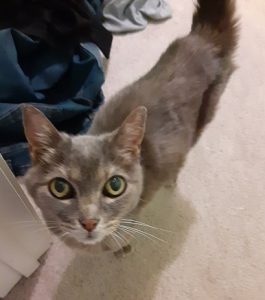 The Bornean Rajah scops owl (photo from article linked above):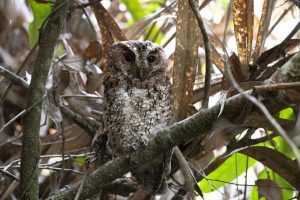 The djoongari is the same as the supposedly extinct Gould's mouse (photo from article linked above):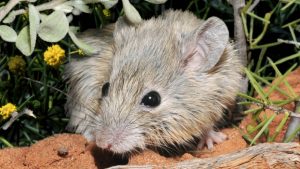 The Pinatubo volcano mouse: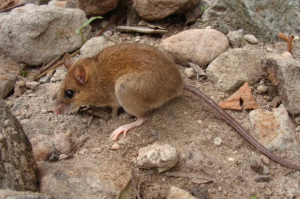 Show transcript:
Welcome to Strange Animals Podcast. I'm your host, Kate Shaw.
While I was researching animals discovered in 2021, I came across some rediscoveries. I thought that would make a fun episode, so here are three animals that were thought to be extinct but were found again!
A couple of quick things before we get started, though.
First, happy birthday to Seamus! I hope you have a brilliant birthday and that it involves family, friends, or at least your favorite kind of cake, but hopefully all three.
Next, a few weeks ago I appeared on the Casual Birder Podcast talking in depth about my trip to Belize and some of the birds I saw there. I'll put a link in the show notes. It's a great podcast that I really recommend if you're interested in birding at all, and the host has such a lovely calming voice I also recommend it if you just like to have a pleasant voice in the background while you do other stuff.
Finally, thanks for the well wishes from last week, when I let our emergency episode run. I'm actually fine, but my little cat Gracie got frightened while I was bringing her into the house from a vet visit, and she ran away. That was on Friday, March 11 and I spent all night looking for her, but then we had a late-season snowstorm come through and dump six inches of snow on my town, which made me even more frantic. At dawn on Saturday I put on my boots and heavy coat and spent all day searching for Gracie, and on Sunday I was still searching for her. I didn't have time to work on a new episode. In fact, I searched every day as much as possible all week long, until I was certain she was gone forever. I couldn't bring myself to work on this episode because rediscovered animals just seemed like a cruel joke when my little cat was gone. I was almost done with a different episode when on Saturday night, March 19, 2022, eight full days after Gracie had disappeared, I got a phone call. Someone had seen a little gray cat under their shed, over half a mile from my house! I rushed over and THERE WAS GRACIE! I found her! She is home!
So I've been researching rediscovered animals with Gracie purring in my lap, in between her going to her bowl to eat. She's lost a lot of weight but other than that she seems healthy, and she's very happy to be home.
The person who found Gracie first noticed her around their birdfeeder, so we'll start with a rediscovered bird.
There are two subspecies of Rajah scops owl that are only found on two islands in southeast Asia, Borneo and Sumatra. The subspecies that lives in Sumatra is fairly common throughout the mountains on that island, where it lives in the lower branches of trees in higher elevations. It's a tiny owl that only weighs about 4 ounces, or 100 grams. As the article I link to in the show notes points out, that's about the weight of four AA batteries.
The subspecies that lives on Borneo, though, was always much rarer and had a much smaller range. In fact, no one had seen one since 1892 and researchers thought it was probably extinct. There's another owl that lives in the mountains of Borneo, the mountain scops owl, that's fairly common.
In May of 2016, a team of scientists started a 10-year study of birds that lived on Mount Kinabalu in the country of Malaysia in northern Borneo. One team member, Keegan Tranquillo, was checking bird nests that very same month and noticed an owl that didn't look like the mountain scops owl. It was larger and its plumage was different.
Tranquillo contacted ecologist and bird expert Andy Boyce, who came out to take a look. When he saw the owl, Boyce was excited at first but then filled with anxiety. He knew the owl must be incredibly rare and would be in great danger of going extinct if conservation efforts weren't put into place. Many areas of Borneo are under pressure from logging, mining, and palm oil plantations, which is leading to habitat loss all over the island.
Not only that, the more Boyce looked at the owl, the more he noticed differences from the Sumatran subspecies of Rajah scops owl. He suspected it might not be a subspecies but a completely separate species. That made it even more important to protect the owl and study it.
The owl's rediscovery was announced in May 2021. Studies of the owl are ongoing but hopefully will soon result in more information about it and its habitat.
Next, let's talk about a rodent, since Gracie likes to play with toy mice. This rediscovery came from Australia, where a study of extinct Australian rodents and their living relations found something surprising. It's the opposite of the owl we just talked about, that might end up being a separate species of its own.
The mouse in question was once called Gould's mouse. It used to be common throughout Australia, where it's a native mammal, but it was declared extinct in 1990 after no one had seen it since the 1840s. Researchers suspected it had gone extinct after colonizers brought cats to Australia, although diseases and competition from introduced species of mice and rats also had a big impact.
Meanwhile, another native mouse, called the djoongari or Shark Bay mouse, was driven nearly to extinction. Fortunately, the djoongari survived on a few islands off western Australia. Conservation efforts in 2003 introduced it to more islands, where it spread and did well. It's a social mouse that lives in family groups in a burrow it digs under bushes. It lines the burrow with dry grass to make it warmer and more comfortable.
The djoongari is a large mouse, up to 4.5 inches long not counting the tail, or 11.5 centimeters. The tail is a little longer than the head and body combined. It has long, shaggy fur that's a mixture of dark and light brown with a paler belly and feet, and it has a tuft of dark fur at the end of its tail like a tiny lion.
In early 2021, the researchers studying native rodent DNA realized that the living djoongari and the extinct Gould's mouse had the exact same genetic profile! They were the same animal! That means Gould's mouse didn't go extinct, although technically it didn't exist in the first place.
That doesn't mean the djoongari is perfectly safe, of course. Its range is still extremely restricted and it's vulnerable to the same factors that nearly drove it to extinction in the first place. But at least it's still around and can be protected.
We'll finish with another mouse. In 1991, a volcano in the Philippines erupted. The volcano was called Mount Pinatubo on the island of Luzon, and the eruption was enormous. It was ten times stronger than the eruption of Mount St. Helens in 1980. Lava and ash filled valleys up to 600 feet deep, or 183 meters. More than 800 people died from the eruption itself and the devastation afterwards, during landslides caused by all the ash every time it rained.
In addition to the awful situation for people, animals were affected too. Most of the forests near the volcano were completely destroyed. Scientists thought the Pinatubo volcano mouse had probably gone extinct since it only lived on that one volcanic mountain, which had just blown up. Surveys of the area a few years after the eruption didn't turn up signs of any of the mice.
The Pinatubo volcano mouse was only described in 1962 from a single specimen collected in 1956. It was a large mouse, almost the size of a rat, with long hind legs for jumping and climbing and a tail much longer than the length of its head and body together. It mostly ate earthworms and other small animals, but not a lot was known about it.
More than 20 years after the eruption, a team of scientists surveyed the animals living on the mountain. The conditions were difficult for the team to navigate, since there was still a lot of ash and erosion in the area that made the steep slopes unstable. The lush forests were gone, replaced by grass and bamboo, shrubs, a few trees, and other plants. They didn't expect to find a lot of animals, although they thought they'd find introduced species of rats and mice that had moved into the disturbed areas from other parts of the island.
But to their surprise, they found 17 species of mammal on the mountain. Eight were bats, there were wild pigs and deer, and the rest were rodents. And the rodents were mostly native species, not introduced ones—including the Pinatubo volcano mouse!
Researchers theorize that a mouse that lives on an active volcano as its only habitat must have evolved to weather occasional eruptions. The mice were actually most numerous in the places that had been the most destroyed. The term for a species that thrives in environments that have seen widespread natural destruction is "disturbance specialist," and that's just what these mice are.
It just goes to show that no matter how bad things may be, there is life. And where there's life, there's hope. And probably mice.
Now, if you will excuse me, I have to go make a chocolate cake to take to the person who found Gracie.
You can find Strange Animals Podcast at strangeanimalspodcast.blubrry.net. That's blueberry without any E's. If you have questions, comments, or suggestions for future episodes, email us at strangeanimalspodcast@gmail.com. If you like the podcast and want to help us out, leave us a rating and review on Apple Podcasts or Podchaser, or just tell a friend. We also have a Patreon at patreon.com/strangeanimalspodcast if you'd like to support us for as little as one dollar a month and get monthly bonus episodes.
Thanks for listening!