Podcast: Play in new window | Download (Duration: 12:00 — 13.7MB)
This week we're going to learn about a brand new study in Nature about animals and plants that lived in Greenland about two million years ago.
Happy birthday to Dillon!
Further reading:
A 2-million-year-old ecosystem in Greenland uncovered by environmental DNA
Scientists Reconstruct 2-Million-Year-Old Ecosystem from Environmental DNA
No bones? No problem: DNA left in cave soils can reveal ancient human occupants
Greenland now: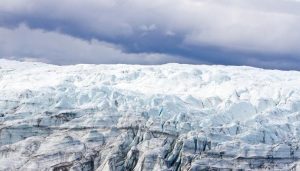 Greenland two million years ago [art by Beth Zaiken, taken from the second article linked above]: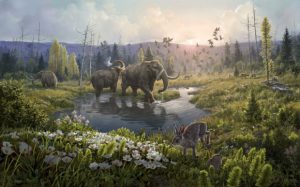 Show transcript:
Welcome to Strange Animals Podcast. I'm your host, Kate Shaw.
This week we're going to do something a little different and talk about a new study just published in the journal Nature. A little section of this episode is taken from a recent Patreon episode, for those of you who listen and think, "Wait, I'm pretty sure I've heard that before."
Before we get started, though, we have a birthday shoutout! A great big happy birthday to Dillon! I hope you do something really silly and fun on your birthday, like dance around wearing a ridiculous party hat and then eat cake.
Greenland is a big island off the eastern coast of Canada, but way far north, more or less in the Arctic. Even though it's off the coast of North America, it's considered part of Europe because for the last thousand years, it's been controlled by Norway or Denmark at various times. Denmark's got it right now. A little over 56,000 people live there today, most of them Inuit.
A big part of Greenland is covered in an ice sheet over a mile thick, which is so heavy it has pushed the central section of the island down so that it's almost a thousand feet, or over 300 meters, below sea level. The land is much higher around the edges of the country. Basically Greenland is a gigantic bowl full of ice.
In 1966, the U.S. Army drilled into the ice to see what was under it, and the answer is dirt, as you might have expected. They took a 15-foot, or 4.5 meter, core sample and stuck it in a freezer, where everyone promptly forgot about it for 51 years. At some point it ended up in Denmark, where someone noticed it in 2017.
In 2019, the frozen core sample was finally studied by scientists. They expected to find mostly sand and rock. Instead, it was full of beautifully fossilized leaves and other plant material.
The main reason scientists were so surprised to find leaves and soil instead of just rock is that ice is really heavy, and it moves—slowly, but a mile-thick sheet of ice cannot be stopped. If you remember episode 277 about the rewilding of Scotland, you may remember that Scotland doesn't have a lot of fossils from the Pleistocene because it was covered in glaciers that scoured the soil and everything in it down to bedrock, destroying everything in its path. But this hasn't happened in Greenland.
Where the ice sheet now is, there used to be a forest. Obviously, the ice sheet hasn't always covered Greenland. Research is ongoing, but a study of the sediment published in 2021 indicates that Greenland was ice free within the last million years, and possibly as recently as a few hundred thousand years.
If you go back a little farther, around two million years ago, Greenland was radically different. Not only was it ice free, it was much warmer than it is today. In north Greenland, which is now a polar desert, there was once an open forest where an incredible number of plants and animals lived. We know because of environmental DNA sequencing, often referred to as eDNA.
At this point most of us have a good understanding of what DNA is, but I'll give you a quick explanation in case you're not sure. DNA stands for Deoxyribonucleic acid, and it's a polymer chain found in every organism's cells that contains genetic instructions, essentially a guide on how to grow a particular type of animal. It's way more complicated than that, but that gives you a basic idea. When cells replicate as an organism develops, either from an egg cell or a seed, the DNA directs what sequences of development happen at what stages. You inherit DNA from your parents but your personal DNA is always a little different from both parents'.
True crime podcasts talk about DNA a lot because every individual organism has a unique DNA profile, and since every single cell in our bodies contains DNA, criminals leave their unique signature at every crime scene. Now that scientists can sequence DNA from really tiny samples, many crimes have been solved when the only evidence was something like "this criminal murdered someone and then smoked a cigarette, and left the cigarette butt, and the DNA from their saliva on the cigarette butt was sequenced and run through a database of criminal DNA profiles, and now we know who the murderer is." And then you get six commercials for mattresses and phone games.
But animal podcasts talk about DNA a lot because every species of organism has a unique genetic profile in addition to having a unique personal genetic profile. Scientists can retrieve DNA from a poop found in the forest and determine what species of animal left that poop. It probably wasn't a Bigfoot. Scientists can also compare DNA from different animal populations to learn how closely related they are.
The most recent advance in DNA studies is environmental DNA, and it's increasing our knowledge of the world in amazing ways. If you look at a lake, even if you go Scuba diving in the lake, even if you send a rover down to look at things in the lake, you won't be able to see every single animal and plant and other organism that lives there. Fish are always moving around and may swim away from a diver or rover, or the water may be murky, and lots of animals stay hidden in the mud at the lake's bottom. But if you take samples of the lake water and test it for DNA, suddenly you're going to have more information than what you'd gather in days or weeks of just looking. Of course it's important to observe animals in their natural habitats, but if you need to know whether an invasive species is living in the lake, or if an animal that hasn't been seen for a long time is still extant in the lake, or if there are animals in the lake that no one's ever seen before, eDNA can do that. The water is full of genetic material shed by different organisms.
It's not just water, either, although testing water samples is pretty easy. DNA degrades quickly in ordinary circumstances, so while you can test soil to see what animals and plants live nearby, in most cases you'll only find DNA that was deposited recently. But if the soil has been protected from sunlight, weather, and oxygen, such as soil found in a cave, there's a chance that some ancient DNA can be found in it. That can tell us a lot about what animals lived in the cave a long time ago.
It's not a few genetic sequences found in a single sample, either. As one scientist put it, there are trillions of DNA fragments in every single spoonful of dirt. Not all the samples are complete enough to sequence, but the ones that are can tell us a lot about the organisms that encountered that spoonful of dirt when it was at the surface of the cave. In Denisova Cave in Siberia, where a few remains of the Denisovan people were first discovered, researchers have learned that Denisovans and Neandertals lived in the cave for tens of thousands of years at different times, even though there aren't any bones or artifacts remaining.
But the sediment from the Greenland eDNA study wasn't from a cave. It had been preserved in permafrost for two million years without anything disturbing it, especially humans. It's the oldest eDNA that's been studied so far, more than a million years older than the previously oldest DNA. That was also found in permafrost and was recovered from a mammoth tooth.
Two million years ago in northern Greenland, poplar, birch, and thuja trees grew in an open forest along with various shrubs and other plants like ferns and moss. The thuja is sometimes called the tree of life or arborvitae and it's an evergreen tree that's related to junipers, sequoias, and cypresses. A lot of the plant DNA found was a surprise, since pollen from the plants had never been recovered in the area. Lots of plants related to modern roses and azaleas grew in the area, so we know there were flowers in spring and summer.
The area is called Kap København, and while it was still pretty cold, it was warm enough that much of the Greenland ice sheet had melted. In winter the temperature might have sometimes been as warm as 50 degrees Fahrenheit, or 10 Celsius, and only dipped to around 2 degrees Fahrenheit on average, or -17 Celsius. This is a whole lot warmer than modern days, where the winter temperature can drop to -50 Celsius, which is about the same in Fahrenheit, and almost never climbs above freezing except in summer.
Some of the animals that lived in the forest two million years ago were mastodons, reindeer, hares, geese, and various rodents related to voles and lemmings. There was even horseshoe crab DNA found from coastal water that had been pushed farther inland during flooding. All the animals found are related to modern animals that still live today, but only one, the Arctic hare, had actually been found in the fossil record in Greenland. They also found DNA of ants and fleas, plankton, algae, and lots of microbial life.
There is no ecosystem on earth today that quite matches that of Kap København from two million years ago. Until this study, scientists thought that not much lived in the area at the time, certainly not mastodons. Hopefully, environmental DNA can be recovered from even older sediments so we can learn more about the ancient world.
You can find Strange Animals Podcast at strangeanimalspodcast.blubrry.net. That's blueberry without any E's. If you have questions, comments, or suggestions for future episodes, email us at strangeanimalspodcast@gmail.com. If you like the podcast and want to help us out, leave us a rating and review on Apple Podcasts or Podchaser, or just tell a friend. We also have a Patreon at patreon.com/strangeanimalspodcast if you'd like to support us for as little as one dollar a month and get monthly bonus episodes.
Thanks for listening!