Podcast: Play in new window | Download (Duration: 10:20 — 12.0MB)
Sign up for our mailing list! We also have t-shirts and mugs with our logo!
Check out our Kickstarter pre-launch page!!
Thanks to Max for suggesting the rhinoceros viper! We'll learn about that one and several other snakes with nose horns this week.
The rhino viper, AKA the butterfly viper because of its beautiful colors and pattern: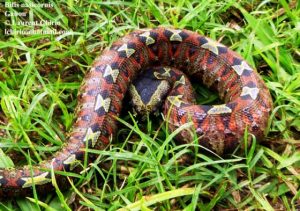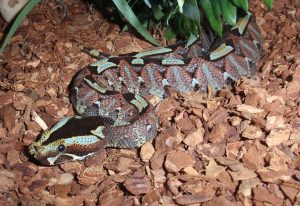 The rhino viper has nose horns (photo by Balázs Buzás):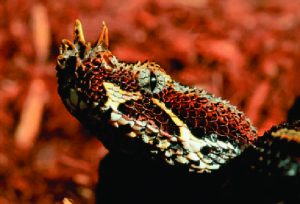 The West African Gaboon viper (Bitis rhinoceros), AKA the other rhino viper: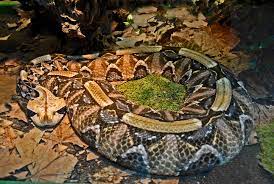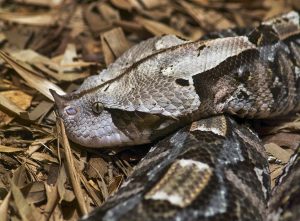 The rhinoceros snake, AKA the Vietnamese longnose snake (photo taken by me! That's why it's kind of blurry!):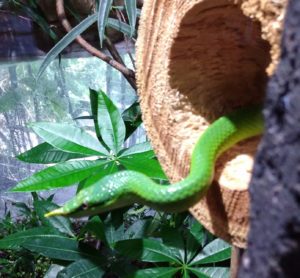 The nose-horned viper is a beautiful snake: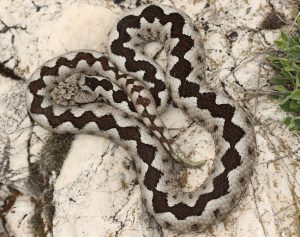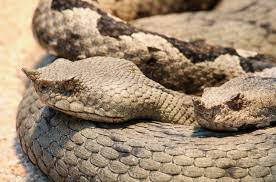 Show transcript:
Welcome to Strange Animals Podcast. I'm your host, Kate Shaw.
Just a reminder about our Kickstarter for the Strange Animals Podcast book! Check the show notes for a link if you want to look at the preliminary cover and maybe bookmark the page for when we go live in just two weeks!!
This week we'll learn about the rhino viper, which was suggested by Max, who at the time was almost eight years old but that was so long ago I bet Max is eight now or maybe nine or ten. Maybe thirty.
The rhinoceros viper lives in forests in parts of western and central Africa, and can grow three and a half feet long, or 107 cm. It's a heavy chonk of a snake but it's beautifully colored, with big triangular blotches and smaller markings of red, yellow, black, and blue or green. If you look at one on a white background it stands out, but on the forest floor where it lives, with dead leaves and plants all around, it blends right in. It has rough scales that make it look bristly, called keeled scales. The rhino viper's scales are so strongly keeled that they can cut your hand if you pet it. It's not a good idea to pet wild snakes anyway.
The rhino viper's scientific name is Bitis nasicornis. At first I thought it was pronounced like "bite us," which I thought was hilarious, and I was disappointed to find that it's pronounced "bit-us," although that's actually funny too. Actually it's pronounced "bit-is." It's spelled B-I-T-I-S. Nasicornis means nose horn, and it definitely has horns on its nose. It has a pair of horns, in fact, side by side, and they stick up and slightly forward. Some rhino vipers even have three nose horns. They're not true horns, though. Instead they're made of modified scales. They're bendy like scales too.
The rhino viper mostly eats rodents but will also eat frogs, birds, and other small animals if it can catch them. It's an ambush hunter, meaning it hides among fallen leaves and waits for an animal to come too close. Most of the time it moves slowly, but when it strikes, it does so very quickly, in less than a quarter of a second. It has relatively mild venom, although some other Bitis species have venom that's deadly to humans.
The rhino viper spends most of its time on the ground, but it can climb trees if it wants to. The end of its blunt tail is even partially prehensile, meaning it can curl around branches to help it hang on. This is the closest thing to a hand that snakes have. It can also swim well.
Sometimes the rhino viper is called the butterfly viper because of its colorful markings, and to stop people from confusing it with another closely related snake called Bitis rhinoceros. Rhinoceros also means nose-horn, by the way. B. rhinoceros is also called the West African Gaboon viper because it lives in West Africa. It looks similar to the other rhino viper with a similar pattern but in more neutral tones of brown and tan. It's sort of a more sophisticated-looking rhino viper. It also has a pair of nose horns but they're smaller and generally point up and slightly back.
All snakes in the genus Bitis have a threat display that has earned them the name puff adder, although that's also the name of a specific species, Bitis arietans, that's extremely venomous. Some people call the various species of hognose snake found in North America puff adders too because of its behavior when it feels threatened. The hognose snake flattens its neck and raises its head so that it looks like a cobra, all the while hissing in a way that sounds like it's puffing air in and out. Snakes in the genus Bitis have a similarly impressive display. It appears to inflate and deflate as it hisses loudly, as though you're being warned away by a bicycle tire innertube with keeled scales and nose horns. This is what it sounds like when a puff adder puffs and hisses:
[snake hissing sounds]
Vipers of all kinds are members of the family Viperidae, which includes a whole lot of venomous snakes from many parts of the world. Vipers have fangs that are so long, they're actually hinged so they can fit in the mouth. Each fang is attached to a small bone that can rotate forward and back to extend and refold the fangs. Most of the time the viper's fangs are folded down along the sides of the mouth, protected by a sheath of skin. When it's ready to bite, either in defense or to kill prey, the viper extends its fangs, but because the fangs are delicate and easily broken, the snake waits to extend its fangs until the last possible moment.
The fangs are also hollow and are connected to venom glands located behind the eyes. That's why so many vipers have triangular heads, because the venom glands take up extra space at the back of the head. The venom glands are equipped with tiny muscles that the snake contracts to send venom flowing through the fangs and into the bite wound, and it can control how much venom it injects, if any.
Vipers in the genus Bitis have especially long fangs with powerful bites, so that many animals die from the bite itself and not the venom. The reason that snakes inject venom into small prey that it could easily kill and swallow without venom is that the venom begins the digestion process. Most snakes don't actually have very efficient digestive systems, so by having venom that not only kills its prey but starts digesting it before the snake even swallows it, vipers can extract more nutrients from their food.
The rhino viper and the other rhino viper aren't the only snakes with nose horns. The rhinoceros snake isn't a viper but it does have a nose horn—in this case just one nose horn, which grows from the tip of the nose and points straight forward. It's also called the rhinoceros ratsnake or the Vietnamese longnose snake. It lives in rainforests in northern Vietnam and southern China and spends almost all of its time in trees. Adults are a lovely pale green or blue-green. It can grow over five feet long, or 1.6 m, and is a slender, active snake that mostly eats rodents and other small animals.
Another snake with a nose horn is the nose-horned viper. This one lives in parts of southern Europe and the Middle East, and it's also called the sand viper. Since lots of vipers live in sandy areas but not all vipers have nose horns, I don't know how you could possibly look at this snake and decide to call it a sand viper and not a nose-horned viper. Also, it doesn't live in the sand. It likes rocky areas and can sometimes be found in old stone walls where it has lots of crevices to hide in. It eats small animals, including rodents, lizards and other snakes, large insects like centipedes, and the occasional bird.
The nose-horned viper can grow over three feet long, or about a meter. Individuals can be gray-brown, reddish-brown, coppery-red, dark red, or pale brown, and it has a darker zigzag pattern. Like most vipers it's a chonky, fairly slow-moving snake. Its nose horn points upward in some subspecies, forward in others.
That brings us to the big question: what are these nose horns used for? Why do these snakes have nose horns at all?
The answer is: we don't know. They're soft and bendy, made of scales, so they can't be used as weapons, not that a four-foot-long snake with massive fangs and deadly venom needs to poke at predators with a little nose horn. They're probably just for display, but only the snake knows for sure.
You can find Strange Animals Podcast at strangeanimalspodcast.blubrry.net. That's blueberry without any E's. If you have questions, comments, or suggestions for future episodes, email us at strangeanimalspodcast@gmail.com. If you like the podcast and want to help us out, leave us a rating and review on Apple Podcasts or Podchaser, or just tell a friend. We also have a Patreon at patreon.com/strangeanimalspodcast if you'd like to support us for as little as one dollar a month and get monthly bonus episodes. There are links in the show notes to join our mailing list and to our merch store.
Thanks for listening!