Podcast: Play in new window | Download (Duration: 12:11 — 13.9MB)
Sign up for our mailing list! We also have t-shirts and mugs with our logo!
This week we've got three adorable little animals to learn about! Thanks to Simon and Thia, Elaine, and Henry for their suggestions!
Further reading:
Turning the spotlight on the rusty-spotted cat (Wildlife SOS)
The cute and fuzzy pink fairy armadillo: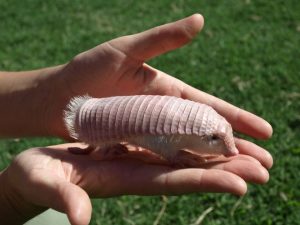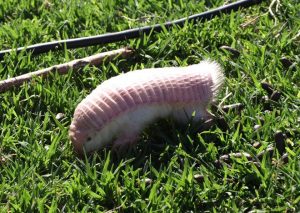 The cute and fuzzy rusty spotted cat: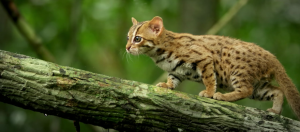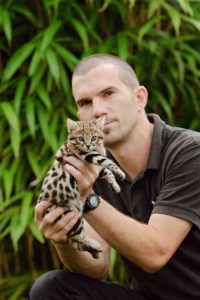 The cute and fuzzy baby Arctic tern: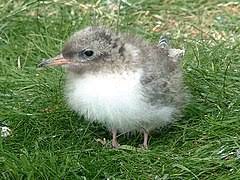 Adult Arctic terns: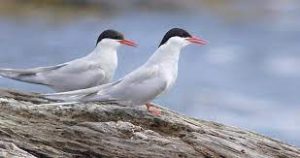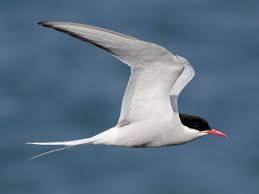 Show transcript:
Welcome to Strange Animals Podcast. I'm your host, Kate Shaw.
This week we've got three strange and adorable animals for you, all listener suggestions because I'm getting really behind on those. Thanks this week to Simon and Thia, Elaine, and Henry!
First, Simon and Thia suggested the pink fairy armadillo. That's one we covered briefly in a Patreon episode back in 2018, but it deserves to be featured in the main feed because it's so strange and cute. It lives in deserts and grasslands of central Argentina, South America, but since its range is so restricted and it spends most of its life underground and is rarely seen by humans, we don't know much about it.
The pink fairy armadillo is the smallest armadillo species known. It only grows about 4.5 inches long, or 11.5 cm, small enough to sit in the palm of your hand. It's protected by a leathery shell that runs from its nose along the top of its head and down its back to its bottom, and the shell is segmented like a regular armadillo's shell except that it's a delicate pink. The fluffy fur on the animal's sides and tummy is white. It has a short spade-shaped tail, but the rear of its body is flattened, and it uses its flat bottom to compress dirt in the tunnels as it digs. It has a small head, short legs, and gigantic front claws. Its hind claws are big too.
It spends almost all of its life underground, digging shallow tunnels and eating small animals like worms, insect larvae, snails, and insects like ants, which it probably hunts by scent. It has a good sense of smell but its eyes are tiny and its ears don't show at all, although it does have good hearing. It can dig extremely quickly. It loosens the soil with its huge front claws, kicks it back with its hind claws, and then does a quick reverse to tamp the new dirt heap into a firm column with its flat bottom. This keeps the floor of its burrow clear so the armadillo can breathe properly and helps keep the burrow from collapsing.
Almost the only time the pink fairy armadillo surfaces is when it reaches an obstacle it can't dig through or around, and then its claws are so big it has trouble walking on hard surfaces. This is bad if it tries to cross a road. Most sightings of pink fairy armadillos are of roadkill animals. Sometimes it surfaces after heavy rain when its burrows are flooded.
The reason the pink fairy armadillo's shell is pink is that blood vessels show through it. Researchers think it can regulate its temperature according to how much blood flows through the vessels beneath the shell. The shell is only attached to the body by a membrane along the spinal column and doesn't protect it as well as other armadillo shells do, but then it's almost always underground so the shell probably mostly protects it from rocks and roots.
The pink fairy armadillo doesn't do well in captivity, usually dying from stress within a day or two of capture, and since it's almost always underground it can be hard to find and study. It's threatened by habitat loss, climate change, poaching, and the use of pesticides. It's extremely sensitive to changes in temperature and soil.
The pink fairy armadillo has a similar-looking but slightly larger relative, the greater fairy armadillo, which can grow up to 7 inches long, or 17.5 cm. It's also a burrowing armadillo that lives in South America, which has an additional conservation problem. It's considered by locals to be the spirit of a dead baby, so if a local sees it they usually kill it.
Next, Elaine suggested the rusty spotted cat. It's a tiny cat that lives in forests and grasslands in South Asia, especially in India and Sri Lanka, and although it resembles a tiny domestic cat, it's not all that closely related to domestic cats or their wild cousins.
The rusty spotted cat is reddish-gray with darker stripes on the face and small rusty-red spots over most of its body. It's about half the size of a domestic cat and grows up to 19 inches long at most, or 48 cm, not counting its tail, which adds another 12 inches or so to its length, or 30 cm. This is where I tried to measure my cats with the soft plastic tape measure I use for sewing, but they thought it was a toy so I never did figure out how long they are. Also, my tape measure has holes in it now from claws and teeth. The rusty spotted cat only weighs up to about 4 pounds, or 1.8 kg. Keep in mind that these numbers are for the biggest possible rusty spotted cats. Most are much smaller. They're basically kitten-sized.
The rusty spotted cat is mostly nocturnal and eats small animals like mice and other rodents, birds, lizards, and insects. It mostly hunts on the ground and mostly only climbs trees to escape predators. It's a fierce hunter and can be very aggressive despite its small size, so even though it's really cute and some people want to keep it as a pet, it's very wild and not friendly. You're way better off adopting a small domestic cat. Besides, the rusty spotted cat is endangered in the wild due to habitat loss and hunting for its fur, so we shouldn't be keeping it as pets.
Conservationists are working to protect the rusty spotted cat by educating people who live in the area about what the cat is. While a mother rusty spotted cat is out hunting, she leaves her kittens in a little nest in long grass. If she makes her nest in a cultivated field, like a tea plantation, sometimes a worker harvesting or caring for the plants will find the kittens. People are basically good at heart and want to help baby animals, so a lot of times the worker will take the kittens home thinking they're abandoned. A conservation group called Wildlife SOS is working to teach people to leave the babies alone, and when they hear about someone who's found a kitten, they send someone out to learn where the kitten was found and when, and will reunite the kittens with their mother. Wildlife SOS also helps other animals in India, including leopards and elephants. There's a link in the show notes if you want to find out more and maybe donate to the program to help these adorable teeny-tiny wildcats.
Finally, Henry suggested the Arctic tern, a bird that lives…pretty much everywhere, in fact, not just the Arctic. It breeds along the coasts in the northern parts of the northern hemisphere, including parts of Canada, Greenland, northern Europe, and Siberia, but after its babies are grown and the short northern summer comes to an end, it takes off for the southern hemisphere and spends the winter—which is summer in the southern hemisphere—around South Africa and Australia and New Zealand, all the way down to the Antarctic. When that summer ends, it flies back north to breed again. That's an astoundingly long migration.
The Arctic tern spends most of its life flying above the ocean, hunting for small animals like fish, krill, amphipods, and crabs. It's not a picky eater, though. It will also eat worms, insects, and berries, although it mostly eats these land foods when it's nesting. It's a beautiful bird that looks a little like a seagull, but is more lightly built and slender than most gulls. It's white and pale gray with a black cap that extends down the back of the neck, a red bill, and short red legs and webbed feet. Its tail is forked like a swallow's tail and it has long wings, which allow it to catch even the smallest sea breeze and fly extremely fast. Its wingspan is about 2.5 feet across, or 75 cm.
The Arctic tern mates for life. Even though the male and female have traveled literally around the world separately for most of the year, they both return to the same nesting ground, find each other, and start their summer courtship. The pair will fly high together with the female chasing the male, and then they'll fly lower where the male will catch a little fish and offer it to the female. On land, they'll do a little courtship dance where they raise and lower their tail and wings while strutting around together. Finally the pair decides where they want to build a nest.
The nest isn't fancy, just a little scooped out place in the ground with maybe some grass in it. Parents take turns keeping the eggs warm and defending the nest from potential predators. It's an aggressive bird and will even attack polar bears and drive them away, even though it's just a delicate little bird. It will dive at the predator's face and peck with its strong, sharp bill. Once the babies hatch, both parents feed the chicks until they learn how to fly.
An Arctic tern chick is possibly the cutest bird you will ever see, at least today. It's gray and white with short legs, and it's super super fluffy. The coloration helps it blend in with the rocks around the nesting site.
The Arctic tern travels over 40,000 miles every single year, or more than 70,000 km, and still manages to find its way back to the same breeding colony. How does it know where it is and where it's going? Like many birds, it can sense the earth's magnetic field. It combines this sense with where the sun is in the sky and can pinpoint exactly where it is in the world and where it needs to go. It's like having built-in Google Maps.
You can find Strange Animals Podcast at strangeanimalspodcast.blubrry.net. That's blueberry without any E's. If you have questions, comments, or suggestions for future episodes, email us at strangeanimalspodcast@gmail.com. If you like the podcast and want to help us out, leave us a rating and review on Apple Podcasts or Podchaser, or just tell a friend. We also have a Patreon at patreon.com/strangeanimalspodcast if you'd like to support us for as little as one dollar a month and get monthly bonus episodes. There are links in the show notes to join our mailing list and to our merch store.
Thanks for listening!