Podcast: Play in new window | Download (Duration: 9:58 — 10.3MB)
This week we're on the cutting edge of science, learning about the brand new genetic study of dire wolves that rearranges everything we know about the dire wolf and other canids! Also, a bonus turtle update.
Further reading:
Dire Wolves Were Not Really Wolves, Genetic Clues Reveal
An artist's rendition of dire wolves and grey wolves fighting over a bison carcass (art by Mauricio Anton):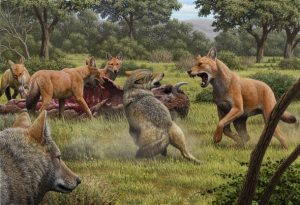 The pig-nosed face of the Hoan Kiem turtle, AKA Yangtze giant softshell turtle, AKA Swinhoe's softshell turtle: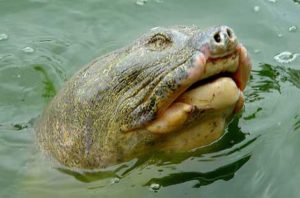 Show transcript:
Welcome to Strange Animals Podcast. I'm your host, Kate Shaw.
You may have heard the news this past week about the new study about dire wolves. I thought it would make a great topic for an episode, and we'll also have a quick update about a rare turtle that's been in the news lately too.
Dire wolves show up pretty often in movies and TV shows and video games and books, because as far as anyone knew until very recently, the dire wolf was an extra big wolf that lived in North America during the Pleistocene until it went extinct around 13,000 years ago. Researchers assumed it was a close cousin of the modern grey wolf.
Well, in a brand new study published in Nature literally less than a week ago as this episode goes live, we now have results of a genetic study of dire wolf remains. The results give us surprising new information not just about the dire wolf, but about many other canids.
The study started in 2016, when an archaeologist, Angela Perri, who specializes in the history of human and animal interactions, wanted to learn more about the dire wolf. She went around the United States to visit university collections and museums with dire wolf remains, and took the samples she collected to geneticist Kieren Mitchell. Perri, Mitchell, and their team managed to sequence DNA from five dire wolves that lived between 50,000 and 13,000 years ago.
Then the team compared the dire wolf genome to those of other canids, including the grey wolf and coyote, two species of African wolf, two species of jackal, and the dhole, among others. To their surprise, the dire wolf's closest relation wasn't the grey wolf. It was the jackals, both from Africa, but even they weren't very closely related.
It turns out that 5.7 million years ago, the shared ancestor of dire wolves and many other canids lived in Eurasia. At this point sea levels were low enough that the Bering land bridge, also called Beringia, connected the very eastern part of Asia to the very western part of North America. One population of this canid migrated into North America while the rest of the population stayed in Asia. The two populations evolved separately until the North America population developed into what we now call dire wolves. Meanwhile, the Eurasian population developed into many of the modern species we know today, and eventually migrated into North America too.
By the time the gray wolf populated North America, the dire wolf was so distantly related to it that even when their territories overlapped, they avoided each other and didn't interbreed. We've talked about canids in many previous episodes, including how readily they interbreed with each other, so for the dire wolf to remain genetically isolated, it was obviously not closely related at all to other canids at this point.
The dire wolf looked a lot like a grey wolf, but researchers now think that was due more to convergent evolution than to its relationship with wolves. Both lived in the same habitats: plains, grasslands, and forests. The dire wolf was slightly taller on average than the modern grey wolf, which can grow a little over three feet tall at the shoulder, or 97 cm, but it was much heavier and more solidly built. It wouldn't have been able to run nearly as fast, but it could attack and kill larger animals. Its head was larger in proportion than the grey wolf's and it had massive teeth that were adapted to crush bigger bones.
The dire wolf lived throughout North America and even migrated into South America and back into east Asia. It preferred open lowlands and its most important prey animal was probably the horse, although it also ate ground sloths, camels, bison, and many others. It probably also scavenged dead animals and probably hunted as a pack.
Researchers think the dire wolf went extinct due to a combination of factors, including increased competition with grey wolves and maybe with humans, climate change, and the extinction of the megaherbivores that made up its diet. It will probably be reclassified into a different genus, Aenocyon, instead of staying in its current genus, Canis.
Before this study, most researchers thought that the ancestor of North American canids evolved in Eurasia, but had already migrated into North America before developing into dire wolves, grey wolves, coyotes, and other canid species. But now the history of canids has changed a lot. From what we now know, pending further study, the dire wolf was the only canid in North America for millions of years. Grey wolves, coyotes, and their relations are relative newcomers. It's an exciting time for scientists studying ice age megafauna. Hopefully we'll learn more soon as more studies are conducted into the dire wolf's history.
Next, let's look briefly at a type of turtle that's been in the news lately too. Swinhoe's softshell turtle is considered the most endangered turtle in the world. In early 2019 there were only two individuals known, a male and a female, but they had never bred despite being kept together in captivity. Then the female died in April of that year. No females meant no eggs, no baby turtles, no more Swinhoe's softshell turtle. The species would be extinct.
But in October of 2020, researchers found a female Swinhoe's softshell turtle in the wild! Not only that, they spotted what they think is a male turtle in the same lake, and found evidence of what may possibly be a third turtle nearby.
Swinhoe's softshell turtle is also known as the Yangtze giant softshell turtle and used to be found in many lakes and rivers in Asia. Unfortunately, people killed it for its meat and dug up its eggs to eat, and pollution and habitat loss also killed off many of the turtles. This is the same turtle we talked about in episode 68, the Hoan Kiem turtle of Vietnam. It's probably the largest freshwater turtle in the world, and the largest one ever measured weighed 546 lbs, or 247.5 kg. It can grow over three feet long, or 100 cm.
The newly discovered wild turtles are being monitored carefully to make sure they're healthy, their environment is clean and safe, and to see if the female lays eggs this spring. The female was captured briefly, just long enough to take blood samples and verify that she was healthy. Then they released her back into the lake. Fingers crossed that she hatches some baby turtles soon!
You can find Strange Animals Podcast at strangeanimalspodcast.blubrry.net. That's blueberry without any E's. If you have questions, comments, or suggestions for future episodes, email us at strangeanimalspodcast@gmail.com. If you like the podcast and want to help us out, leave us a rating and review on Apple Podcasts or just tell a friend. We also have a Patreon at patreon.com/strangeanimalspodcast if you'd like to support us that way.
Thanks for listening!