Podcast: Play in new window | Download (Duration: 27:58 — 32.2MB)
It's our bonus question and answer episode, which turned out to be ridiculously long but hopefully interesting!
Further listening/watching:
~~~Buy my books!~~~
Whiskers used to have two eyes and a nose. In the background, Dracula (left) and Poe (right):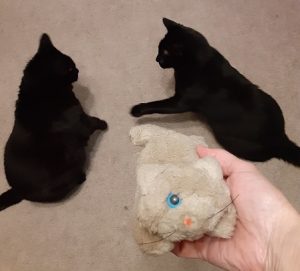 Black squirrel!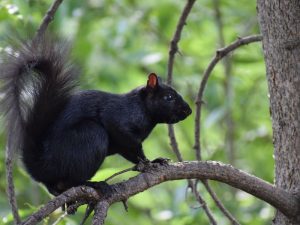 King cobra!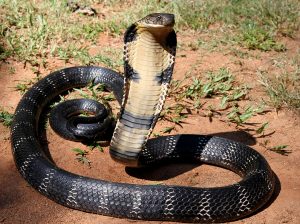 Pufferfish, puffed: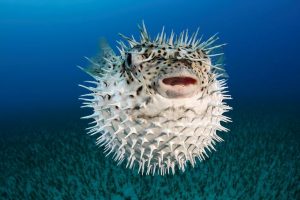 Dog nose: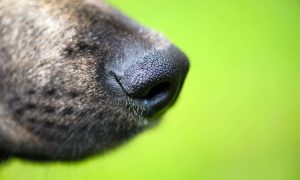 Show transcript:
Welcome to the bonus Q&A episode of Strange Animals Podcast! I'm your host, Kate Shaw, and this is a little extra episode where I answer listener questions. So let's jump right into it.
To start us off, Simon and Thia wanted to know how I first became interested in animals. I really don't know! When I was little, I didn't want to play with dolls, I wanted to play with my stuffed animals. I actually have a toy cat named Whiskers who I've had since I was four. Whiskers is older than all my teeth! I especially loved horses as a kid and since my family couldn't afford to buy me a horse, I took riding lessons and read everything I could find about horses, fiction and nonfiction. All that reading about horses led to reading about other animals, and the more I read, the more interested I became in animals of all kinds.
Next, Melissa of the awesome podcast Bewilderbeasts asked, "What was the fact or episode that really slapped you out of left field, like, 'I didn't see that coming AT ALL'?"
OH MY GOSH, how many times has that happened to me? The most astounding fact I can think of isn't actually about an animal at all but about trees. While I was researching the Temnospondyl episode, which had a related Patreon episode that ran at about the same time, I came across the fact that when trees first developed, nothing could break down the tough compound called lignin that hardens a tree's cells to make wood and bark. When a tree died, its trunk just stayed where it fell forever, and this happened for at least 50 million years and possibly 100 million years. 100 million years of tree trunks just lying all over the ground! You wouldn't be able to walk anywhere! You'd have to climb over hundreds of millions of fallen tree trunks, although naturally as the years passed the older ones would get buried deeper and deeper in the earth. But there would always be more!
This blew my mind, and later I came back to it, determined to do more research and make sure it was accurate. I did a whole lot of research, because it just didn't seem possible, and that information ended up in episode 214.
As for an animal that blew my mind, I still have trouble believing ice worms are real. They're worms that live in snow and ice! We covered them last August in episode 185 and I'm still reeling.
Next, Llewelly asks what my favorite extinct animal is, or animals. Why would you make me choose? This is so hard. Okay, fine, I'll narrow it down to hoofed Pleistocene megafauna like the giant deer and elasmotherium and so many other animals with weird horns and ossicones and things like that. What really gets me is that they lived so recently! Many of them only died out 11,000 years ago, and some were probably around much more recently in a few isolated areas. It also really reminds me to appreciate the megafauna that's still around. We live at the same time as giraffes!
Next, Richard E. asked, "Does your job involve the study of animals and/or is the pod something that you really wanted to do?" Tracie also asked what my background is, if I'm a professor or zookeeper or something similar. Helenka also asked my background and how I got interested in strange animals.
I'm kind of embarrassed that I never have pointed out that I'm not an animal expert, to steal a phrase from the awesome podcast Varmints! I actually work as a test proctor, AKA invigilator, in a large community college, so my work doesn't have anything to do with animals. My background is in elementary education although I didn't teach long. Basically I got my K-8 teaching certification and M.Ed., did some substitute teaching afterwards, and ended up getting my current job instead of taking a teaching position. I still love teaching, so when I decided I wanted to start a podcast, I knew it would be nonfiction. My undergraduate degree is in English literature, and I took so many history courses that I minored in history almost by accident, so I'm really good at research and can write an essay about any topic in the world in very little time. I didn't know it when I was in college, which was long before podcasts existed anyway, but I have the perfect background for creating a nonfiction podcast.
Liesbet has three questions about the podcast: what inspired me to start it, what motivates me to keep going without missing any episodes, and what I enjoy most about it. I'm so pleased that someone noticed I've never missed a single episode! Not that it would be the end of the world if I did, of course, but if I did, I'd feel bad thinking about people who were looking forward to listening to the new episode and were disappointed when there wasn't one.
Here is the raw, honest truth about why I started Strange Animals Podcast. It was several things combined and the whole story is kind of dumb. First, my friend Kevin makes a great pop culture podcast called The Flopcast, and after I'd listened to it for a while I thought, "Hey, that sounds like fun. I think I'll start a podcast." About the same time, I was listening to a back episode of a podcast I will not name, and it gave some misinformation about the Irish elk, specifically the outdated theory that it went extinct because its antlers were too big. I mentioned that in episode 4 and how I kept thinking about it and got kind of angry that a large, influential podcast hadn't bothered to do enough research about an animal that lots of people are interested in. I decided I could do better and that my podcast would be about animals. Also at the same time, I was trying to find a good podcast about mystery animals that was well researched and didn't skate off into speculation too much. I couldn't find one that satisfied me, so I had to make one myself.
I wasn't exactly sure what my focus would be when I first started the podcast. You can kind of tell when you listen to the first six months or so of the podcast that I was trying out new things and figuring out what worked best and what I liked best. I'm still figuring that out, for that matter.
It's hard to decide what I like best about making the podcast. I like the whole process, except maybe not the frustrating parts of recording and editing. I think my favorite part has to be when I uncover information I find really exciting. I get to share that information with everyone who listens! It's fantastic!
Next, let's get into some questions about animals.
Pranav asked if I would explain how poisons work, which is a great question and also just a tiny bit alarming. No one eat anything Pranav cooks for you unless he's eating some too. Actually, of course, he's just wanting to learn more about poisonous animals, and I'll talk about venomous animals too.
A poisonous animal contains toxins somewhere in its body, like the hooded pitohui bird that we talked about in episode 222 that has poisonous feathers. The poison stops other animals from trying to eat it. In the case of the hooded pitohui, its poison causes your skin to burn when you touch it, so an animal that tries to bite it will have a burning mouth. If it actually eats any of the poison, the animal can die. Many amphibians secrete toxins through their skin, like the poison dart frog, and many other animals concentrate toxins in their muscles or internal organs.
A venomous animal has toxins that it can inject into a wound to hurt or kill another animal. Some snakes can inject venom with special fangs, but some amphibians have pointed ribs that are sharp enough to stab a potential predator. The ribs will project through the amphibian's sides through tiny spots that are filled with toxins. The toxins coat the points of the ribs, and if the predator tries to bite down, it gets those toxins stabbed right into its mouth. Some fish have spines that are coated in toxins, and of course many insects, arachnids, and other invertebrates have stingers that inject toxins.
Generally, a poisonous animal absorbs toxins from a food it eats, often a toxic insect, and instead of getting sick, it uses those toxins to protect it from predators. A venomous animal usually produces its own toxins in its body, especially animals that use venom to kill or disable prey. It costs energy for the animal to make venom, and it doesn't want to waste it. That's why snakes will sometimes give what are called dry bites in self-defense, where it bites but doesn't inject any venom. It's hoping that the pain of the bite itself will make a potential predator retreat without the snake needing to use venom.
Different toxins have different effects, naturally, and animals produce so many different kinds of toxins that we could talk about it all day and not even cover them all. Instead, let's quickly discuss two animals, one venomous and one poisonous.
Our venomous example is the king cobra. It can grow over 18 feet long, or 5.5 meters, and lives in southern Asia. It mostly eats other snakes and some lizards. Its venom contains numerous toxins that do different horrible things. The neurotoxins in its venom affect the central nervous system, which can cause all sorts of issues like dizziness, pain, blurred vision, sleepiness, and even paralysis. Other toxins in the venom are called cardiotoxic because they affect the heart, making it weak so that circulation of blood slows down. If a king cobra bites you and injects venom, you can die within 30 minutes as the venom basically just shuts your body down, one process at a time. If your heart stops or your diaphragm becomes paralyzed so you can't breathe, that's it for you. Fortunately, in ordinary situations the king cobra is shy and avoids people, so if you don't bother it, it won't bite you.
Our poisonous example is the pufferfish. Some species of pufferfish are incredibly poisonous. You may have heard about fugu, which is considered a delicacy even though it's so poisonous that in Japan and some other countries, chefs have to be specially trained and licensed to prepare the fish to eat. The part of the fish that's considered tastiest is also the part that's most poisonous, the liver. It contains tetrodotoxin, which is a neurotoxin that stops your nerves from sending the tiny electrical signals that allow them to move. If you're poisoned with tetrodotoxin, you start to feel dizzy and sick, then you start having difficulty speaking and moving, then you have trouble breathing, and then, ultimately, you're paralyzed and can't breathe, at which point you die. Since the toxin doesn't affect your brain, you remain completely aware of what's happening to you but there's nothing you can do about it. There's no antidote. Fortunately, you have the option of not eating fugu. Also, it turns out that the pufferfish's poison comes from a type of bacteria, so fish raised in careful conditions in captivity aren't poisonous.
Most poisonous and venomous animals are harmless to humans!
Next, Connor wrote and said, "I recently moved to Michigan from West Virginia and noticed a lot of black squirrels around. Are they a different species/sub-species or just melanistic individuals?"
I looked into this and sure enough, Michigan and other areas around the Great Lakes are known for a large population of black squirrels. I've never seen a black squirrel but now that I've looked at pictures of them, they are awesome and I wish I had some in my yard.
The eastern gray squirrel is the most common species of squirrel in eastern North America, and a black morph of that species and other squirrel species is not that unusual. The color difference is due to a small mutation in the gene that controls how much pigment the squirrel's fur contains. Connor is right that the coloration is due to melanistic individuals.
But that doesn't explain why there are so many black squirrels in Michigan and surrounding areas. No one's completely sure why that is. In other animals, including the gray wolf and the leopard, melanistic individuals are more common in areas where there's thick vegetation that blocks a lot of sunlight. A dark-colored wolf or leopard is better camouflaged in the shadows, which allows it to sneak up on prey. But the squirrel isn't a predator, and black squirrels don't seem to be any more common in heavily forested areas compared to more park-like areas.
One suggestion is that black squirrels find it easier to stay warm in cold weather, because dark fur absorbs more heat than gray fur. This actually does seem to have some basis in fact. Black squirrels are much more common in northern areas, including parts of Canada where the eastern gray squirrel ordinarily doesn't live. Black squirrels are correspondingly rare in more southern areas where winters are mild, which explains why I've never seen one. Then again, the fox squirrel is also common in eastern North America, often living in the same areas where eastern gray squirrels live, and they also have a black morph, but black fox squirrels mostly live in the southeast. So it's a mystery.
Black squirrels are the same as ordinary colored squirrels. They just look different. That reminds me that I have an episode about squirrels planned for some time later this year, especially unusual squirrels.
Next, Anna has a question about dogs. She says, "We have a dog named Sadie, who is a beagle mix. She is much more aware of the sounds and smells around us and often howls and barks at things that we can't see. How do dogs have such a strong sense of smell and good hearing?"
The wild ancestors of dogs were wolves. Wolves are generally nocturnal, and as a result, dogs have sensitive hearing and smell to find prey when it's dark. A dog can hear in the ultrasonic range, which refers to sounds higher than human hearing. Humans can hear sounds up to 20,000 hertz, while dogs can hear sounds up to 50,000 hertz. A dog also has a lot of muscles in its ears that allow it to turn its outer ear to find sounds. While some dog breeds have lapped-over ears, wolves and many dog breeds have pricked-up ears that act as little satellite dishes to gather up as many sounds as possible. If you cup your hands behind your ears, you can get a sense of how this helps. A dog also has a relatively large ear canal, which is the inside part of the ear. A large ear canal allows more sound vibrations in. Cats actually have even better hearing than dogs, but cats don't have nearly the same ability to smell.
A dog's sense of smell is incredible. Humans have about six million olfactory receptors in our noses. That sounds like a lot, but a dog has over 200 million olfactory receptors! It can also process all those smells incredibly well in its brain, so that with training a dog can detect unbelievably faint smells. That's why dogs are used to sniff out dangerous items like bombs and illegal drugs, or find people who are buried in rubble after an earthquake or other disaster, or track down people who are lost. Dogs can even learn to detect the smell of some diseases, including cancer, malaria, and tuberculosis.
A dog's nose is much different from a human nose. If you have a dog, or can borrow a friend's dog, sit down and take a look at their nose. Ha ha, the dog just licked you in the face! That's hilarious! The dog's nose has nostrils in the front but if you look carefully, you'll see that the nostril openings continue along the sides of its nose, in a little slit. There's also a little fold of tissue inside the nose. The tissue separates the air into two streams. One stream goes into the lungs, but the other gets circulated into the nose to come in contact with all those olfactory receptors. Then, when the dog breathes out, the air goes out the side slits instead of out the main nostrils, so it doesn't push any odors out of the nose. A dog's nose works best when it's damp, which is why a healthy dog has a wet nose.
When you hear a sound, you can usually tell which direction it's coming from by turning your head, because the sound will be slightly louder in one ear than the other and your brain can make sense of this difference. Dogs can tell which direction a smell is coming from because its brain can tell which nostril is picking up more of the smell.
A dog's sense of smell is so acute, and so important to the animal, that a dog that loses its vision can often do just fine. It can smell its way around. Naturally, some dog breeds have a better sense of smell than others, and some individuals are better at smelling than others too.
Don't feel bad about your sense of smell, though. Humans may not be as good at smelling as dogs are, but we can train ourselves to be more sensitive to faint odors. The next time you take a walk, pay attention to what you're smelling and I bet you'll notice a lot more scents than you realize.
Next, Helenka also wanted to know about my writing. Thank you so much for asking! Now I can plug my books and also tell you how the strange animals podcast book is coming along!
I mostly write fantasy fiction. I have a steampunk adventure book available called Skytown, and a related collection of short stories about the same characters from the book, which is called Skyway. Sometimes I get the titles confused because they're really similar, but Skytown is called that because there's a city in the book that can only be reached by air, which in this fantasy world is mostly airships. The main characters are two young women named Jo and Lizzy, friends who are airship pirates. It's a lot of fun, and the short story collection actually tells how Jo and Lizzy met and what they did together right up to the start of the novel. If that sounds interesting, I'd love it if you could pick up a copy of one or both books. They're published by small independent publishers, who don't make a lot of money and have trouble getting books into physical stores. There's a link in the show notes.
Okay, so now I get to tell you all about the Strange Animals Podcast book! I've been working on it all year and it's getting really close to being done. The title is Beyond Bigfoot and Nessie: Lesser-Known Mystery Animals from Around the World, and most of the material is taken directly from mystery animal episodes from the last four-plus years, BUT I've made sure to update the chapters as much as possible and I've added some new chapters.
I've decided to self-publish the book, so I'm planning a Kickstarter to cover the costs of hiring a cover artist and things like that. I'd like to run the Kickstarter in October, which would give me time to get it published hopefully in time for the holidays in case people want to order copies to give as gifts. We'll see how that goes, though. There's a ton of work that goes into running a successful Kickstarter, and although I don't need a whole lot of funding for the book, it still worries me that maybe no one will be interested and it won't meet its funding goal and I'll have to pay for everything out of pocket. I'm already kind of broke this year from paying about $5,000 to the emergency vet to save my cat Poe's life, but honestly, if the choice is between having Poe running around and playing or self-publishing a book, I will choose Poe every single time.
Anyway, one way or another I'll make sure the Beyond Bigfoot and Nessie book is available to buy before the podcast's fifth year anniversary in February 2022!
Finally, this wasn't sent in as a question but I thought it would be a nice way to finish off the episode. In a really nice review, a listener who I think is named Meg said "I think she's southern like me but not sure." Yes, I am southern, although I don't have much of an accent. I was born in Georgia and grew up in East Tennessee, where I live now.
Thanks to everyone who sent in questions! We'll probably have another Q&A episode eventually, maybe next year, so feel free to send me your questions! I think I got everyone's questions answered this time, but if I missed yours, definitely let me know. The best way to get in touch with me is through email, strangeanimalspodcast@gmail.com.
To finish us off, Richard from NC wanted me to play the Axolotl song. I won't play the whole thing, because it's kind of long, but here's a clip and there's a link in the show notes. It's by an animator and musician called Joel Veitch. I've had this song stuck in my head ever since Richard sent me the link, so now you will too. Also, I promise I'll make a whole episode about the axolotl soon.
Thanks for listening!