Podcast: Play in new window | Download (Duration: 21:10 — 24.3MB)
Sign up for our mailing list! We also have t-shirts and mugs with our logo!
It's the beginning of MONSTER MONTH! This episode's not very spooky unless you're outside at night and hear a terrifying scream! To be fair, that would be spooky even if you don't know anything about the wampus cat.
THE KICKSTARTER GOES LIVE IN JUST TWO DAYS!!
Further watching:
The Growling, Ferocious, Diurnal Kitty Cat: The Jaguarundi
Further reading:
My original article about the wampus cat will appear in Flying Snake #21. You can order it and back issues here and here.
The cougar: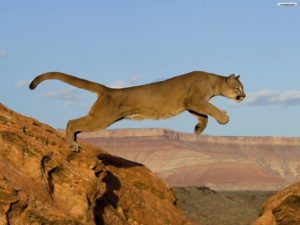 A jaguar with her black jaguar cub (picture by Alma Leaper):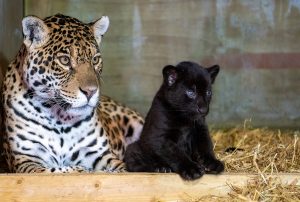 The jaguarundi looks kind of like an otter: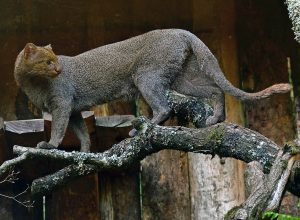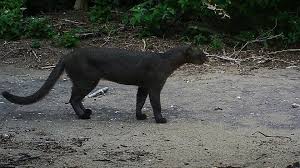 Jaguarundis come in different solid colors, including black or nearly black: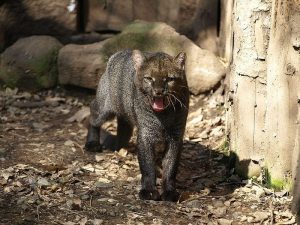 Show transcript:
Welcome to Strange Animals Podcast. I'm your host, Kate Shaw.
It's October at last! Yes, that best of all months, MONSTER MONTH!
This episode started out as an article I wrote for the magazine Flying Snake, which is an awesome little magazine that you might like. I'll put a link in the show notes if you want to order a copy.
Also, in only TWO DAYS we're kicking off our Kickstarter to fund the Strange Animals Podcast book! It's done and now I just need to pay the people who are going to make the cover and do the interior design to make it look great! The Kickstarter will go live on Wednesday, October 6, 2021 and will run through Friday, November 5, 2021, which gives you lots of time to decide if you want to back the project. On Wednesday I'll be releasing a bonus episode to remind you that the Kickstarter has begun, explain exactly how Kickstarter works in case you're not sure, and share a chapter from the audio version of the book about a mystery animal we've never covered before. If you want to look at the Kickstarter page now, though, there's a link in the show notes so you can look at it and even set it so that Kickstarter will send you an email when the campaign starts. There's an early-bird special that will only be available on the first day of the campaign, just saying.
But right now, let's kickstart monster month with an episode about the wampus cat! The wampus cat, or just wampus, has appeared in folklore throughout North America for over a hundred years and probably much longer, especially in mountainous areas in the eastern portion of the continent.
The term actually comes from the word catawampus, probably related to the phrase catty corner. Both words mean "something that's askew or turned diagonally," but catawampus was also once used in the southeastern United States to describe any strange creature lurking in the forest. It was a short step from catawampus to wampus cat, possibly also influenced by the word catamount, used for the cougar and other large cats native to North America.
Whatever the origins of the word, the wampus cat was usually considered to be a real animal. Some people probably used the term as a synonym for catamount, but many people firmly believed the wampus was a different animal from the cougar, bobcat, or lynx. It was usually supposed to be a type of big cat, although not necessarily.
The word wampus also once referred to a dress-like garment resembling a knee-length smock worn over leggings, also called a wampus coat. The first newspaper use of wampus referring to an animal doesn't appear until the very end of the 19th century. A Missouri paper wrote in May 1899:
They knew immediately the source of the hair-raising scream. The "wampus" was after them. They could see it; it was a big black thing with long hair and large feet.
What may be a follow-up to that story, from a different Missouri newspaper, appeared in November 1899 and was headlined "THE WAMPUS IS DEAD."
Many described it as gray wolf, but others refused to believe such an animal was here and lightly spoke of the wampus. It frequented the dark woods at day time, coming forth at night and roaming around, uttering a strange cry. Woe unto the traveler overtaken by darkness, for the night was made hideous by the shrill cry. […]
On last Sunday night George Jolliff secreted himself in a tree south of his house and about 7 o'clock saw the long-sought monster, accompanied by several dogs, approaching; on seeing his dog, which was tied beneath the tree, they come under the tree and Mr. Jolliff fired, severely wounding the animal. Hastily climbing down, he fired again and this stopped the monster in his tracks. […]
It measured 6 feet 7 inches in length and 2 feet 4 inches in height; some say it is a female wolf, others a cross between the dog and wolf species. It is dark brown tinged with red and black.
This sounds like a coyote or red wolf, especially considering that it was accompanied by dogs. The size of the animal in metric is 2 meters long, presumably including the tail, and 73 cm tall. The height is accurate for a coyote or red wolf but is much longer than even a gray wolf. It's possible the animal had an unusually long tail or there was a little exaggeration going on. Whatever the animal was, dogs, coyotes, and wolves don't make a screaming sound, so this wasn't the same animal that kept frightening people with its shrill cries.
By the beginning of the 1900s, the wampus as an animal had completely overtaken the use of the word as an article of clothing. The first baseball team named the Wampus Cats, from Texas, appears in 1908, which argues that the term wampus cat had been in common use for some time. The surge of articles about the wampus also suggests the term had made its way from local use into the popular culture. By the 1910s, any unidentified animal is referred to as a wampus, from a striped rodent-like animal to an exhibit in a traveling menagerie, which unfortunately wasn't described. Humorous articles claiming to answer the question of "what is the wampus?" appear alongside humorous poetry about the wampus. Well, it supposed to be humorous but it's not actually funny. More sports teams named the Wampus Cats also appear in the 1910s, along with a cheer squad in Oklahoma called the Wampus Kittens—although interestingly, the Wampus Kittens were cheering the Wildcats.
By the 1920s, newspaper reports of the wampus cat were routine. Its description varies and most reports are light on definite details. Here are some examples of descriptions.
November 1897 (near Clarksville, Tennessee): "Mr. Gaisser was within ten feet of the strange animal and describes it as being about six feet in length [that's 1.8 meters], of a ferocious appearance, having long claws and looking as though it could attack and dispatch a man as easily as a hog. […] What kind of an animal it is Mr. Gaisser cannot say. It has the appearance of being either a jaguar, mountain lion or a catamount."
November 1918 (near Vestal, Tennessee, a community in south Knoxville): "It looked very much like a leopard. It was a short haired animal, with a slick, glossy coat. It was white and gray spotted, and had a long tail, with a bushy end."
December 1921 (in Howell County, Missouri): "Drake says it was a long lanky animal, had spots on it. Then Bill Webb saw the 'wampus cat.' It was in the day time. Bill says it was running and disappeared in a second. It was built like a tiger and light yellow in color, he reports."
January 1926 (near the Spring Creek community of Crenshaw County, Alabama): "The animal has been seen by a number of people, and apparently either is a panther or a monster wildcat from the recesses of Patsalega swamp. The beast is described as being of the size of a large shepherd dog, dark of hue and shaggy of coat. It steps from eighteen to twenty inches while walking, and when running it covers the ground in huge leaps of from six to ten feet. It has long claws, and leaves a footprint measuring two and one-half inches in width." That's about 6.5 centimeters, which is not a very big pawprint for a big cat; a cougar's print would be up to four inches across, or 10 centimeters.
By the 1940s, newspaper mentions of the wampus as an animal diminish, taken over by sports teams with the name. By the 1960s wampus cat articles are mostly space-filling pieces talking about traditions among local oldtimers, usually with a humorous tone although again, they're not actually funny, and fewer sports teams carry the name. By the 2000s, when reporters were doing their research online, any mention of a wampus cat is accompanied by the bogus Cherokee story about a woman who could turn into a wildcat, and usually also claim that "wampus" is a Cherokee word.
Even though the term wampus fell out of favor slowly after its peak in the late 1920s, reports of cat-like animals were still appearing in newspapers. They just didn't get called wampus cats. A search for "strange animals" on Newspapers.com will bring up dozens of reports. Here are a few from the 1950s and 60s.
January 1951 (Pennsylvania): "Sent to hunt a strange animal reportedly sighted in the Noxen-Harveys Lake area, three bloodhounds today were themselves the objects of an extensive search in that region. Meanwhile, other reports of 'strange' animals came from the Hazleton area. The three bloodhounds…began trailing the animal, variously described as a bobcat, lynx, or mountain lion…."
February 1955 (South Carolina): "A resident…reported today he had seen the animal yesterday and described it as being black and having long hair and a long bushy tail. Mr. Findley said he heard weird sounds about 10 o'clock last night and went out with a light and gun, but neither saw nor heard anything more. He said the sounds were similar to a huge cat."
July 1962 (Cherrytree Township, Pennsylvania): "According to Mr. Black, the large animal jumped from the limb of an oak tree on his farm and fled into the cover of a nearby game preserve. […] He pointed out the marks on the ground where the animal landed and inspected claw marks on the tree. […] Asked to compare its size with that of a large dog, the farmer said it was considerably larger and tawney coated."
February 1963 (near Roan Mountain in the Cherokee National Forest, south of Elizabethton, Tennessee): "It has a track larger than a big dog, and is black in color. A real shiny black. Most of the dogs refuse to track or bay this strange animal and those with nerve enough to get close to the animal wish they hadn't. Mr. Birchfield had one dog that was real brave and ventured close, but the poor dog was carried home by Birchfield with broken bones."
September 1965 (Fairview, North Carolina): "The 'animal,' described as dark in [color], resembling a cat but much larger, was first seen when the Thomasville-Lexington reservoir was under construction in the late 1950's. […] It has been reported that the cries sound 'like cats fighting, then ending with the sound of a bob-white bird.'"
I only stop in 1965 because otherwise this episode would be about two hours long and very repetitive.
Reports still occur today, posted online. In a May 2018 comment on an article about wampus cats, someone named Greg Brashear writes "I saw what the old farmers in my area in north central Ky. [Kentucky] call a 'wompus cat'. […] It was bigger than a bobcat but smaller than a cougar with yellow eyes and a [disproportionately] long tail and it was solid black."
The cougar (also called a mountain lion, puma, painter, catamount, or panther) was once common throughout most of the Americas but was hunted to extinction in much of the eastern United States around the early to mid-20th century. It's a big animal, able to kill deer, with a big male weighing as much as 100 kg [220 lb]. It can leap enormous distances—up to 40 feet while running, or 12 meters, up to 18 feet straight up into a tree, or 5 1/2 meters—and can sprint up to 50 mph, or 80 km/hour. It doesn't roar but instead produces an unearthly scream. It can also purr.
This is what a cougar sounds like:
[cougar scream]
There's no doubt that at least some wampus cat reports were cougars. Cougar sightings have continued in the eastern United States and Canada through the present day. Young male cougars travel widely to establish a territory, so most modern sightings in the southeast are probably of young males who have traveled from populations in the west. There's evidence that many more cougars have started moving into the northeastern United States and Canada and may have even established breeding populations.
The cougar varies in color from tawny to reddish and is occasionally greyish-white. Occasionally a leucistic individual (meaning white or partially white) is caught on camera traps, but there has never been a confirmed sighting of a melanistic cougar (meaning black). It's likely that sightings of wampus cats described as yellow or gray and white are actually cougar sightings.
Another North American cat, the jaguar, is sometimes black in color. Jaguars are fairly common in South America but much less common in Central and North America. North American jaguars are also much smaller than South American populations, only about half the size of a cougar. The jaguar strongly resembles the leopard, with rosette-like black spots on a tawny or yellowish background. Melanistic jaguars are usually called black panthers and are rare in the North American population.
By 1960 the jaguar was almost completely extirpated in the United States (that means driven to extinction in a particular area), but a population remains in northern Mexico and occasionally one roams across the border into Arizona, Texas, or New Mexico. It prefers heavily forested areas near water.
It's possible, though very unlikely, that a young male black panther could roam as far as the eastern United States and contribute to wampus cat sightings. On the other hand, the jaguar doesn't fit wampus cat descriptions very well either. The jaguar roars instead of screaming like the cougar, and its smaller stature and extreme shyness make it unlikely to venture close to humans.
This is what a jaguar sounds like:
[jaguar sounds]
There is a third possibility, assuming the wampus cat isn't an animal new to science. The jaguarundi is also native to the Americas, including most of South and Central America through northern Mexico. It's related to the cougar and is solid colored, without spots, with a coat that can be black, gray-brown, or reddish. It's only about twice the size of a domestic cat but looks much different.
The jaguarundi's body is long and its legs are relatively short in proportion, which means it has a somewhat otter-like gait when it runs. Its rounded face has small round ears, also resembling an otter. Its tail is long, thick, and bushy. It lives in forests, rainforests, open areas (as long as there's brush to hide in), deserts, and mountains across a wide range, but it's not very well studied.
The jaguarundi used to be found in the United States, although its former range is unclear. Confirmed and/or credible sightings have been reported in Texas, Arizona, Alabama, and especially Florida, including roadkill animals. It mostly eats small animals like rodents, rabbits, birds, lizards, and fish. It's mostly nocturnal but is somewhat active during the day as well. It has at least 13 different calls, including whistles, growls, screams, and chattering and chirping.
This is what a jaguarundi sounds like. I apologize for the music in the background; there's not a lot of jaguarundi calls to choose from online and I had to grab this audio from a National Geographic video. There's a link in the show notes to the original if you'd like to watch the whole thing:
[jaguarundi sound]
It's interesting to compare the jaguarundi's variety of calls to some of the wampus cat sightings. While the jaguarundi isn't a large animal and can't kill pigs and dogs, as is frequently reported for the wampus cat, it's a vocal animal and can and does kill domestic poultry. Brashear's 2018 comment about a black cat with a disproportionately long tail sounds like a potential jaguarundi, although he described it as bigger than a bobcat when the bobcat is typically larger (although not as long, especially if you include the tail). The 1965 report of a dark-colored cat whose screams ended with a bird-like call also sounds like the jaguarundi. The bobwhite referred to in that sighting makes a two-tone whistle that sounds like this:
[bobwhite call]
It's exciting to think that many wampus cat sightings might be of the jaguarundi, especially since sightings continue to the present day. Fortunately, the jaguarundi is a protected species in the United States and throughout most of its range. It would be great if these interesting wild cats were found to have established breeding populations in the less populated areas of North America.
You can find Strange Animals Podcast at strangeanimalspodcast.blubrry.net. That's blueberry without any E's. If you have questions, comments, or suggestions for future episodes, email us at strangeanimalspodcast@gmail.com. If you like the podcast and want to help us out, leave us a rating and review on Apple Podcasts or Podchaser, or just tell a friend.
Thanks for listening!