Podcast: Play in new window | Download (Duration: 12:02 — 12.6MB)
This week we've got three more mystery animals, but they're small instead of gigantic! Also, I didn't say anything about it in the episode, but Black lives matter. Stay safe and fight for justice, everyone.
The water chevrotain:
The real-life face-scratcher monster, Schizodactylus monstrosus, more properly known as a dune cricket: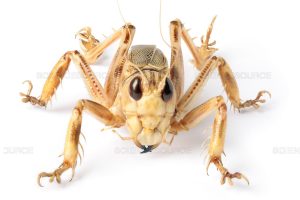 Flying ants: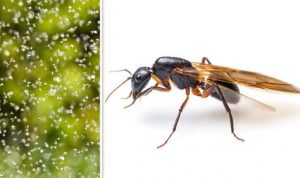 It's flying ants, that's what it is: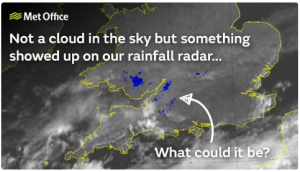 Show transcript:
Welcome to Strange Animals Podcast. I'm your host, Kate Shaw.
This week we're going to learn about three mystery animals, but they're not giants. They're small mysteries.
We'll start with a small mystery animal from the Republic of Guinea in West Africa. Guinea borders the ocean on its west and is shaped sort of like a croissant. The middle of the country is mountainous, which is where the tankongh is supposedly found.
The tankongh is supposed to look like a small, shy zebra with tusks and it lives in high mountain forests. If that description makes you think of a chevrotain, you may have listened to episode 116, about various unusual hoofed animals. The chevrotain is a small ruminant that has short tusks or fangs instead of horns or antlers like other ruminants. Many have white stripes and spots, including the water chevrotain.
The water chevrotain is the largest of the known chevrotain species, but that's not saying much because they're all pretty small. The female is a little larger than the male, but it's barely more than a foot tall at the shoulder, or 35 cm. The coat is reddish-brown with horizontal white stripes on the sides and white spots on the back. It has a rounded rump with a short tail that's white underneath. So, you know, it's sort of rabbit-like, but with long slender legs and tiny cloven hooves like a little bitty pig's legs. It lives in tropical lowland forests of Africa, always near water. It's nocturnal and mostly eats fruit, although it will also eat insects and crabs.
But while that sounds a little like the description given of the tankongh, it's not a very close match. The water chevrotain only lives in lowlands, while the tankongh is supposed to live in the mountains. But the water chevrotain is the only species of chevrotain that lives in Africa; all the others are native to Asia.
So it's very possible that there's another chevrotain species hiding in the mountains of Guinea and nearby countries. One visitor to Guinea reported being shown some tiny gray hooves and pieces of black and cream skin supposedly from a tankongh that had been killed and eaten. Since the water chevrotain is red-brown and white, the skin must be from a different animal. Unfortunately, the witness doesn't report if the hooves were cloven like the chevrotain's.
Hopefully, if this is a species of chevrotain that's new to science, it's safe in its mountain habitat from the deforestation, mining, and other issues threatening many animals in Guinea.
Our next mystery animal is an invertebrate from India called the muhnochwa, or face scratcher. The story apparently started in 2002 and spread throughout Uttar Pradesh state. Stories of a small but hideous insect with six legs covered with spines caused panic during an especially hot, dry summer. The scratch monster supposedly came out at night and attacked sleepers, scratching them greviously with its legs, sometimes causing burns or even killing people. Some witnesses said it was the size of a football and that it glowed or sparkled with red and blue lights.
Then, in late August, someone trapped a scratch monster and took it to Lucknow University for identification. It was a type of dune cricket, usually only found in sandy ground near river banks in parts of India, Pakistan, Sri Lanka, and Myanmar. It grows around three inches long, or almost 8 cm, and is yellowish-brown with sturdy legs that do indeed have spiny structures at the ends. It's nocturnal although it doesn't glow or shine.
During the day, the dune cricket lives in burrows it digs in the sandy soil, often very deep burrows since the cricket prefers damp ground. It comes out at night to hunt insects, especially grasshoppers, beetles, and crickets, including other dune crickets. Its antennae are longer than its body and the spines on its legs help it burrow and navigate the sandy soil where it lives.
So while the cricket is scary-looking, it's not dangerous to humans at all. It certainly couldn't kill anyone, and probably couldn't do more than make faint scratches that wouldn't even pierce the skin.
Possibly what happened was that unusually dry weather caused the crickets to search for moist ground, which means they might have been seen in areas where they were usually extremely rare. Because of its ferocious appearance, people assumed it was dangerous, and then stories about people dying from the insect started circulating, which made people even more frightened. Even after the insect was identified, news outlets kept reporting it as a monstrous, possibly extraterrestrial creature, which made things worse, although fortunately it eventually turned into an urban legend sort of joke once people realized it wasn't really dangerous.
Oh, and the dune cricket is also an insect in Animal Crossing, called the mole cricket. You have to listen for its chirping, then dig it up, and quick switch to your net to scoop it up as it runs away. But you can't do that now unless you live in the southern hemisphere, because it's only in the game between November and May in the northern hemisphere.
Our last small mystery animal is an ant, but not one particular species of ant. In many ant species, once a year a special hatch of eggs develop into ants with wings. The female ants are all queens but there are also plenty of much smaller males. The ants swarm into the air and fly off in a group. This generally happens in summer, especially on hot, humid days.
It's known as a nuptial swarm because all the ants are ready to mate and start new colonies. Well, the queens start new colonies. The males just die. The queen ants that survive the nuptial swarm after mating land, bite off their own wings, and search for a good place to start a new nest. If the queen survives, she begins laying eggs to hatch workers, using the sperm she collected from males during the flight. She'll use the sperm for the rest of her life, and in some species that's something like twenty years. She stores it in a special chamber in her body.
Entomologists know a lot about swarming ants. It's not exactly a rare phenomenon. Nuptial swarms can sometimes contain millions of individual ants as ants from different colonies combine. This helps reduce the risk of any particular ant being eaten by predators and it helps mix up the gene pool by allowing ants from different colonies to find each other and mate. The females release pheromones that attract the males, and the females usually fly quickly and make the male pursue so queens mate with only the strongest males.
Different species of ant will fly at different times and require different temperature and humidity levels to start the nuptial flight. Many species prefer to fly after rain or thunderstorms and some prefer to fly in late evening or at night when there are fewer predators. Sometimes a swarm is so large it shows up on weather radar.
But that's not the mysterious part. But is it possible that these clouds of winged ants, which often fly so closely together that they seem to be a solid mass, could be the source of some UFO sightings?
At first thought that's preposterous. Ants don't give off light any more than dune crickets do. Or do they?
Ants have hard exoskeletons and sometimes this can reflect sunlight so that the ant appears to glow. But I'm talking about actual glowing ants, not just reflected light.
As you may remember from episode 10, about electric animals, we're only just now starting to learn about how insects and other invertebrates use electric fields. One thing that we know happens is a build-up of static electricity on the body of flying insects. This is well documented in bumblebees and when a bee lands on a flower, the static electricity actually temporarily changes the flower's own negative charge. Other bees can sense this change and know that a bee has already visited that flower recently. The static charge also helps pollen adhere to the bee.
So it's completely possible that flying ants also have an electrostatic charge, from both the action of the wings and the movement of air molecules over the body. Ordinarily that wouldn't be visible, but in late evening or night-time when the air is already charged from the recent passage of a storm, on rare occasions the whole colony might glow. Since it's hard enough to tell an object's size, distance, and speed in the air, a zigzagging, fast-moving, densely compacted swarm of a million or so winged ants glowing in the sky might be taken for a much larger but much farther away aircraft of some kind emitting light.
That's not to say that every UFO is a swarm of glowing winged ants. Obviously, even if it does happen like this, it would be extremely rare. But it might be the case for the occasional UFO sighting. After all, UFOs are unidentified flying objects, whether that object is an alien spaceship buzzing our planet or a bunch of glowing ants. So if you see a UFO on a humid summer night after a thunderstorm, maybe take a closer look just in case you're observing an incredibly rare natural phenomenon. And if it isn't glowing ants, it might be aliens, so either way you might see something amazing.
You can find Strange Animals Podcast online at strangeanimalspodcast.blubrry.net. That's blueberry without any E's. If you have questions, comments, or suggestions for future episodes, email us at strangeanimalspodcast@gmail.com. If you like the podcast and want to help us out, leave a rating and review on Apple Podcasts or wherever you listen to podcasts. We also have a Patreon at patreon.com/strangeanimalspodcast if you'd like to support us that way.
Thanks for listening!