Podcast: Play in new window | Download (Duration: 13:42 — 15.1MB)
This week we learn about two interesting animals from opposite parts of the world! Thanks to Felix and Jaxon for suggesting the wolverine and the kakapo.
Further reading:
Study: Wolverines need refrigerators
Kakapo Comeback [this article has some fantastic pictures!]
The wolverine likes cold weather: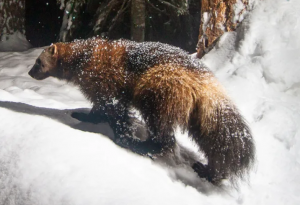 So many young kakapos!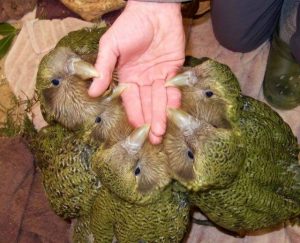 The kakapo is a really big bird:
Show transcript:
Welcome to Strange Animals Podcast. I'm your host, Kate Shaw.
This week we're going to cover two animals suggested by listeners who spell their names with an X. I had already picked out these topics from the list and just now noticed both suggesters have X's in their names. Thanks to Jaxon and Felix for these suggestions!
First, Felix suggested we learn about the wolverine. We've talked about it before in episode 62, but there's a whole lot more to learn about this uncommon animal.
The wolverine is a mustelid, which is a family that includes weasels, ferrets, and other small, long, skinny animals with short legs. But the wolverine is big and broad, although its legs are pretty short. It kind of looks like a small bear and stands about 18 inches tall at the shoulder, or 45 cm. It's light brown with darker brown or black legs, muzzle, tail, and back, and some have silvery-gray markings too. Its tail is short but fluffy. It lives in cold, mountainous areas, including northern Canada and Alaska, Siberia, and parts of Norway, Sweden, and Finland.
The wolverine is mainly a scavenger of animals that are already dead, but it will also kill and eat pretty much anything it can catch. This includes rabbits, mice, rats, porcupines, geese, and other small or relatively small animals, but it sometimes kills animals a lot bigger than it is, like deer. It will also eat eggs, berries, seeds, and anything else it can find. It's not a picky eater.
The wolverine nearly went extinct in the 19th century due to overhunting for its fur, which is mostly waterproof and frost-proof. People used it to line winter clothes. The wolverine is also vulnerable to habitat loss and climate change, since it needs deep snow and cold temperatures to survive.
Because the wolverine lives where winters are harsh, when it finds a lot of food, it will sometimes bury it in snow to eat later. It chooses a protected area between boulders or a natural crevice in rocks to put the dead animal, then covers it with deep snow to keep it fresh for longer, just like putting meat in a freezer. Females in particular need this stored food, because they give birth in winter and need lots of food so they can produce milk for their babies.
But if you've ever taken food out of the freezer, you know it's hard as a rock. How does the wolverine eat meat that's frozen solid? Not only does the wolverine have strong jaws and teeth, it actually has a special tooth in the back of the mouth that points inward, one on each side of the upper jaw. The inward-pointing tooth allows the wolverine to tear off chunks of frozen meat more easily. Other mustelids have this arrangement of teeth too.
A male wolverine roams widely through a large territory, which can sometimes be hundreds of square miles. Pairs often mate for life although they don't spend a lot of time together, and sometimes a male will have two or three mates. In winter, the female digs a den deep into the snow to have her babies, and while she mostly takes care of them by herself, the father wolverine will visit from time to time and bring everyone food. The babies stay with their mother for up to a year, and sometimes the half-grown wolverines will go traveling with their dad for a while.
The wolverine is sometimes called the nasty cat because it has a strong smell, which it uses to mark its territory. "Nasty cat" is the funniest name for an animal I've ever heard.
Next, Jaxon suggested the kakapo, which is a weird and adorable bird. It's flightless and nocturnal, lives only in New Zealand, and is a type of parrot. A flightless, nocturnal parrot!
The kakapo is really big even for a parrot. It can grow over two feet long, or 64 cm, but since it's flightless its wings and tail aren't very big. Its legs are relatively short considering it has to walk everywhere. It has green feathers with speckled markings, blue-gray feet, and discs of feathers around its eyes that make its face look a little like an owl's face. That's why it's sometimes called the owl parrot. Males are almost twice the size of females on average.
The kakapo evolved on New Zealand where it had almost no predators. A few types of eagle hunted it during the day, which is why it evolved to be mostly nocturnal. Its only real predator at night was one type of owl. As a result, the kakapo was one of the most common birds throughout New Zealand when humans arrived.
The Maori discovered New Zealand around 700 years ago. They killed the kakapo to eat and to use its feathers in clothing, and they also brought dogs and the Polynesian rat that also liked to kill and eat the kakapo. Then a few hundred years ago Europeans arrived, bringing all sorts of invasive animals with them, and they also chopped down forests to create more farmland.
By the end of the 19th century, the kakapo was becoming increasingly rare everywhere. When Resolution Island was declared a nature reserve in 1891, early conservationists brought kakapos and kiwis to the island in an attempt to save them. But stoats and feral cats killed them all. Attempts to establish captive breeding programs weren't successful either. By 1970, scientists worried that the kakapo was already extinct.
Fortunately, a few of the birds survived in remote areas. By now conservationists understood that they had to provide a safe environment for the birds, and that took a lot of effort. Several islands were chosen as kakapo refuges, and then all the introduced mammals on the islands had to be eradicated or relocated. This included animals like deer that ate the same plants that the kakapo relied on, as well as predators. Then native plants and trees had to be transplanted to the islands since they'd been mostly killed off by deer and other introduced animals.
Then, finally, all the kakapos scientists could find were relocated to the islands. There weren't very many, and most of them were males. 65 birds were introduced to four islands and monitored carefully, both to make sure they settled in well and to make sure no predators found their way to the islands.
Kakapo females only lay eggs when they have plenty of high-protein food, especially the fruit of the rimu tree that only ripens every four or five years, so the females were given extra food to encourage them to breed more often. The extra food helped, but it turns out that when the females were allowed to eat as much as they wanted, most of the eggs they laid hatched male chicks. That was the opposite of what the kakapo needed, so conservationists experimented with the amounts of extra food they gave the birds until finally the eggs were hatching equal numbers of females and males.
Many parrot species mate for life and both parents help take care of the eggs and babies, but the kakapo handles things differently. Males gather on hilltops during breeding season and each male digs out a shallow bowl well apart from other males, sometimes several bowls connected with little trails. If a male gets too close to another male, they'll fight. Each male stands in his bowl and makes a booming call by inflating a special sac in his throat. The bowl helps amplify the sound and often the male will construct his bowl near a surface that reflects sound, like rock. His calls can be heard three miles away in good conditions, or 5 km, and the sound attracts females.
This system of males competing in one area to attract females is called lekking, spelled L-E-K. We've actually talked about lekking before but I don't remember if I specifically mentioned the term. The area where the males gather is called a lekking ground or an arena or sometimes just a lek. The females walk around inspecting each male, who booms and struts to show how strong and fit he is. If a female is especially interested in one male, she'll approach him and he starts his courtship dance. This sounds fancy but for the kakapo, it basically means he turns his tail with his wings spread, then walks backwards towards the female. Weird dance, but the female kakapo thinks it's cool.
After a female chooses a male, they mate and then the female leaves him and walks home. She builds a nest in a hollow tree or in a hidden crevice among roots or rocks, and lays one to four eggs. She takes care of the eggs and the babies by herself, and may continue to feed the babies until they're around six months old.
The kakapo eats nuts, seeds, fruit, leaves, and other plant material. Its legs are short but strong, and it will jog for long distances to find food. It can also climb really well, right up into the very tops of trees. It uses its strong legs and its large curved bill to climb. Then, to get down from the treetop more efficiently, the kakapo will spread its wings and parachute down, although its wings aren't big enough or strong enough for it to actually fly. A big heavy male sort of falls in a controlled plummet while a small female will land more gracefully.
While the kakapo is doing a lot better now than it has in decades, it's still critically endangered. The current population is 249 individuals according to New Zealand's Department of Conservation. Scientists and volunteers help monitor the birds, especially newly hatched chicks. If a mother bird is having trouble finding enough food for all her babies, or if any of the babies appear sick or injured, a team of conservationists will decide if they need to help out. They sometimes move a chick from a nest where the mother bird has a lot of other babies to one where there are only one or two babies. Some chicks are raised in nurseries if necessary and reintroduced to the wild when they're old enough.
The kakapo can live for a long time. This isn't unusual for parrots, which can live as long as a human, but the kakapo is especially long-lived. There are reports of individuals who have reached 120 years old. This means that potentially, only six kakapo generations ago, the first East Polynesian sailors, ancestors of the modern Maori, became the first humans ever to set foot on the shores of New Zealand. And there were some weird parrots there.
This is what the male kakapo sounds like when it's booming:
[booming call]
You can find Strange Animals Podcast at strangeanimalspodcast.blubrry.net. That's blueberry without any E's. If you have questions, comments, or suggestions for future episodes, email us at strangeanimalspodcast@gmail.com. If you like the podcast and want to help us out, leave us a rating and review on Apple Podcasts or Podchaser, or just tell a friend. We also have a Patreon at patreon.com/strangeanimalspodcast if you'd like to support us for as little as one dollar a month and get monthly bonus episodes.
Thanks for listening!