Podcast: Play in new window | Download (Duration: 13:51 — 14.2MB)
Subscribe: RSS
This week we'll learn about some terrifying extinct fish, the armored dunkleosteus and the spiral-toothed helicoprion, plus a few friends of theirs who could TEAR YOU UP.
Dunkleosteus did not even need teeth: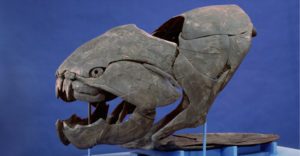 Helicoprion had teeth like crazy in a buzzsaw-like tooth whorl: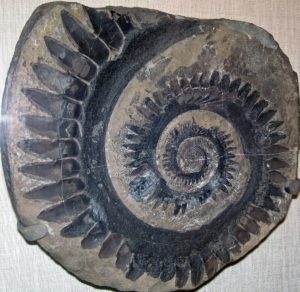 Helicoprion's living relatives, chimaeras (or ghost sharks) are a lot less impressive than they sound: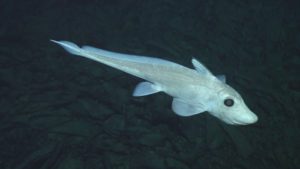 Helicoprion probably looked something like this: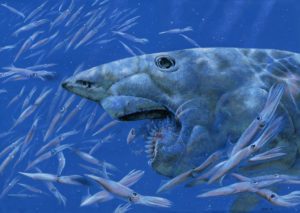 But helicoprion has been described in all sorts of wacky ways over the years: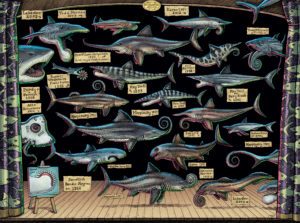 So what are the odds this rendition of edestus is correct? hmm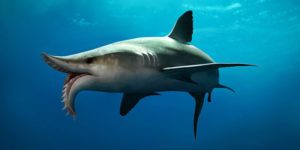 Show transcript:
Welcome to Strange Animals Podcast. I'm your host, Kate Shaw.
This week we've got a listener suggestion! Will B. suggested placoderms, which were armored fish that lived hundreds of millions of years ago. He especially recommended Dunkleosteus. I looked it up and went, "Oh holy crap," so you bet we're going to learn about it today. I'm also pairing that terrifying fish with a really weird shark relation called Helicoprion. And we might even take a look at a few other fishes while we're at it. Creepy extinct fish for everyone! Oh, and Will asked that I include more metric conversions. [heavy sigh] okay I guess
If you had happened to live around 350 million years ago when Dunkleosteus was alive, you would be a fish. Well, you would probably be a fish. I don't know for sure. That was during the Late Devonian period, and the Devonian is remembered as the "age of fish" by undergraduate geology and palaeo students everywhere. While land plants were evolving like crazy, developing true roots and seeds, fish were even crazier. Ray-finned fish evolved during the Devonian and so did lobe-finned fish like coelacanths. The first amphibious critters developed in shallow lakes and started to spend time on land, and in the ocean there were early sharks, lots of trilobites, and a whole lot of armored fish. Including, eventually, dunkleosteus.
Dunkleosteus terrelli was the biggest species of placoderm. It probably grew over 30 feet long OR TEN METERS, WILL, which made it bigger than a great white shark. But dunkleosteus didn't have teeth. And before you think, oh, it must have been a filter feeder or something, oh no. It didn't need teeth. Instead it had bony plates like a gigantic beak. It could open and close its jaws incredibly fast—something like one 50th of a second—and could bite through armor and bone no problem. One article referred to its jaws as sheet-metal cutters. Scientists think its bite was as powerful as that of a T rex, although it didn't quite match that of megalodon, but since T rex and megalodon both lived many millions of years later than Dunkleosteus, it's useless to speculate who would win in a fight. But my money's on Dunkleosteus.
Dunkleosteus wasn't a fast swimmer. Its head was covered in heavy armor that probably served two main purposes. One, the armor plates gave its massive jaw muscles something substantial to attach to, and two, it kept its head safe from the bites of other placoderms. That's right. Dunkleosteus was a cannibal.
We actually don't know exactly how long Dunkleosteus was or what most of its body looked like. The only fossils we've found were of the head armor. We do have complete fossils and body impressions of other, much smaller placoderms, so since all placoderms seemed to have the same body plan we can make good guesses as to what Dunkleosteus looked like.
One surprising thing we do have associated with Dunkleosteus fossils are some remains of its meals. These are called fish boluses, and they're basically just wads of partially-digested pieces of fish that either get horked up by whatever ate them or pass through the digestive tract without being fully digested. From the fish boluses, we know that Dunkleosteus probably preferred the soft parts of its prey and didn't digest bones very well.
In 2013, a fossil fish over 400 million years old was described that combines features of a placoderm skeleton with the jaw structure that most bony fishes and four-footed animals share. Some other early bony fishes discovered recently also show some features of placoderm skeletons. What does that mean? Well, until these discoveries, researchers had thought bony fishes weren't very closely related to placoderms. Now it looks like they were. And that means that placoderm jaws, those fearsome cutting machines, were actually the basis of our own jaws and those of most animals alive today. Only, in our case they're no longer designed to shear through armor and bone. Maybe through Nutter Butters and ham sandwiches instead.
So what happened to dunkleosteus? Around 375 million years ago something happened in the oceans—not precisely an extinction event, but from our perspective it looks like one. Even without human help species do go extinct naturally every so often, and when that happens other species evolve to fill their ecological niches. But during the late Devonian, when species went extinct in the ocean… nothing took their place.
We don't know what exactly was going on, but researchers have theories. One suggestion is that, since sea levels were rising, marine environments that were once separated by land got joined together. Species that had evolved in one area suddenly had access to a much bigger area. They acted like invasive species do today, driving native species to extinction and breeding prolifically. They kept new species from developing, and caused a breakdown in the biodiversity of their new territories. This only happened in the oceans, not on land, which adds credence to the theory.
It took a long, long time for the oceans to fully recover. For example, coral reefs disappeared from the fossil record for 100 million years as corals almost died out completely. But the animals that had already started evolving to take advantage of life on land survived and thrived—and that led to us, eventually. Us and our little unarmored jaws.
From Dunkleosteus and its sheet-metal cutter beak let's go to another fish that looked like a shark but had teeth that are so bizarre I can't even understand it. Helicoprion and its tooth whorl have baffled scientists for over a century.
The various species of Helicoprion lived around 290 million years ago. Like sharks, only its teeth are bony. The rest of its skeleton is made of cartilage, which doesn't preserve very well.
So what's a tooth whorl? It resembles a spiral shell, like a snail's, only made of teeth. I'm not even making this up. Originally people actually thought they were some kind of weird spiky ammonite shell, in fact. Then someone pointed out that they were made of teeth, but no one could figure out what earthly use a circular saw would be if you were a fish and just wanted to eat other fish. Where would you even keep a circular saw of teeth?
Various suggestions included putting the tooth whorl at the very end of the lower jaw, just sort of stuck out there doing nothing; putting the tooth whorl way in the back of the throat where I guess it would cut up fish as they went down; on the snout, on the back, or even on the tail, which are not places where teeth typically do much good. Originally researchers thought the tooth whorl was probably a defensive trait, but now it's accepted that it was used the way the rest of us use our teeth, which is to eat things with.
The smallest teeth in a tooth whorl are on the inside curls and the biggest are on the outside. Eventually researchers realized the small teeth were from when the individual was a baby fish and had little teeth. Like sharks, helicoprion kept growing teeth throughout its life. Unlike sharks, it didn't lose its old teeth when the new ones grew in. The older, smaller teeth were just pushed forward along the curve of the whorl and eventually were buried within the animal's jaw, with only the biggest, newest teeth actually being used.
In 1950 a crushed tooth whorl was found with some cranial cartilage, so scientists knew that the whorl was associated with the head and wasn't, for instance, on the dorsal fin. That fossil was found in Idaho and consisted of 117 teeth. The whorl was 23 cm in diameter, or about 9 inches across, although slightly larger ones have been found. In 2011 the fossil was examined with a state-of-the-art CT scanner and a 3D computer model generated of the animal's skull.
Researchers think they have a pretty good idea of what a living helicoprion's head and jaws looked like. The tooth whorl was fused with and extended the full length of the lower jaw. It grew inside the mouth roughly where the tongue would be if it had a tongue, which it did not. Helicoprion didn't have teeth in its upper jaw, so the tooth whorl acted less like chompers than like a meat slicing machine. When it closed its mouth, the tooth whorl was pushed back a little and would therefore slice through any soft-bodied prey in the mouth and also force its prey deeper into its mouth. Helicoprion probably ate small fish, cephalopods, and other soft-bodied organisms.
Since we don't have any fossils or impressions of helicoprion's body, we don't know for sure what it looked like, but researchers estimate it probably grew to around 13 feet or 4 meters, but may have possibly exceeded 24 feet or 7.5 meters.
For a long time researchers thought helicoprion was a shark, but it's now classified as a type of chimaera, which are small weird-looking shark-like fish known also as ghost sharks, spookfish, ratfish, and rabbit fish. I'm going to call them ghost sharks because that's awesome. They're not that closely related to sharks although they do have cartilaginous skeletons, and most species like the ocean depths. Ghost sharks have been spotted at depths of 8,500 feet, or 2,600 meters. The longest any species grows is around 5 feet, or 150 cm. Unlike helicoprion, they don't have exciting teeth. They don't really have teeth at all, just three pairs of tooth plates that grind together. Some species have a venomous spine in front of the dorsal fin.
While we're talking about shark-like fish with weird teeth, let's discuss Edestus, a genus of shark-like fish with weird teeth that lived around 300 million years ago, around the same time as dunkleosteus. It was related to helicoprion but it didn't have a tooth whorl. Instead it had one curved bracket of teeth on the lower jaw and one on the upper jaw that meshed together like pinking shears. You know what pinking shears are even if you don't recognize the name. Pinking shears are scissors that have a zigzag pattern instead of a straight edge, so you can cut a zigzag into cloth but not paper because do not dare use my pinking shears for anything but cloth. It dulls them.
Anyway, like helicoprion Edestus didn't shed its teeth but it did grow new ones throughout its life, so like helicoprion it had a bunch of teeth it no longer needed. In Edestus's case we don't have any bits of skull or jaw cartilage to give us a clue as to how its teeth sat in its jaw. A lot of scientific art of Edestus shows a shark with a pointy mouth, where the upper point curves upward and the lower point curves downward with teeth sticking out from the middle. Sort of like an open zipper, if the zipper part was teeth and the non-zipper side was a shark's mouth. To me that looks sort of ridiculous, and I suspect in reality Edestus looked a lot more like helicoprion. The downward and upward curved parts of the tooth arc was probably buried within its jaw, not sticking out. But that's just a guess based on about 30 minutes of research.
Researchers estimate that the largest species of Edestus probably grew to about 20 feet long, or 6 meters. No one's sure how or what it ate, but one suggestion is that if its teeth did project out of its mouth, it might have slashed at prey with its teeth sort of like a swordfish slashes prey with its elongated beak. Hopefully scientists will find a well preserved specimen one day that will give us some clues as to what Edestus looked like, at which point I bet the drawings we have now will look as silly as helicoprion with a tooth whorl perched on its nose.
You can find Strange Animals Podcast online at strangeanimalspodcast.com. We're on Twitter at strangebeasties and have a facebook page at facebook.com/strangeanimalspodcast. If you have questions, comments, or suggestions for future episodes, email us at strangeanimalspodcast@gmail.com. If you like the podcast and want to help us out, leave us a rating and review on iTunes or whatever platform you listen on. We also have a Patreon if you'd like to support us that way. Rewards include stickers and twice-monthly bonus episodes.
Thanks for listening!