Podcast: Play in new window | Download (Duration: 16:40 — 17.2MB)
This week we're going to learn about bears, including a bunch of m y s t e r y  b e a r s!
Hi! I am a panda bear!
A polar bear: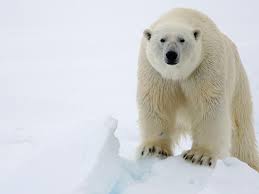 A spectacled bear: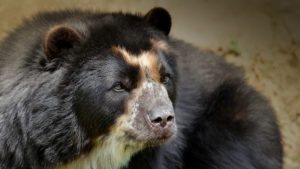 A baby spectacled bear OMG LOOK AT THAT BABY: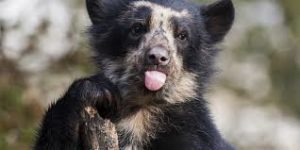 The giant short-faced bear was indeed giant: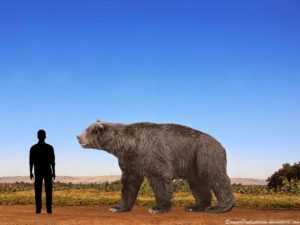 Further reading:
Show transcript:
Welcome to Strange Animals Podcast. I'm your host, Kate Shaw.
I'm in the mood for a bona fide mystery animal, and I bet you are too. So this week let's learn about some mystery bears.
There are eight species of bears alive today that we know of: brown, polar, spectacled, sloth, sun, Asian and American black bears, and the giant panda. The other ones you may have heard of, like grizzlies, are subspecies of those eight. For a long time pandas were not considered bears at all, but more closely related to raccoons. These days they're definitely in the bear box, but they've evolved in a completely different direction from other bears for some 19 million years, which is why they're so different.
Before we get into the mysteries, let's talk about just how different pandas are from other bears. As you probably know, the panda eats bamboo almost exclusively, unlike all other bears which are either omnivorous or, in the case of the polar bear, carnivorous. To survive on bamboo, the panda has evolved a lot of unusual adaptations. The front paws, for instance, have five toes just like all bears, and also a thumb. The thumb is actually a modified wrist bone that juts out from the base of the paw and helps the panda hold bamboo stalks as it eats the leaves.
Bamboo is not very nutritious. It's certainly low in protein, especially considering that while the panda eats almost nothing but bamboo, it still has the digestive system of a carnivore. Special microbes in the panda's intestines help break down the bamboo so the panda can digest it, but it takes a lot of bamboo to provide the energy a panda needs. A panda eats 20 to 30 pounds of bamboo leaves, stems, and shoots every day, or 9-14 kg, which means it also poops a whole lot. Seriously, it poops something like 40 times a day. And it still doesn't have a lot of energy. It mostly just sits around eating and pooping. But while the panda just chews leaves all the time, it still has bear fangs and it will eat meat and eggs when it can. Researchers think that the panda only became exclusively a bamboo eater about two million years ago.
The panda lives in the mountains of China in only a few places. It used to also live in the lowlands but farming and other development drove it into more remote areas. There are about 50 pandas in captivity these days and somewhere between 1,500 and 3,000 pandas in the wild, with the population finally increasing after laws protecting pandas from poaching started to be enforced.
The people of China knew about the panda for centuries, although they were considered rare and elusive even in the olden days, but it wasn't until 1869 that anyone from outside of China had a clue that gigantic roly-poly black and white bamboo-eating six-toed bears were real. Seriously, would you believe that? In 1869 a French missionary and naturalist bought a dead panda from some hunters, dissected it to study, and sent the skin to a zoologist friend in Paris.
So it's possible that there are other mystery bears out there, known to the locals who don't realize their bears are special, just waiting to be spotted by someone who knows a thing or two about bears.
In 1920 a Swedish scientist named Sten Bergman was shown the pelt of a bear by locals during an expedition to the Kamchatka Peninsula. That's in the very eastern part of Russia on the Pacific coast and is sparsely populated. It's mountainous with a cluster of active volcanos and it's well known for the brown bears that live in the area. The Kamchatka brown bears are among the largest brown bear subspecies in the world, almost the size of the closely related Kodiak brown bear. When it stands on its hind legs it can be almost ten feet tall, or 3 meters. It's mostly harmless to humans. Mostly. It hardly ever kills people. Just, you know, occasionally. The Kamchatka brown bears have long brown fur, sometimes pale brown but usually a sort of medium brown. They're certainly not black. But the pelt that Dr. Bergman was shown was jet black and had short fur. But it was definitely a bear pelt, and the pelt was definitely enormous—much larger than a brown bear pelt. Bergman also saw a huge skull supposedly from one of the black bears, and a paw print 15" long and 10" wide, or 38 cm by 25 ½ cm.
Unfortunately none of the giant black bears have turned up since, living or dead. It's possible that the bear was an unusually large brown bear with anomalous fur. Brown bears do have considerable variability in both the color and length of their fur, so it's not out of the question that occasionally a brown bear is born that is actually black. It's also possible that this black bear is actually a different species of bear, but that it's either gone extinct or is extremely rare and only lives in far remote areas of Siberia these days.
But the Kamchatka Peninsula has another mystery bear for us to ponder. In 1987 a hunter named Rodion Sivolobov bought a giant white bear skin from locals. It looked like a big polar bear pelt, but the locals assured him it was from a very specific, very rare type of local bear.
They called it the irkuiem and described it as large but with a relatively small head, relatively short hind legs, and an unusual method of running. It supposedly runs in a sort of rocking motion, bringing both hind legs up to the forelegs, then throwing the forelegs forward together to start a new stride–more like a rabbit's bounding run than a bear's typical gait.
Sivolobov sent samples of the pelt to various zoologists in Russia, but they said there wasn't much they could determine without a skull. But with DNA testing so much more advanced these days, it would be REALLY NICE if Sivolobov would get right on that and get his white bear pelt tested. If it really exists and if he's not scared he was sold a marked-up polar bear skin with a tall tale.
The polar bear lives in the Arctic and is so closely related to the brown bear that the two species occasionally crossbreed when their range overlaps. Technically polar bears are marine mammals since they hunt seals on sea ice and spend a lot of time in the water. Sometimes a polar bear will drift for long distances on a piece of sea ice, or may swim for days, crossing hundreds of miles of ocean.
Polar bear feet are huge, around 12 inches wide or 30 cm, which helps keep the bear from sinking in the snow since its weight is more widely distributed on broad paws. Think snowshoes. Broad feet also helps it swim faster. The paw pads are bumpy so it's less likely to slip on ice, and the claws are short and strong for digging in snow and ice. The polar bear stays warm because its body is heavily insulated with fat, plus its fur is thick with a soft undercoat that insulates so well that polar bears really are virtually invisible to heat-sensing radar. Male polar bears grow long fur on their forelegs, apparently because lady polar bears find that attractive. Unlike most other bears, polar bears don't hibernate.
Georg Wilhelm Steller was a German naturalist who took part in explorations of Kamchatka Peninsula and other areas. He's the guy that Steller's sea-cow is named after and one day it's getting its own episode. Anyway, in 1751 Steller wrote a book called, in English, Beasts of the Sea, and in it he mentions a report of a white sea-bear. He didn't see it himself, but here's his account, which I've taken from Karl Shuker's excellent blog ShukerNature. I'll link to it in the show notes.
Here's the quote:
"Report, as I gather from the account of the people, has declared that the sea-bear, as it is called by the Rutheni and other people is different. They say it is an amphibious sea beast very like a bear, but very fierce, both on land and in the water. They told likewise, that in the year 1736 it had overturned a boat and torn two men to pieces; that they were very much alarmed when they heard the sound of its voice, which was like the growl of a bear, and that they fled from their chase of the otter and seals on the sea and hastened back to land. They say that it is covered with white fur; that it lives near the Kuril Islands, and is more numerous toward Japan; that here it is seldom seen. I myself do not know how far to believe this report, for no one has ever seen one, either slain or cast up dead upon the shore."
Shuker suggests that this report may actually be of a fur seal, which is found in the area and has sometimes been called a sea-bear. Then again, fur seals aren't white. They're gray or brown and would appear darker in the water.
The Kuril Islands are a string of 56 volcanic islands that stretch between the northeastern tip of Hokkaido, Japan to the southern tip of Kamchatka Peninsula, a distance of about 810 miles, or 1300 km. Some of the largest islands are inhabited by brown bears, but it's far from the Arctic. Polar bears get overheated easily in warmer areas, so a population of polar bears—or even a stray one—is unlikely that far south.
There are also stories of pure white bears in the forests of Hubei province in China. It's always possible this is a garbled account of the panda, but maybe not.
In 1864, Inuit hunters supposedly killed a huge bear with yellowish fur. Naturalist Roderick McFarlane acquired the skin and skull and sent them to the Smithsonian, which promptly lost them. That's the story, anyway. In fact, the Smithsonian did misplace the skin and skull for a while, but zoologist Clinton Hart Merriam found and examined them. He decided it was a new species of bear due to the skull's odd shape and the light tan color of the fur.
Older polar bears do tend to have yellowish fur so maybe that's all this bear was. But it might have been something else. As I mentioned earlier, polar bears and various subspecies of brown bear do sometimes crossbreed and produce fertile young. It's rare, but it happens occasionally both in the wild and in captivity. The resulting babies show traits of both polar bears and brown bears, and tend to be pale brown or tan in color with darker brown paws. Then again, there's a MonsterQuest episode that I haven't actually seen where a paleontologist examines the McFarlane skull and states it's just that of a young female brown bear.
For having only eight species, bears are remarkably widespread and vary considerably in diet and appearance. The sloth bear mostly eats insects, for instance. It lives in India and has shaggy black fur with a pale muzzle and white claws, big floppy ears, and a white V-shaped mark on the chest. It lacks upper incisors, which helps it slurp up insects.
Sloth bears are actually pretty darn awesome. Males often help raise the cubs and mothers carry their babies around on their backs. The sloth bear doesn't hibernate, probably because it doesn't really get cold where it lives.
The spectacled bear lives in South America. It's the last close relative of the giant short-faced bear that went extinct about 11,000 years ago. The spectacled bear is mostly black, although some individuals may appear brown or reddish, and most but not all have lighter markings on the face and chest. Its head is much less bearlike than other bears, with a rounded face and short snout. It mostly eats plants and lives in the Andes Mountains and surrounding areas. It spends a lot of time in trees, and will even build a little platform in a tree to sleep on or store food on.
And you know what? Paddington Bear is modeled on the spectacled bear.
The spectacled bear is not especially scary. Its relative, the giant short-faced bear, was another story. It lived in North America, especially in California, and its remains have been found in the La Brea tar pits. But it also lived as far south as Mississippi. And it was huge. It was simply enormous. It stood up to 6 feet at the shoulder, or 1.8 meters, and twice that when standing on its hind legs. One website I read pointed out that regulation height for a basketball rim is ten feet, which means a giant short-faced bear could dunk the ball every time without doing anything more strenuous than standing up. It was probably an omnivore like most modern bears, but we have mastodon bones that show tooth marks from the short-faced bear.
Naturally, as with just about any extinct animal, people keep hoping they're not really extinct and occasionally someone reports seeing a giant short-faced bear. Some cryptozoologists speculate that the Kamchatka Peninsula mystery bears may actually be short-faced bears, but since short-faced bear fossils have only been found in North America, it's probably not likely that there would be any living in Russia. Besides, the short-faced bear would have looked very different from the brown bear, probably shaped more like a colossal spectacled bear. Locals would definitely notice the difference. Moreover, it's not likely to live in the same area that already has a population of brown bears, since both animals would then be competing for the same resources.
Personally, while the giant short-faced bear is awesome to imagine, I'm perfectly happy with it not wandering around in the forests. Because I like to hike. And I worry enough about the relatively small and harmless American black bear as it is.
You can find Strange Animals Podcast online at strangeanimalspodcast.com. We're on Twitter at strangebeasties and have a facebook page at facebook.com/strangeanimalspodcast. If you have questions, comments, or suggestions for future episodes, email us at strangeanimalspodcast@gmail.com. If you like the podcast and want to help us out, leave us a rating and review on iTunes or whatever platform you listen on. We also have a Patreon if you'd like to support us that way.
Thanks for listening!