Podcast: Play in new window | Download (Duration: 13:31 — 13.5MB)
If you think pigs are just cute little pink animals that go oink, you definitely need to listen to this week's episode!
Further listening (two unlocked Patreon episodes):
Weird teeth featuring the babirusa
Further reading:
More about the swamp pig of Hungary
An adorable pygmy hog: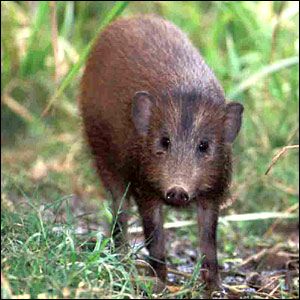 A Javan warty pig, looking magnificent: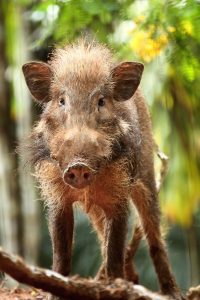 An actual warthog, not a cartoon warthog, just sayin: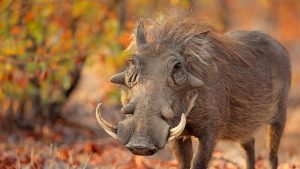 A giant forest hog, looking kind of similar to the warthog but bigger: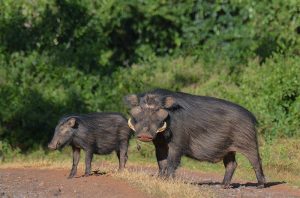 A wild boar looking surprisingly fluffy: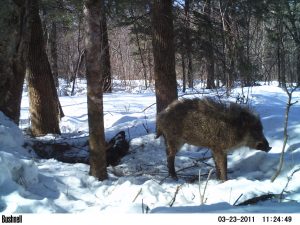 A wild boar piglet, awwww: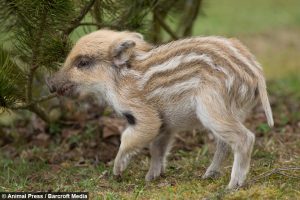 Show transcript:
Welcome to Strange Animals Podcast. I'm your host, Kate Shaw.
This week we're going to look at an animal all of us know as the thing that goes oink-oink. Some people eat them, some people will absolutely not eat them, some people keep them as pets, but everybody knows what a pig is. But you might not know about these weird and sometimes mysterious pigs!
I've unlocked two Patreon bonus episodes about pigs so that anyone can listen to them. I recently posted a bonus episode about peccaries, and there's an older bonus episode about some animals with weird teeth that features the babirusa. Check the show notes for links to those episodes. You don't need a Patreon login, just click on the link and use your browser to listen.
There are two groups of piglike animals, known as the New World pigs found throughout the Americas, and the Old World pigs from Africa and Eurasia. Domestic pigs are Old World pigs, although escaped domestic pigs live as feral animals in many parts of the world. New World and Old World pigs are related, but not closely. They used to be classified together in the pig family, Suidae, but the New World pigs now have their own family, Tayassuidae.
All these pigs have one thing in common: a snout that ends in a disc with nostrils at the end. You know, a pig snout. The disc is made of cartilage and is usually extremely tough, with leathery skin, but it's also full of nerve endings so the pig can tell exactly what it's touching with its snout. Pigs use their snouts to root in the ground, digging up plant material and small animals like grubs and worms. You know why pigs sometimes have a ring in their nose, through the nostrils? This stops a pig from rooting, because the ring gets caught on rocks and things and pulls at the sensitive nostrils.
Male pigs of all kinds also have tusks, or teeth that grow long enough that they extend out of the mouth. Plus pigs have small, thin tails, bulky bodies with relatively slender legs, cloven hooves with two dew claws on each foot, and small eyes. The babies of wild pig species are usually furry with stripes the length of their body.
Pigs are surprisingly intelligent and can learn all kinds of tricks, just like dogs. And while a domestic pig that's been handled often since it was a piglet will make a good pet, wild pigs and pigs that aren't used to people can be dangerous. Pigs will eat people, which seems only fair since people eat so many pigs. Pigs will eat anything, in fact. They're omnivores, just like humans are. Pigs also carry a lot of parasites and diseases that humans can catch too.
Let's look at some of the more unusual wild pigs out there, starting with the pygmy hog. The pygmy hog isn't actually very closely related to most pigs. It's much smaller than most pig species, only about a foot high, or 30 cm. It's brown in color with short hair and rounded ears, and it lives in India although it used to be much more widespread.
The pygmy hog lives in small family groups, usually females and their young. Males are more solitary. In cold weather the pygmy hog digs a nest to sleep in, rooting out a small trough in the dirt with its snout and lining it with grass. This is adorable.
The pygmy hog was first described in 1847 but by the 1960s it was supposedly extinct. But a population was rediscovered in 1971 living in a wildlife sanctuary. By the time a conservation program was set up in 1995, only a few hundred pygmy hogs were still alive in the wild due to habitat loss and hunting. The pygmy hog likes wet grasslands, which are often overgrazed by livestock. Fortunately it's now a protected species in India, and over a hundred captive-bred pygmy hogs have been reintroduced into the wild and are repopulating areas where they were once common.
Another endangered pig is the Javan warty pig, which lives on several islands in Indonesia. It's black with some reddish areas on its head and belly. Males can grow up to three feet tall, or about a meter, although females are smaller. It's mostly active at night, with females and young living in small groups, while adult males are mostly solitary. When something scares it, it gives a shrill whistle to warn other pigs.
The male Javan warty pig has three pairs of so-called warts on its head, one pair under the eyes, one pair under the ears, and one pair on the jaw. These aren't warts at all, of course, but thickened skin that protect the eyes, the ears, and the neck from the tusks of other male pigs, since males fight with their tusks during mating season.
The most famous wart-bearing pig, of course, is the warthog. The warthog lives in Africa and is well-adapted to the savanna and hot weather. It has very little hair except for a mane down the spine, and very little fat, which helps keep it cool, and it often sleeps in abandoned aardvark burrows or digs its own burrow for shade. It usually backs into its burrow so if anything tries to come in after it, it will meet its tusks.
Warthogs have two pairs of massive tusks that rub against each other, sharpening them. The upper tusks can grow up to two feet long, or 61 cm, with the lower tusks up to 6 inches long, or 15 cm. Males fight each other with the tusks, but both males and females have them since they make good weapons against predators like lions. But the warthog can run so fast that it doesn't usually need to defend itself. It can run up to 34 mph, or 55 km/hour.
The warthog mostly eats grass and other plants, including roots that it digs up with its snout. It can go without water for months at a time, getting the moisture it requires from the plants it eats. But when water is available, it likes to sit in the water to cool down. It will also wallow in mud just like domestic pigs do. It often kneels while it eats but no one's sure why. I guess it just finds that comfortable.
One of the biggest species of wild pig alive today is the giant forest hog, which lives in forests in a few parts of Africa. There are three subspecies, but only the one that lives in East Africa is really big. It can grow more than 3 ½ feet tall at the shoulder, or 1.1 meters, and a big male can weigh over 600 lbs, or 275 kg. It looks sort of like a hairier, bigger warthog with a broader head.
The giant forest hog is black, gray, and dark brown. It likes forests and mostly eats plants, especially grass, although like other pigs it will eat anything it can find when its favorite foods aren't available. This includes insects, carrion, and elephant dung. It lives in small family groups, usually one male, a few females, and their piglets. Younger males without a mate will hang out together in bachelor herds, but adult males will fight if they encounter each other, mostly by ramming their heads together or pushing snout to snout in a test of strength.
The other biggest species of wild pig is the wild boar, native to Eurasia and north Africa, and the ancestor of the domestic pig. It's been introduced to other parts of the world as a game animal, including Australia and the United States. There are 16 subspecies of wild boar, including the Ussuri wild boar, which grows the largest. It lives in parts of China and Russia. A big male Ussuri can weigh 660 pounds, or 300 kg.
According to Hungarian folklore, there used to be a type of large wild pig called the fisher pig or swamp pig that lived in marshy areas near certain rivers. Hungary is a country in central Europe, roughly between Austria and Romania. The swamp pig is supposed to be extinct now, dying out around the end of the 19th century, but it was once well known in parts of Hungary. It mostly ate crabs and fish and lived in herds. That's pretty much all I could find out about it. It may have been a population of feral pigs or it might have been a subspecies of wild boar that's gone extinct now.
So what's the biggest domestic pig ever measured? Pigs are usually assessed by weight, naturally, and a pig named Big Bill holds the world record. He weighed 2,552 pounds, or 1,157 kg, in 1933. This is really unusual, though. Most pigs that weigh anywhere near that much end up dying of heart failure or other health issues brought on by their unusual size after being overfed by their owners.
Wild boars can and do crossbreed with domestic pigs. The offspring usually resembles the wild parent more than the domestic parent, often with a mane of bristly hair that gives it the name razorback. It can be hard to tell whether a particular animal is a wild boar or a hybrid or just a feral domestic pig.
Sometimes unusually large pigs are shot and killed. You may have heard of Hogzilla, Hog Kong, and the Monster Pig, among others. Where wild boars have been introduced as game animals, they're incredibly destructive to the environment and can be dangerous. It's common for people to hunt them and sometimes they kill humongous pigs. Or at least they claim they did.
In 2004 a man shot a pig on a hunting reserve in Georgia, in the United States, that he claimed weighed over a thousand pounds, or 450 kg. It actually turned out to be much smaller, only about 800 pounds, or 360 kg. That's still a big pig, so I don't know why the hunter had to lie about its size.
Similarly, in 2007, some hunters in Alabama in the United States reported that an 11yo boy with them, the son of one of the hunters, had shot and killed a pig that weighed over a thousand pounds, or more than 475 kg. They sent photos of the boy and the dead pig to local media, but pretty soon the story fell apart. It turned out that the photos used forced perspective to make the pig look bigger than it really was, and that the pig wasn't even wild. It was a domestic pig named Fred who was quite friendly and had been raised as a pet. Fred's owners had sold him to a hunting preserve and recognized their former pet in the pictures. The 11yo boy had "hunted" Fred in a relatively small enclosure. Whatever your views on hunting, this wasn't a fair hunt and it turned out that the whole thing was a publicity stunt to drum up business at the preserve.
I don't know, maybe don't sell your pet pig to a canned hunt business in the first place.
You can find Strange Animals Podcast online at strangeanimalspodcast.blubrry.net. That's blueberry without any E's. You can email us at strangeanimalspodcast@gmail.com. We also have a Patreon if you'd like to support us that way.
Thanks for listening!