Podcast: Play in new window | Download (Duration: 8:55 — 10.1MB)
Thanks to Oceana and Leo for suggesting this week's episode about the javelina! We'll even learn about a mystery peccary too.
Further reading:
New Species of Peccary–Pig-Like Animal–Discovered in Amazon Region
A javelina, also called the collared peccary [By Wing-Chi Poon – Own work by uploader; at Cottonwood Campground, Big Bend National Park, Texas, USA, CC BY-SA 3.0, https://commons.wikimedia.org/w/index.php?curid=4394434]: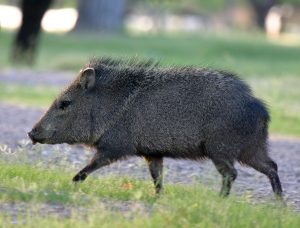 Show transcript:
Welcome to Strange Animals Podcast. I'm your host, Kate Shaw.
This week we have a suggestion by Oceana and Leo, the javelina! It's an animal native to the Americas, also called the collared peccary. We're going to learn about it and its close relations, including a mystery animal.
The javelina is in the family Tayassuidae, called the New World pigs. The rest of the world's pigs, including the warthog and the babirusa and the domestic pig, belong to the family Suidae. While the two families are related, the ancestors of the New World pigs, or peccaries, split off from the ancestors of other pigs around 40 million years ago and they've been evolving separately for all that time.
Peccaries live throughout almost all of Central and South America up to southwestern North America and some of the Caribbean islands. All peccaries look like little hairy pigs, including a flat-ended pig snout that it uses to root in the ground, small eyes, short tusks, slender legs with cloven hooves, and a thin little tail. It's relatively small compared to domestic pigs, about the size of a big dog at most, and is covered with a thick coat of bristly hair. When it's angry or frightened, it can raise the bristles along its back to make it look larger. It also has scent glands that give off a pungent smell, which is how members of the same herd recognize each other, since peccaries have poor eyesight.
Peccaries mostly eat plant material, but they're omnivores and will eat meat when they find it, from insects and grubs to frogs and even carrion. Because they root around in the ground and leaf litter, they stir up nutrients in a way that benefits other animals and the environment in general. In the case of the javelina, also called the collared peccary, musk hog, or skunk pig, it's sometimes considered a pest since it will root up people's flowerbeds and gardens. But the javelina doesn't know the difference between a garden and a not-garden. It just wants to find some tasty grubs and roots.
Peccaries are social animals that usually live in small herds. The white-lipped peccary is widespread in the forests of Central and South America, and sometimes lives in herds of 300 animals or more, even as many as 2,000 according to some reports. It requires an enormous range as a result, and travels a lot of the day to find new areas to forage. It's threatened by habitat loss, mostly deforestation. Like other peccaries, it smells sort of skunky and can be aggressive if threatened. It eats a lot of fruit in addition to other plant material, and because it has stronger jaws than the javelina, it can eat seeds and nuts that the javelina can't, so the two species can coexist in the same environment without competing for the same food sources.
Until 1972, the Chacoan peccary was only known from some fossils found in 1930. Not only did scientists think it was extinct, they thought it had been extinct for a long time. But in the early 1970s, rumors about a new peccary species started to circulate. A team of biologists followed up with locals and discovered the peccary living in a small area of South America called Chaco. Surprise! New peccary just dropped.
The Chacoan peccary, also known as the tagua, looks a lot like a javelina although it doesn't have a dew claw on its hind feet. It has a tough snout and brown and gray bristles, with white on its shoulders and around its mouth. It lives in small bands of around a dozen individuals that roam across a large range, eating tough vegetation that other animals wouldn't even consider food—cacti, for instance. A peccary will roll a cactus around on the ground with its snout and hooves, rubbing the spines off so it can eat it. If that doesn't work, it will pull the spines out with its teeth. Cacti contain acids that other animals can't digest, but the Chacoan peccary has specialized kidneys that are adapted to break down those acids.
The Chacoan peccary is endangered due to hunting, habitat loss, and disease. The area where it lives is being rapidly deforested to make way for huge cattle ranches. This is bad enough, but when ranchers move in, they want roads to get to their land more easily, and once the roads are in place, not only can more hunters get to the area, but more peccaries are killed by traffic. It's estimated that only about 3,000 Chacoan peccaries are alive today. The government of Paraguay is trying to reduce the impact of habitat loss by protecting key areas of forest, and breeding populations are kept in a number of zoos across the world.
There are only three living species of peccary known: the javelina, the white-lipped peccary, and the Chacoan peccary. But there may be a fourth, the giant peccary.
In 2000, a Dutch biologist named Marc van Roosmalen was researching animals in Brazil, and as part of his studies he talked to some local hunters. They showed him the hides of three big peccaries, but they looked different from the ordinary javelinas that lived in the area. Van Roosmalen had already spotted some javelinas that he'd thought seemed too big to be ordinary javelinas, so when he saw the hides he started wondering if there were two peccary species in that part of the Amazon region.
He returned in 2003 with a German filmmaker, who got video footage of a group of these mystery peccaries. They even found a skull. Van Roosmalen described the giant peccary as a new species in 2007, but not everyone agreed it was a new species.
The giant peccary is larger than the javelina but otherwise looks and acts very much like it. Since the javelina is common pretty much everywhere that peccaries are found, and can show a lot of variation in size and appearance, many scientists think the giant peccary is just a population of unusually large javelinas.
The giant peccary reportedly lives in pairs or small family groups instead of herds. The local people have a different name for it to differentiate it from the javelina, a name which means "the big javelina that lives in pairs." But while a genetic study of the skull found in 2003 determined that the giant peccary diverged from all other peccary species around a million years ago, later analysis is less conclusive.
As of 2011, the giant peccary is in a sort of scientific limbo, waiting for more evidence and further studies to determine whether it's actually a new species or just a bunch of big javelinas. Let's hope we learn more about it soon and can clear up the mystery.
You can find Strange Animals Podcast at strangeanimalspodcast.blubrry.net. That's blueberry without any E's. If you have questions, comments, or suggestions for future episodes, email us at strangeanimalspodcast@gmail.com. If you like the podcast and want to help us out, leave us a rating and review on Apple Podcasts or Podchaser, or just tell a friend. We also have a Patreon at patreon.com/strangeanimalspodcast if you'd like to support us for as little as one dollar a month and get monthly bonus episodes.
Thanks for listening!