Podcast: Play in new window | Download (Duration: 10:43 — 11.9MB)
This week we have a mystery fish from Australia, the ompax!
Main source consulted:
Whitley, G. P. (1933). Ompax spatuloides Castelnau, a Mythical Australian Fish. The American Naturalist, 67(713), 563–567. http://www.jstor.org/stable/2456813
The fateful Ompax drawing: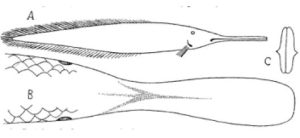 The freshwater longtom (picture by Barry Hutchins):

Show transcript:
Welcome to Strange Animals Podcast. I'm your host, Kate Shaw.
For the Patreon episode this month, we had a bird mystery from Queensland, Australia. While I was researching it I came across this mystery fish, also from Queensland.
In 1872, a man named Karl Staiger visited the town of Gayndah as part of his job. He was a chemist, but he also had an interest in nature and years later he worked for the Queensland Museum. One morning in Gayndah he went to breakfast and was served a strange-looking fish—so strange-looking that he asked what it was. He was told it was a very rare fish found in the nearby Burnett River.
Staiger was interested enough that he asked the road inspector, presumably one of his coworkers, to draw the fish for him. But the drawing wasn't made until after Staiger ate the fish. It was his breakfast and he was hungry and, as he wrote later, he didn't know he should have at least saved the head for study. Presumably he also didn't want his breakfast to get cold while the drawing was being made.
The road inspector was a careful artist although he wasn't a naturalist himself, so he did what he could to draw the fish accurately from the remains of Staiger's meal. According to the drawing, the fish had a long, flattened rostrum that looked a little like a very long, thin duckbill, big scales on its body, and a fin that went all the way around the edges of the tail starting about halfway down the back, which appeared to be connected dorsal, caudal, and ventral fins. Its pectoral fins were small, and its eyes were also small and near the top of its head. The fish was brown in color and about 18 inches long, or 46 cm.
Staiger eventually wrote to a French naturalist and sent him the drawing. The French naturalist has about 500 names and titles, usually shortened to something like Francis de Laporte de Castelnau. I'm going to call him Francis because obviously I can't pronounce any of those names properly.
Francis saw at a glance that the fish was unlike anything he'd ever seen before. He suspected it didn't just deserve its own genus but its own family. Staiger had reported what he'd been told, that the fish was known from a particular part of the Burnett River, and he'd also mentioned that it lived in the same area as another strange fish, the Australian lungfish.
The Australian lungfish had only been described a few years before, in 1870, and it's a very big fish. It can grow up to 5 feet long, or 1.5 meters, and is greenish in color. It has big overlapping scales on its body and four strong fins that look more like flippers than ordinary fish fins, which it uses to stand and walk on the bottom of the river. Its tail comes to a single rounded point and it has tooth plates instead of regular teeth, which it uses to crush the small animals it eats. It also has a single lung in addition to gills, and like other lungfish it comes to the surface every so often to replace the air in its lung. When it's especially active it will breathe at the surface more often. The ability to breathe air allows it to survive in water with low oxygen.
Francis noted that there were some similarities between the new fish and the Australian lungfish, but he thought it was more likely to be related to the alligator gar of North America. It had the same type of scales as the alligator gar. He also noted that its duckbill rostrum resembled the rostrum of the American paddlefish, which is similarly shaped but even longer than the new fish's, but that the rest of the new fish was very different from the paddlefish.
Francis described the new fish in 1879 and gave it the name Ompax spatuloides, but as early as 1881 some fish experts wondered if the original drawing was misleading. They pointed out that the fish wasn't drawn by someone with a knowledge of fish and that it had already been cooked and eaten, so the details might be completely wrong.
As it happens, the details were completely wrong, but not in a way anyone expected.
There's actually some confusion as to whether the drawing of the fish was made before or after Staiger ate it, but it doesn't actually matter after all. In 1930, an article in the Sydney Bulletin claimed that Ompax was a hoax to fool Staiger, made up of a lungfish head, a mullet body, and an eel tail.
The 1930 article isn't available online, but one published in 1933 is, and it quotes the 1930 article. The 1933 article appears in a periodical called The American Naturalist and discusses the history of Ompax from start to finish, which is where most of our information comes from. The article finishes by pointing out that the Ompax's head can't have been made from a lungfish head unless a platypus bill or something like that was added, and suggests that the head might actually have been that of a fish of the family Belonidae. These are commonly called needlefish because they have long thin rostrums lined with teeth.
Needlefish are long, slender fish that resemble gars, although gars are native to North America and mostly live in freshwater. Needlefish live throughout much of the world's oceans although some do live in brackish or freshwater. The needlefish swims near the surface of the water and will leap out of the water at high speed to jump obstacles like floating logs or boats. Since needlefish rostrums really do have a sharp point like a needle, it sometimes badly injures or even kills people who are fishing in boats by accidentally stabbing them.
One species, the freshwater longtom, is not only found in Australian rivers, it's found in Queensland and occasionally even in the Burnett River. Its rostrum is the right size and shape to be the Ompax's rostrum, while the platypus's so-called duckbill is much too large to match the drawing. The freshwater longtom can grow almost three feet long, or about 85 cm, but is usually much smaller than that.
Like most needlefish, the freshwater longtom eats small fish, insects, and crustaceans. Also like other needlefish, it has no stomach. It swallows its prey whole and instead of the food going into its stomach, it just goes directly into its intestines, which excrete an enzyme called trypsin that breaks down proteins so they can be absorbed. This isn't as efficient as stomach acids, but it also takes less energy to digest food this way.
The freshwater longtom's dorsal and anal fins are long but fairly low and set well back on its body. Its pectoral fins are very small. While it does have an ordinary-looking tail fin, this might easily appear different after being cooked. And the longtom is edible, although it has a lot of thin bones that make it difficult to eat. Its bones are also green in color, which can be offputting to some people. Some needlefish also have greenish meat.
Staiger didn't recount any details about the edibility and taste and texture of the fish he ate, so we don't know if he actually ate a mullet that had a needlefish head and an eel tail stuck to it. The sea mullet and the sand mullet are both common fish around Australia and considered excellent eating fish. But if there really was that much of an eel's tail stuck onto the fish's body, you'd think Staiger would have noticed the difference in meat texture. The eels found in Australia are edible and considered a delicacy, but they wouldn't look or taste the same as the rest of the fish.
The only reason we know the Ompax fish was a hoax is because of the 1930 article written by someone who called himself Waranbini. Waranbini's article was published 58 years after the fish was served to Staiger for his breakfast.
I think the only hoax here was the 1930 article. I think Waranbini, whoever he was, looked at the picture, thought, "That looks like someone stuck three different types of animal together," and wrote his article.
I think Staiger was actually served a freshwater longtom, and I think the people who served it to him were sincere that it was a rare fish. It is rare in the Burnett River. Staiger wasn't an ichthyologist, nor was the man who drew the fish. They did the best they could, and Francis did the best he could to decipher from Staiger's notes and the drawing what the fish was.
So from this we can learn three important things: Don't use a drawing of a cooked and possibly mostly eaten fish to describe a new species, don't assume people in the olden days were stupid, and don't trust anonymous newspaper articles with no sources listed.
You can find Strange Animals Podcast at strangeanimalspodcast.blubrry.net. That's blueberry without any E's. If you have questions, comments, or suggestions for future episodes, email us at strangeanimalspodcast@gmail.com. If you like the podcast and want to help us out, leave us a rating and review on Apple Podcasts or Podchaser, or just tell a friend. We also have a Patreon at patreon.com/strangeanimalspodcast if you'd like to support us for as little as one dollar a month and get monthly bonus episodes.
Thanks for listening!