Podcast: Play in new window | Download (Duration: 8:05 — 8.1MB)
This week's (short) episode is about two animals that should have been in the strangest small fish and weird pigs episodes, respectively. I left them out by accident but they're so interesting that they deserve an episode all to themselves anyway. Thanks to Adam for suggesting the mangrove killifish!
Further reading:
25 Years in the Mud: How a Quirky Little Fish Changed My Life
The mangrove killifish just looks normal: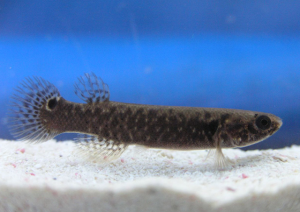 Not a unicorn pig (okay yes technically a unicorn pig):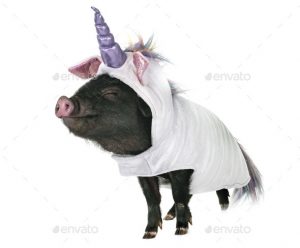 Unicorn pig skull: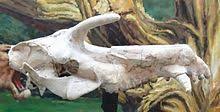 Show transcript:
Welcome to Strange Animals Podcast. I'm your host, Kate Shaw.
A few weeks ago we had an episode about strange small fish. Shortly after that episode released, I was going through my disorganized ideas and suggestions file and realized I'd left out one of the best weird small fish ever, a suggestion by Adam. I also discovered I'd missed an extinct pig I'd planned to include in the recent weird pigs episode. So let's play catch up in a short episode and learn about both this week.
The fish Adam suggests is called the mangrove killifish, also called the mangrove rivulus, which lives in parts of Florida and Mexico, down to Central and South America. It's technically a marine fish, meaning it lives in salt-water, but it also likes brackish water, that's less salty than the ocean, and occasionally it even lives in freshwater. It especially likes mangrove swamps. It grows up to 3 inches long, or 7.5 cm and is a mottled brown in color with an eye spot on its tail. It doesn't look like anything special.
But the mangrove killifish has a lot in common with amphibians, especially the lungless salamanders. Many types of salamander absorb air through the skin instead of through lungs or gills. The mangrove killifish does this too. It often lives in abandoned crab holes, which may not have very high quality water. But that's okay, because it can absorb air through its skin and can live out of the water for well over a month as long as its skin stays damp. It's sometimes found in places where you wouldn't expect to find a fish, like the inside of rotting logs or buried in damp dead leaves.
So how does the killifish get into the rotting logs or the leaf litter or the crab burrows that aren't connected to waterways? It actually uses its tail to flip itself out of the water and onto land, and then it continues to flip here and there until it finds a place where it wants to live for a while. It can direct this jumping, not just flop around like most fish out of water, and can jump several times its own length.
A lot of times when the tide goes out, fish get trapped in crab holes, dimples in the sand or mud, and other shallow water. That's okay if the tide comes back in far enough to re-submerge the holes, but if the water doesn't quite reach, it's not long before fish start to suffocate as all the oxygen in the water is used up. But the killifish doesn't have that problem. It just flips itself out of the water. It can also leave the water if it gets too hot.
The killifish is also territorial in water, which requires a lot of energy. When it's out of the water, or in a little temporary pool or a crab burrow where it doesn't have to worry about other killifish, it can relax. On the other hand, it loses a lot of weight while it's out of the water since it doesn't eat as much. So there are trade-offs.
Even the killifish's eggs can survive out of water. The fish usually lays its eggs in shallow water, sometimes even on land that's just near water. The eggs continue to develop just fine, in or out of water, but they delay hatching until they're submerged.
And that leads us to the most astonishing thing about the mangrove killifish. In most populations, almost all killifish are females, and most of the time they don't need a male fish to fertilize their eggs. Females produce eggs but they also produce sperm that fertilize the eggs before they're even laid. The eggs hatch into genetic duplicates of the parent—clones, basically. The term for an organism that produces both eggs and sperm is hermaphrodite, and while it's common in some invertebrates, the killifish is the only known vertebrate hermaphrodite. Vertebrate, of course, is an animal with a backbone.
But while most killifish are females, there are occasionally males. Male killifish are orangey in color. When a male is around, females suppress their ability to self-fertilize eggs and they lay the eggs for the male to fertilize, just like any other fish. This helps keep the species genetically diverse and able to adapt to external pressures like increased numbers of parasites.
Next, let's talk about the unicorn pig. Or pigicorn, if you like. It's called Kubanochoerus [koo-ban-oh-ko-rus] and there were several species. It was related to modern pigs and lived throughout most of Eurasia and parts of Africa around 10 million years ago.
It was big, up to four feet tall at the shoulder, or 1.2 meters, and had tusks like other pigs. It probably looked a lot like a wild boar. But its skull is longer than modern pig skulls and it had horns. Three horns, specifically. Two of the horns were small and grew above the eyes, while a bigger horn grew forward from its forehead. The forehead horn wasn't very long and was probably blunt. Researchers used to think males used these forehead horns to fight each other, but females had them too so they may also have been used for defense from predators.
That is literally all I can find out about this fascinating animal. I can't even speculate about the horns since literally no other pig has horns, at least that I can find. Presumably the warty protrusions that many modern pig species have are similar to the horns that Kubanochoerus had. The eyebrow horns might have had the same purpose as the facial protrusions on warthogs and other pigs, as a way to protect the eyes when the pigs fight. The forehead horn, though…well, that's just weird. It probably wasn't covered with keratin, but we don't know. My own guess is that it was something more like an ossicone and was covered with skin and hair. But again, we don't know. Not until we invent a working time machine and go back to look at one.
That's it, a very short episode. I'm actually in Dublin, Ireland right now attending WorldCon, so while I'm here I will keep an eye out for leprechauns, fairies, and pigicorns, just in case.
You can find Strange Animals Podcast online at strangeanimalspodcast.blubrry.net. That's blueberry without any E's. If you have questions, comments, or suggestions for future episodes, email us at strangeanimalspodcast@gmail.com. We also have a Patreon if you'd like to support us that way.
Thanks for listening!