Podcast: Play in new window | Download (Duration: 9:21 — 9.5MB)
There's more in Loch Ness than one big mystery animal. This week we look at a few smaller mystery animals lurking in the cold depths of the lake.
Further reading:
Here's Nessie: A Monstrous Compendium from Loch Ness by Karl P.N. Shuker
The goliath frog: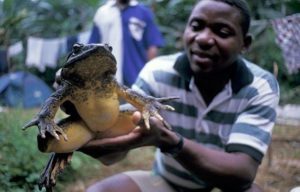 The Wels catfish (also, River Monsters is the best):
An amphipod: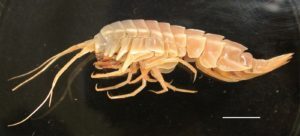 Show transcript:
Welcome to Strange Animals Podcast. I'm your host, Kate Shaw.
Back in episode 29, I dismissed Nessie, the Loch Ness monster, as probably not a real animal. But this week we're heading back to Loch Ness to see what other monsters might lurk in its murky depths.
WHAAAAA? Other Loch Ness monsters???
Yes, really! See, ever since the first sightings of Nessie in the 1930s, Loch Ness has been studied and examined so closely that it would be more surprising if no one had ever spotted other mystery animals.
The source of most of the information in this episode is from zoologist Karl Shuker's book Here's Nessie! A Monstrous Compendium from Loch Ness. Check the show notes for a link if you're interested in buying your own copy of the book.
Our first non-Nessie mystery dates from 1934, but it happened, supposedly, sometime in the 1880s. It appeared in the Northern Chronicle, an Inverness newspaper, on January 31, 1934. The article relates that a ship in Loch Ness hit a submerged reef called Johnnie's Point and sank one night. Luckily no one died. The next day a local diving expert named Duncan Macdonald was hired to determine if the wreck could be raised, but he couldn't spot the wreck during his dive.
Later that evening, some of the ship's crew who had heard stories about strange creatures living in Loch Ness asked Macdonald whether he'd seen anything unusual. After some urging, Macdonald finally admitted that he had seen a frog-like creature the size of a good-sized goat sitting on a rock ledge some 30 feet, or 9 meters, underwater. It didn't bother him so he didn't bother it.
There are a lot of problems with this account, of course. For one thing, we don't know who wrote it—the article has no byline. It's also a secondhand account. In fact, the article ends with this line: quote "The story, exactly as given, was told by Mr Donald Fraser, lock-keeper, Fort Augustus, who often heard the diver (his own grand-uncle) tell it many years ago." unquote
Plus, of course, frogs don't grow as big as goats. The biggest frog is the goliath frog, which can grow over a foot, or 32 cm, in length nose to tail, or butt I guess since frogs don't have tails, which is pretty darn big but not anywhere near as big as a goat. The goliath frog also only lives in fast-moving rivers in a few small parts of Africa, not cold, murky lakes in Scotland, and its tadpoles only feed one one type of plant. In other words, even if someone did release a goliath frog into Loch Ness in the 1880s—which is pretty farfetched—it wouldn't have survived for long.
The biggest frog that ever lived, as far as we know, lived about 65 million years ago and wasn't all that much bigger than the goliath frog, only 16 inches long, or 41 cm. It had little horns above its eyes, which gives it its name, devil frog. Its descendants, South American horned frogs, also have little horns but are much smaller.
So what might Mr. Macdonald have seen, assuming he didn't just make it all up? Some species of catfish can grow really big, but catfish aren't native to Scotland. It's always possible that a few Wels catfish, native to parts of Europe, were introduced into Loch Ness as a sport fish but didn't survive long enough to establish a breeding population in the cold waters. Catfish have wide mouths, although their eyes are small, and might be mistaken for a frog if seen head-on in poor light. Plus, the Wels catfish can grow to 16 feet long, or 5 meters.
Then again, since the article was published during the height of the first Loch Ness monster frenzy, it might all have been fabricated from beginning to end.
A 1972 search for Nessie by the same team that announced that famous underwater photograph of a flipper, which later turned out to be mostly painted on, filmed something in the loch that wasn't just paint. They were small, pale blobs on the grainy film. The team called them bumblebees from their shape.
Then in July of 1981, a different company searching not for Nessie but for a shipwreck from 1952 filmed some strange white creatures at the bottom of the loch. One of the searchers described them as giant white tadpoles, two or three inches long, or about 5 to 7 cm. Another searcher described them as resembling white mice but moving jerkily.
The search for the wreck lasted three weeks and the white mystery animals were spotted more than once, but not frequently. Afterwards, the company sent video of them to Dr. P Humphrey Greenwood, an ichthyologist at the Natural History Museum in London. Since this was the 1980s, of course, the film was videotape, not digital, but Dr. Greenwood got some of the frames computer enhanced. Probably on a computer that had less actual computing power than my phone. Anyway, the enhancement showed that the animals seemed to have three pairs of limbs. Dr. Greenwood tentatively identified them as bottom-dwelling crustaceans, but not ones native to Loch Ness.
Over the years many people have made suggestions as to what these mystery crustaceans might be. I'm going out on a limb here and declaring that they are not baby Loch Ness monsters. Karl Shuker suggests the white mice footage, at least, might be some kind of amphipod.
We've met amphipods before in a couple of episodes, mostly because some species exhibit deep-sea gigantism. Amphipods are shrimp-like crustaceans that live throughout the world in both the ocean and fresh water, and most species are quite small. While they do have more than three pairs of legs—eight pairs, in fact, plus two pairs of antennae—the 1981 videotape wasn't of high quality and details might easily have been lost. Some of the almost 10,000 known species of amphipod are white or pale in color and grow to the right size to be the ones filmed in Loch Ness. But no amphipods of that description have ever been caught in Loch Ness.
New amphipods are discovered all the time, of course. They're simply everywhere, and the smallest species are only a millimeter long. But because they're so common, it's also easy to transport them from one body of water to another. A rare amphipod discovered in Alpine lakes only a few years ago is already threatened by a different, more common species of amphipod introduced to one of the lakes by accident. So it's possible that the white mice crustaceans in Loch Ness traveled there on someone's boat.
That's certainly the case with another creature found in Loch Ness in 1981, but we know exactly what this one is. It's a flatworm native to North America, a bit over an inch long, or 3 cm, and only about 5 millimeters wide. It attaches its cocoons to boat bottoms, and in this case it was brought to Loch Ness by equipment used to hunt for Nessie. Spoiler alert: they didn't find her.
You can find Strange Animals Podcast online at strangeanimalspodcast.com. We're on Twitter at strangebeasties and have a facebook page at facebook.com/strangeanimalspodcast. If you have questions, comments, or suggestions for future episodes, email us at strangeanimalspodcast@gmail.com. If you like the podcast and want to help us out, leave us a rating and review on Apple Podcasts or whatever platform you listen on. We also have a Patreon if you'd like to support us that way.
Thanks for listening!