Podcast: Play in new window | Download (Duration: 18:05 — 20.5MB)
Thanks to Sarah L. for buying the podcast two books off our wishlist! This episode was inspired by an entry in one of those books!
A very happy birthday this week to Matthew!
Don't forget that you can still contribute to our Indiegogo "Tiny Pin Friends" campaign to get a small hard enamel pin of a narwhal, a capybara with a tangerine on its head, and/or a thylacine!
On April 19, 2022, the book Beyond Bigfoot & Nessie: Lesser-Known Mystery Animals from Around the World goes officially on sale in paperback everywhere! (The ebook is already available.) Bookstores in the U.S. can order fully returnable copies at a standard bookstore discount; bookstores outside of the U.S. still get a discount but the copies are non-returnable. The book should be available to order anywhere you usually order books, including Amazon and Bookshop.org!
Further reading:
Rakali/Water-rat–Australia's "otter"
Additional Sources (because this episode turned out to be really hard to research):
Conway, J., Koseman, C.M., Naish, D. (2013). Cryptozoologicon vol. I, 37-38. Irregular Books.
Ley, Willy. (1987). Exotic Zoology, 291-295. Bonanza. (Original work published 1959)
Pollock, G. A. (1970). The South Island otter: A reassessment. Proceedings (New Zealand Ecological Society), 17, 129–135.
Pollock, G. A. (1974). The South Island otter: An addendum. Proceedings (New Zealand Ecological Society), 21, 57-61.
Worthy, T. H., et al. (2006). Miocene mammal reveals a Mesozoic ghost lineage on insular New Zealand, southwest Pacific. Proceedings of the National Academy of Sciences of the United States of America, 103(51), 19419–19423. https://doi.org/10.1073/pnas.0605684103
An otter with its telltale bubble chain (Photo by Linda Tanner):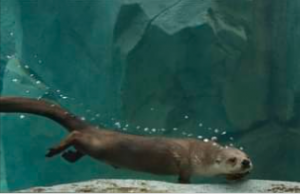 A rakali swimming (photo by Con Boekel, from website linked to above):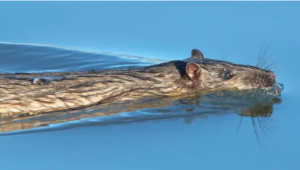 Show transcript:
Welcome to Strange Animals Podcast. I'm your host, Kate Shaw.
This week we have a fascinating mystery animal from New Zealand! Many thanks to Sarah L., who very generously bought me a couple of books off my podcast wishlist, which I tend to forget is even a thing that exists! One of the books is Cryptozoologicon, Volume 1 by John Conway, C.M. Koseman, and Darren Naish, and that's where I got this week's topic, the mysterious waitoreke. [why-tore-EH-kee]
This week is also special because the paperback version of our own book, Beyond Bigfoot & Nessie: Lesser-Known Mystery Animals from Around the World, officially goes on sale on April 19, 2022. That's tomorrow, if you're listening to this the day the episode goes live. It should be available to order everywhere you ordinarily buy books, throughout the world. The ebook is available too. I've mailed all Kickstarter copies so if you haven't received your copy yet, let me know. There were a few people who never returned the backer survey so I don't have those addresses to mail books to. If you want a signed copy of the book at this point, or a hardback copy, you'll need to catch me in person. I'll be at ConCarolinas over the first weekend of June and I'd love to meet up with you. I'm working on the audiobook now, for those of you waiting for that one. (It's a slow process, so don't expect it for at least another month, sorry.)
You know what else is happening this week? A birthday shout-out! Happy birthday to Matthew! I hope your birthday is everything you ever hoped for in a birthday, or maybe even more!
New Zealand has almost no native mammal species except for a few bats, some seals and sea lions that live along the coast, and some whales and dolphins that live off the coast. Lots of mammals have been introduced, from dogs to rats, cattle to cats, but there are reports of a small mammal in New Zealand called some version of waitoreke, supposedly a Maori word meaning something like swift-moving water animal. Even the animal's name is confusing, though. No one's sure whether the word is genuinely Maori. The animal is also sometimes referred to as the South Island otter, the New Zealand platypus, the New Zealand muskrat, or the New Zealand beaver.
Reports of the animal go back a couple of centuries, basically as soon as Europeans stumbled across the country. One of the earliest reports is from 1861 by Julius von Haast, a geologist who spent many years surveying the geography and geology of New Zealand, and who made a lot of discoveries along the way. The huge, extinct Haast's eagle is named after him, for instance, since he was the first European scientist to examine its remains. In June of 1861, Haast spotted some tracks in the mud along a riverbank, which he noted looked like an otter's tracks but smaller. Two shepherds in the area claimed they'd seen the animal and that it was the size of a large rabbit with dark brown fur. Haast seems to be the first person to have used the word waitoreke, but a naturalist named Walter Mantell might have used the word first—it's not clear.
The Maori people of the South Island also reported seeing the animal. One man even said it had sometimes once been kept as a pet, although he may have actually been referring to the tuatara, a reptile we talked about way back in episode 3. The waitoreke was supposed to be about two feet long, or 61 cm, not counting its bushy tail, brown in color, with short legs, and a head that was something between a dog and cat's head. It spent most of its time in the water but it also came on land and lived in a burrow.
The problem with these accounts is that they were mainly gathered by Walter Mantell, who was not Maori. He might have misunderstood some details or not recorded them accurately. Most of the details we have come from an interview with a Maori chief whose name Mantell recorded as Tarawhata, although this may have been incorrect. Tarawhata said that there were two types of waitoreke, a water type and a land type. The land type ate lizards, the water type ate fish. He might have been referring to two different animals or he might have been referring to the same animal living in two different habitats.
We don't even know when Mantell talked to his witnesses except that it had to have been sometime after about 1840 when he first came to New Zealand. We don't have Mantell's original notes, either. The details come from a paper presented by Mantell's father, a zoologist, to the Royal Zoological Society of London in November 1850. For that matter, we don't have Haast's original notes about the footprints he spotted in 1861. His account was reported in a book by another geologist, published in German in 1863, with an English version in 1867.
There have been more recent sightings of the waitoreke, though. A fisherman named A.E. Tapper spotted what might have been a waitoreke six times between 1890 and 1921, which he wrote about in 1926 in letters to the Southland Times. He described the animal as a dark mousy brown with a rounded head like a seal's, about the size of a possum or rabbit. In his account of the last sighting, in 1921 while he was fishing the Waikiwi River near an abandoned bridge, he wrote, "[s]omething…splashed, dived into the water and swam past me upstream, disappearing under some scrub on the other side. It was dusk, the water dark, yet I was close enough to distinguish a dark shadowy form 18 inches, or two feet deep [about 45 to 60 cm]. The wake it made in the water showed it to be of some size, but the strangest part was the noise it made when going through the water and the numerous bubbles that followed in its track. The noise was exactly that made by throwing a handful of…small stones in the water… I went down next day but beyond finding tracks in the mud similar to a rabbit's but apparently webbed I found no trace." He also found a hole in the bank several months later after the water level had dropped, meaning the hole had previously been underwater even though it looked like a rabbit burrow.
Unfortunately, while we know exactly where this sighting took place, by 1970 the surrounding marshlands had been drained and cleared for crops, and the river was so polluted that basically nothing lived in it anymore.
In 1957, a woman named Mrs. Linscott saw an animal swim across a big pond, which was connected to the nearby Aparima River. She only saw its head and the front of its body since it vanished into brush at the far end of the pond, but she got a good look at it while it swam. It had a small head with protuberant eyes and round ears, its face was "browny-purple," and it had whiskers.
In 1968, a man named Bob Thompson was on holiday near the Whakaea River. He got up at dawn one morning and saw an animal emerge from a creek, followed by three young ones who disappeared into some brush. The difference in this case is that Thompson was from Norfolk, England and had lived next to the River Yare, where otters were common at the time. He said these animals were definitely otters.
In 1971, a man named P.J.A. Bradley had returned from an unsuccessful deer hunt near the Hollyford River and was waiting for the boat to take him home when he heard splashing in a quiet inlet nearby. He thought it might be a deer so he approached cautiously. Instead of a deer, he saw an animal playing on the riverbank by repeatedly climbing up and sliding down the mud into the water. He said the animal was dark brown and smooth with a thick tapering tail, short legs, and small head with no noticeable ears. He estimated that it was as much as 3.5 feet long, or 107 cm, including the tail.
All these reports really do sound like otters. We talked about the Eurasian otter in episode 37, about the Dobhar-Chu. It's a shy, territorial animal that lives in freshwater rivers and lakes, as long as there's plenty of cover around the edges for it to hide. A big male can grow up to 4.5 feet long, or 1.4 meters, although most are much smaller and females are smaller overall than males. It's dark brown with a lighter belly, and has a long, slender body, short legs with webbed toes, and a small flattened head with tiny ears. Its tail is thick and tapering. It mostly eats fish, frogs, and various invertebrates like crayfish.
Tapper's sighting is especially interesting because of the trail of bubbles he reported. This is sometimes called a bubble chain and is a telltale sign that an otter is swimming underwater.
But there's no evidence, fossil or otherwise, that otters ever lived in New Zealand, or Australia either for that matter. Some species of otter do live in South Asia, but that's still a long, long way from New Zealand. One theory is that domesticated otters kept as fishing animals were brought to New Zealand by South Asian fishermen who were either lost or blown away from their homes by storms. The problem with this theory is not just that there's no evidence for it among Maori oral histories, it's that the fishermen would have had to somehow avoid Australia completely even though it's a humongous continent they would have to go around to reach New Zealand's South Island.
There is an unrelated animal in parts of Australia that looks a lot like a small otter, though. That's the rakali, or water-rat, a semi-aquatic rodent native to Australia, New Guinea, and some nearby islands.
The rakali grows up to about 15 inches long, or 39 cm, not counting its long tail. It has black or dark gray fur with a paler belly, but its tail has a white tip. It has short legs, a small flattened head with small rounded ears, webbed toes on its hind feet, and while its tail is thick for a rodent, it's thin compared to an otter's tail. It eats many of the same things that otters eat and is especially good at killing the cane toad, a toxic invasive species in parts of Australia.
But the rakali has never been introduced to New Zealand and has never been seen there. While it does superficially resemble a small otter, it acts very rodent-like in many ways. For instance, it sits up on its haunches to eat and when it's doing that, it doesn't look anything like an otter, although it is really cute. It also marks its territory with a scent that smells strongly like cat urine.
Stoats and weasels have been introduced to New Zealand, where they're invasive species. While they're much smaller than otters, they do have a similar body shape and both can swim well when they want to. It's possible that at least some waitoreke sightings are actually sightings of swimming stoats or weasels, although that doesn't explain all the reports by any means.
Another theory is that the waitoreke isn't an otter at all but a rare, unknown mammal native to New Zealand. Since New Zealand's only native land mammals are bats, until 2006 researchers generally rejected this theory out of hand. That's because until 2006, there weren't even any fossil remains of mammals found on New Zealand.
New Zealand is just a small part of an otherwise submerged continent called Zealandia. Zealandia was once part of the supercontinent Gondwana, smooshed up next to what are now Australia and Antarctica. Zealandia separated from its neighbors around 80 million years ago and started slowly sinking into the ocean. Then, about 66 million years ago, the massive asteroid strike we talked about in episode 240 killed off the non-avian dinosaurs.
Afterwards, in most of the world, mammals began to evolve rapidly to fill the vacant ecological niches. But Zealandia didn't have very many mammals to start with, and by 25 million years ago it was mostly underwater anyway except for the highest mountain peaks that stuck up as islands. At this point, though, the continental plate had stopped sinking and instead was being pushed up slowly by tectonic forces—a process that's still ongoing.
For a long time, geologists even thought Zealandia might have been completely underwater. It wasn't surprising that the only animals living on land were birds and bats, since they could have flown there after the land re-emerged. But even as evidence of those mountaintop islands became understood, mammals were still nonexistent in New Zealand's fossil history.
Then, in 1978, some small, incomplete fossils were discovered near Saint Bathans in the southern part of the South Island. This is a rich area for fossils that date to around 16 to 19 million years ago. There are remains of fish, reptiles, a few bats, and lots of birds, and in 2006, paleontologists studying those fossils found in 1978 announced that they'd identified them as the remains of a terrestrial mammal.
It's referred to as the Saint Bathans mammal and we know almost nothing about it. We only have two fragments of a lower jaw and one femur. We're pretty sure it's not a monotreme but that's about as far as it goes. It was probably the size of a mouse.
Because Zealandia has been separated from all other landmasses for about 80 million years, the Saint Bathans mammal that lived around 17 million years ago was probably very different from mammals found in other parts of the world. Its descendants probably went extinct in the middle Miocene, around 14 million years ago, when there was a relatively small extinction event throughout the world related to a long period of global cooling. But some people theorize that descendants of the Saint Bathans mammal survived to the present day, a rare and shy semi-aquatic animal that fills the same ecological niche as otters and has evolved to look like otters due to convergent evolution.
It's not likely, to be honest. It's even less likely than the theory about lost fishermen with pet otters drifting thousands of miles around Australia to come ashore on New Zealand, and that's not very likely either.
There are still occasional sightings of the waitoreke. With luck someone will get some good pictures of one soon so we can learn more about what this mysterious animal might be.
You can find Strange Animals Podcast at strangeanimalspodcast.blubrry.net. That's blueberry without any E's. If you have questions, comments, or suggestions for future episodes, email us at strangeanimalspodcast@gmail.com. If you like the podcast and want to help us out, leave us a rating and review on Apple Podcasts or Podchaser, or just tell a friend. We also have a Patreon at patreon.com/strangeanimalspodcast if you'd like to support us for as little as one dollar a month and get monthly bonus episodes.
Thanks for listening!