Podcast: Play in new window | Download (Duration: 7:48 — 8.6MB)
Thanks to Emory for suggesting this week's topic, mysterious animal sounds!
Further reading/watching:
The Story of Elk in the Great Smoky Mountains
Terrifying Sounds in the Forests of the Great Smoky Mountains
Evidence found of stingrays making noise
This New AI Can Detect the Calls of Animals Swimming in an Ocean of Noise
The wapiti [pic from article linked above]: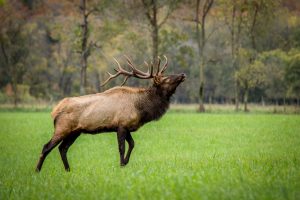 The stingray filmed making noise [stills from video linked to above]: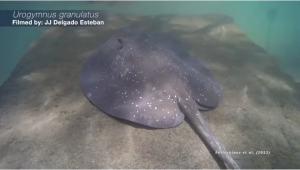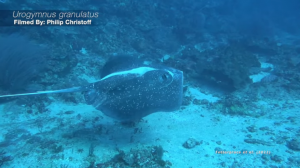 The tawny owl makes some weird sounds: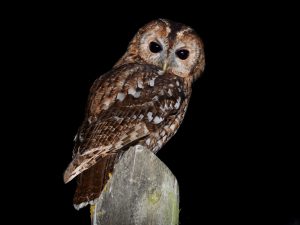 The fox says all kinds of things: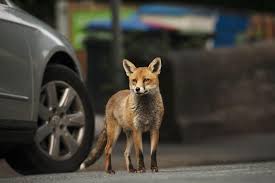 Show transcript:
Welcome to Strange Animals Podcast. I'm your host, Kate Shaw.
Emory suggested we do a new episode about strange and mysterious animal sounds a while back, which is one of my favorite topics. The problem is, it's hard to find good audio clips to share. It's taken me a while, but I think I've found some good ones.
In late September 2018, in the Great Smoky Mountains in North Carolina, some hikers recorded a terrifying animal sound. The sound wasn't a mystery for long, though, because they soon saw the animal making it. Here's what it sounded like:
[elk bugle]
It's the bugle of a male elk, which I'm going to call wapiti to avoid confusion. It's a sound that wasn't heard in the Smoky Mountains for at least a century. The eastern wapiti was once common throughout eastern North America but was driven to extinction in the late 19th century, although the last wapiti in North Carolina was killed almost a century earlier than that. All North American wapiti almost went extinct by about 1900, and hunters and conservationists worked to get nature preserves set aside to save it and its habitat. Starting in the 1990s, wapiti from western North American subspecies were reintroduced in the southeast, with reintroductions in the Smokies starting in 2001. There are now at least 200 wapiti living in the mountains, probably more. I've seen them myself and they're beautiful animals!
The wapiti is a type of deer. We talked about it way back in episode 30 along with the moose. Various species of wapiti live throughout Europe and Asia as well as North America, although it's been hunted to extinction in many areas. As we mentioned in episode 30, the name elk is used for the moose in parts of Europe, which causes a lot of confusion, which is why I've chosen to call it by its Algonquin name of wapiti.
The wapiti is a really big animal, one of the biggest deer alive today. Only the moose is bigger. It's closely related to the red deer of Eurasia but is bigger. A male, called a bull, can stand about 5 feet tall at the shoulder, or 1.5 meters, with an antler spread some four feet wide, or 1.2 meters. Females, called cows, are smaller and don't grow antlers. Males grow a new set of antlers every year, which they use to wrestle other males in fall during mating season. At the end of mating season the wapiti sheds its antlers.
The bugling sound males make during mating season is extremely loud. The sound tells females that the bull is strong and healthy, and it tells other bulls not to mess with it.
[elk bugle]
Our next sound is from an animal that scientists didn't realize could even make sounds. There've been reports for a long time of stingrays making clicking noises when they were alarmed or distressed, but it hadn't been documented by experts. A team of scientists recently decided to investigate, with their report released in July of 2022. They filmed stingrays of two different species off the coasts of Indonesia and Australia making clicking sounds as divers approached. They think it may be a sound warning the diver not to get too close. This is what it sounds like:
[Stingray making clicking sounds]
One exciting new technological development is being used to detect underwater sounds and hopefully help identify them. It's called DeepSqueak, because it was originally developed to record ultrasonic calls made by mice and rats. This is an example of a mouse sound slowed down enough that humans can hear it, specifically a male mouse singing to attract a mate, which we talked about in episode 8:
[mouse song]
But DeepSqueak also works really well to detect sounds made by whales and their relatives, and researchers are currently using it to determine whether offshore wind farms cause problems for whales.
With DeepSqueak and other listening software, it turns out that a lot of animals we thought were silent actually make noise. For instance, this sound:
[Pelochelys bibron]
That's a grunting sound made by the southern New Guinea giant softshell turtle.
And here's a caecilian, a type of burrowing reptile that we talked about in episode 82:
[Typhlonectes compressicauda]
Let's finish with a strange and mysterious sound heard on land. In January and February of 2021, some residents of London, England started hearing a weird sound at night.
[mystery sound]
Because the animal making the sound moved around so much, some people thought it must be a bird. One suggestion is that it was a tawny owl, especially the female tawny owl who makes a chirping sort of sound to answer the male's hoot. This is what the male and female tawny owl sound like:
[owl sounds]
The tawny owl also sometimes makes an alarm call that sounds like this:
[tawny owl alarm call]
But the sound didn't really match up with what residents were hearing. Here it is again:
[mystery sound]
Finally someone pointed out that red foxes make a lot of weird sounds, mostly screams and sharp barks, but occasionally this sound:
[fox sound]
That seems to be a pretty good match for what people were hearing in early 2021, although since no one got a look at the animal they heard, we can't know for sure. So it's still a mystery.
You can find Strange Animals Podcast at strangeanimalspodcast.blubrry.net. That's blueberry without any E's. If you have questions, comments, or suggestions for future episodes, email us at strangeanimalspodcast@gmail.com. If you like the podcast and want to help us out, leave us a rating and review on Apple Podcasts or Podchaser, or just tell a friend. We also have a Patreon at patreon.com/strangeanimalspodcast if you'd like to support us for as little as one dollar a month and get monthly bonus episodes.
Thanks for listening!