Podcast: Play in new window | Download (Duration: 12:11 — 13.9MB)
Sign up for our mailing list! We also have t-shirts and mugs with our logo!
Don't forget the Kickstarter, as if I'd let you forget it: https://www.kickstarter.com/projects/kateshaw/beyond-bigfoot-and-nessie
Our next monster for monster month is the devil-pig! It's probably not a devil although it might be a pig.
The Asian tapir and its remarkable snoot: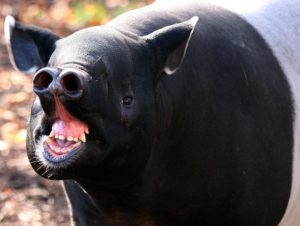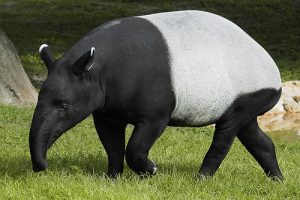 The New Guinea carving: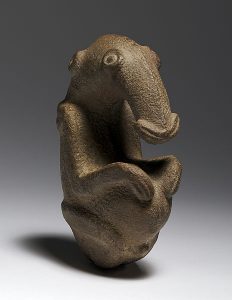 The "gazeka" as imagined in the early 20th century: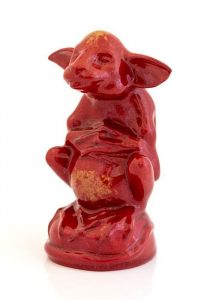 Domestic and feral hogs are common in New Guinea: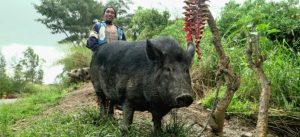 Show transcript:
Welcome to Strange Animals Podcast. I'm your host, Kate Shaw.
Don't forget that our Kickstarter is still going on to fund the mystery animals book Beyond Bigfoot & Nessie! There's a link in the show notes so you can click through and look at the different tiers available. We're doing really well so far, so thanks to those of you who have already backed the project or just shared it with your friends! https://www.kickstarter.com/projects/kateshaw/beyond-bigfoot-and-nessie
Our next monster month episode is about a mystery animal from New Guinea. We've learned a lot about New Guinea's birds this year, and it comes up repeatedly in other episodes too because it's such a huge island with varied ecosystems. It also has steep mountains that have hardly been explored by scientists or even locals. If you want to learn more about New Guinea itself, I recommend episode 206, which is the first of our episodes this year about strange birds of New Guinea. But this week, let's learn about the devil-pig! It's also sometimes called the gazeka, but we'll come back to that later.
The story starts in 1875, when a man named Alfred O. Walker sent a letter to the journal Nature about a discovery on the north coast of Papua New Guinea. It wasn't the discovery of an animal itself but a big pile of dung from an unknown animal. The dung pile was so big that the people who found it thought it must be from some kind of rhinoceros. The problem is that New Guinea doesn't have any rhinos.
The dung pile was discovered by a British expedition led by Lt. Sidney Smith and Captain Moresby from the ship H.M.S. Basilisk. After the report was published in Nature, a German zoologist wrote to say he'd been to New Guinea too and that the people living there had told him about a big animal with a long snout, which they referred to as a giant pig. It supposedly stood 6 feet tall at the shoulder, or 1.8 meters, and was very rare.
If you do a search for the devil-pig online, you'll see it called the gazeka in a lot of places. Let's discuss the word gazeka, because it doesn't have anything to do with New Guinea. In fact, it comes from an adaptation of a French musical called The Little Michus. I bet you didn't expect that. The musical is about two girls with the last name of Michu. One girl was given to the Michu family as a baby by her father, a general, who had to leave the country. The Michus had a baby daughter of the same age, and one day without thinking the father decided to give both babies a bath at the same time—and mixed them up. So no one knew which girl was which, but they grew up as sisters who think they're twins and are devoted to each other. The play takes place when they're both seventeen and the general suddenly shows up demanding his daughter back.
It's a funny musical and was popular in the original French in 1897, but in 1905 an English translation was performed in London and was a huge hit. It ran for 400 performances and became part of the pop culture of the day. So where does the gazeka come in?
George Graves was a famous English comic actor, and he added an extra line or two to the play to get a laugh. He tells about a drunken explorer who thought he had seen a strange animal called the gazeka while under the influence of whiskey. The play was so popular, and the gazeka was considered so funny, that the idea just took off. The theater manager ran a competition for people to make drawings of the gazeka, and the winning drawing was made into a design that appeared on little charms, toys, and even in some advertisements for Perrier. The gazeka was even spun off into its own little song and dance in another play.
That was in 1905. In spring of 1906 an explorer called Captain Charles A.W. Monckton led an expedition to Papua New Guinea, and on May 10 two members of the team were sent to investigate some tracks the expedition had found the previous day. The team members included an army private named Ogi and a village constable called Oina who acted as Ogi's guide. The two became separated at some point, and while he was looking for Oina, Ogi stumbled across two weird animals grazing in a grassy clearing. The devil-pigs!
The animals were only sort of piglike. Later Ogi reported that they were dark in color with a patterned coat, cloven hooves, horse-like tail, and a long snout. They stood about 3.5 feet tall, or 106 centimeters, and were 5 feet long, or 1.5 meters. He shot at one but missed, probably because he was so scared, but he claimed later that his hands were shaking because he was cold.
The tracks the two men were investigating were of a large cloven-footed animal. Captain Monckton thought the tracks must be made by the devil-pigs.
The story hit the newspapers while the gazeka craze was still popular. People started calling the devil-pigs Monckton's Gazeka. Monckton didn't appreciate this, because he didn't like being compared to someone who saw imaginary animals while drunk.
So what could the devil-pig actually be?
One guess is that it was an unknown species of tapir. We talked about the tapir in episode 18, where I chose the only pronunciation of tapir that no one else in the world uses. The tapir looks kind of like a pig but it's actually much more closely related to horses and rhinos. It has four toes on its front legs, three on its hind legs, and each toe has a large nail that looks like a little hoof. It also has a rounded body with a pronounced rump, a stubby little tail, and a long head with a short but prehensile trunk.
There are four known species of tapir alive today, three in Central and South America and one in Asia. It's a shy, largely solitary, mostly nocturnal animal that prefers forests near rivers or streams. It spends a lot of time in water, eating water plants and cooling off when it's hot. It swims well and can use its short trunk as a snorkel. Technically the trunk is called a proboscis, and the tapir mostly uses it to help gather plants.
As far as we know, there have never been any tapirs in New Guinea. The only tapir that lives in Asia today is the Asian tapir, which is mostly white or pale gray with black or dark gray forequarters and legs. It lives in lowland rainforests in Thailand, Sumatra, Myanmar, and a few other places, but not New Guinea. It's the largest species of tapir alive today, up to 3 feet 7 inches tall, or 110 centimeters.
In 1962 some stone carvings were discovered in Papua New Guinea. The carvings are a few thousand years old and depict a strange animal. It looks a little like an anteater sitting up on its bottom with its front paws on its round belly, although there's no tail. Its ears are small, its eyes are large, and it has a long nose with large nostrils at the end. It's usually said to depict the long-beaked echidna, a small spiny monotreme mammal that lives in New Guinea, although it doesn't look a lot like one.
In 1987 a mammologist named James Menzies looked at the carvings and made a suggestion. Instead of an echidna, he thought the carvings might depict a marsupial called a palorchestid diprotodont. The word diprotodont may make you perk your ears up, because we talked about it earlier this year in episode 224. Palorchestes is a genus of marsupials related to the diprotodont we talked about in that episode, but generally smaller, with the largest species being about the size of a horse. It had large claws on the front feet and a long tongue like a giraffe's. Until recently, it was thought to have a short proboscis like a tapir, but a June 2020 study indicates it probably had prehensile lips instead. It used all these adaptations to strip leaves from branches.
Since Palorchestes probably didn't have a trunk after all, and since its fossil remains have only been found in Australia, and since it went extinct around 13,000 years ago, the carvings probably don't depict it. It probably also doesn't depict a tapir. New Guinea is close to Australia and all of its native mammals are marsupials. The tapir is a placental mammal. That doesn't mean a species of tapir didn't once live on the island, but we have no fossil remains and the carvings don't resemble a tapir all that much.
One animal that definitely lives in New Guinea is the pig, which was introduced to the island thousands of years ago by humans. Wild boars might be responsible for the huge cloven hoof prints found by explorers in New Guinea.
That doesn't mean there isn't an unknown hoofed animal hiding on the island, though. New Guinea is still not very well explored by scientists or even locals, so there are certainly animals living there that are completely unknown to science. Maybe one is a giant tapir or some other, more mysterious animal.
You can find Strange Animals Podcast at strangeanimalspodcast.blubrry.net. That's blueberry without any E's. If you have questions, comments, or suggestions for future episodes, email us at strangeanimalspodcast@gmail.com. If you like the podcast and want to help us out, leave us a rating and review on Apple Podcasts or Podchaser, or just tell a friend. We also have a Patreon at patreon.com/strangeanimalspodcast if you'd like to support us that way.
Thanks for listening!